Gemini is a movie I actually knew about before watching! I swear! I heard of this one!
I saw the trailer, once, and it had an electro-noir feel. That will either make a lot of sense, or it won't. And that is okay, because genres can get real weird. I just learned about post-postmodernism and hysterical realism! Not what they mean, just that they are genres that more than one book or art work fit.
Gemini is definitely a much lower budget, indie movie with one or two recognizable stars in it. It is the type of film that has to rely on a good story to actually get people to watch it, and not warm celebrity smiles.
See? No smiles. Just blue tones and glares.
Jill LeBeau (Lola Kirke) is the agent, PR firm, best friend, and potential lover of big Hollywood actress star, Heather Anderson (Zoë Kravitz). Heather is a big star. Everyone wants her. The paparazzi. The fans. The studios, the writers. All of them can't get enough of that Heather. And they have to get through Jill to get to her.
In these trying times, Heather is going through a lot, including a break up through her celebrity boyfriend. People really just want to find out why and get in her business, putting her in a more reclusive mood. Jill cannot protect her either, but she can just try to make her feel comfortable.
After a night of drunken shenanigans and loneliness, Jill gets to her bosses house the next day and finds her lying dead on the ground on her own home. And all of the evidence points to Jill. But Jill couldn't kill her boss, her best friend, her maybe lover, could she? No! There were people who might have done it. Angry writers, obsessed fans, down on their luck paparazzi, all of that.
No, Jill isn't going to go on some pseudo investigative hunt to find the real murderer. But she is going to ask questions and try to clear her name while wallowing in self pity.
Also starring John Cho, James Ransone, Greta Lee, Michelle Forbes, Nelson Franklin, Reeve Carney, and Ricki Lake.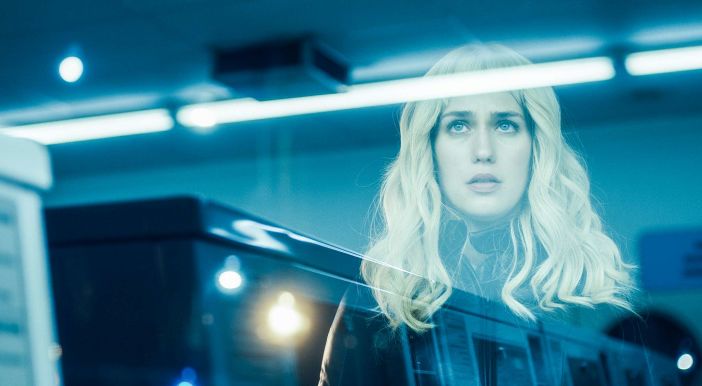 "No, her future ghost is the murderer!"
For the most part, while watching Gemini I just thought it was an average story pseudo-thriller. The soundtrack resonated throughout it, a sort of techno pulse that was going and going. It reminded me of Good Time, but that is a movie about a guy on the run and it sort of earned that score. This one was way less hectic and just seemed off to me.
Don't go into Gemini thinking it will be a classic whodunit film where the viewer can follow the clues and pick out the murderer along with our "Detective." No, it is not one you'd be able to pick up from clues, because there aren't really any clues, just assumptions and you have to sit and wait for the ride to end before it is fully revealed.
And unfortunately when I was almost done off the ride, the cart went off the rails and left me in the gutter. This is a long metaphor to describe the film, and I don't apologize for that. The ending is downright terrible. I feel so disappointed in following the story of this film. It was never great or above average even. Just okay. But the ending cost it points and put it clearly as a film I don't need to see again, nor would I recommend.
1 out of 4.