December 14, 2017
Ferdinand
When I was in the first grade back in 1945, I distinctly remember seeing Ferdinand with its really dark red cover, bull, and designs on it. It stood out amongst the children's books merely for its boldness and not pastel everything color scheme.
So I definitely remember reading it, feeling proud at having read it. It was one of the first books I can recall reading that weren't super basic.
This means I was a bit excited that eventually a movie was going to come out about it. It was coming out around Christmas time with no other animated film competition. Maybe it would be amazing! That would be great, given my disappointments this year on the entire genre.
But also, I didn't remember the story, so I wouldn't care about the plot of the film versus the plot of the book, which is something I definitely always strive for.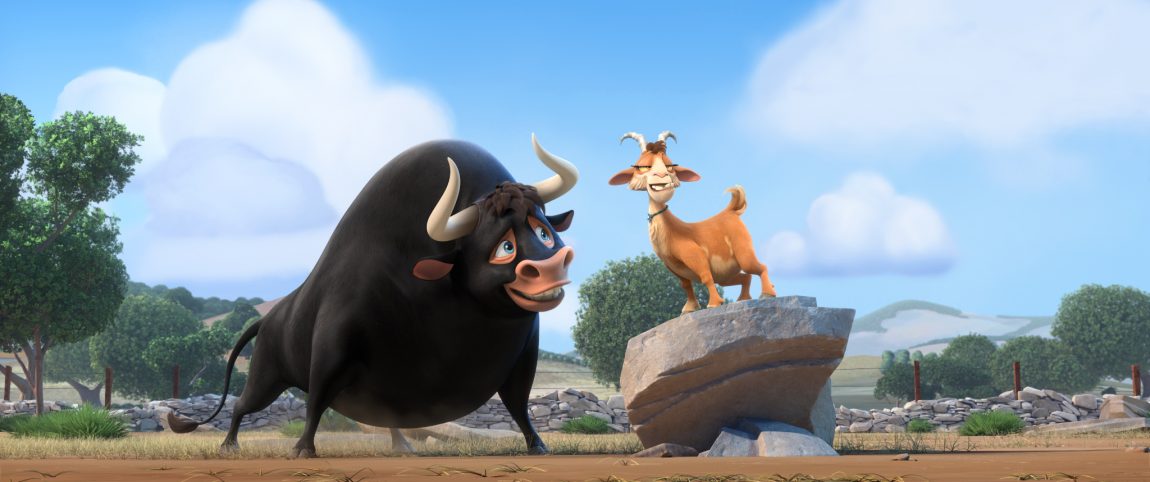 "There was no goat in the book, 0 out of 100!!!" – Book elitist.
When Ferdinand (John Cena) was just a kid, he lived on a ranch and was in training to be a man fighter. I guess that is what you call the bulls in bull fighting matches. But Ferdinand didn't want to train and butt heads with the other bulls, he wanted to care for flowers and just enjoy the fucking sunshine. One day, his dad was chosen as an honor to head to Madrid and become a man fighter, Ferdinand waited for days hoping his father would return victorious, but alas, he did not.
So Ferdinand escaped. There was nothing left for him at his home except for sadness, angst, and bullying. Because of bulls. He escape and, luckily, found himself at a peaceful farm where they actually grew flowers for a living! And there was a little girl there, Lily (Lily Day), who loved Ferdinand and raised him as a pet. He wasn't mean, he just loved flowers and was a big goof ball.
But when Ferdinand got older, he was extremely large, larger than most bulls. Ferdinand was a gentle giant, who accidentally caused a lot of trouble one day thanks to not listening and due to a bee sting. This put Ferdinand back into captivity, back at the place he escaped long ago, with a Matador fight looming that he knew he would not come back from alive.
Also starring Anthony Anderson, Peyton Manning, David Tennant, and Tim Nordquist as additional bulls, Gina Rodriguez, Daveed Diggs, and Gabriel Iglesias as hedgehogs, and Flula Borg, Sally Phillips, and Boris Kodjoe as German show ponies.
Oh and Kate McKinnon as a goat, Bobby Cannavale as a rival bull, Miguel Ángel Silvestre as a famous bull fighter, and Jeremy Sisto as Ferdinand's dad.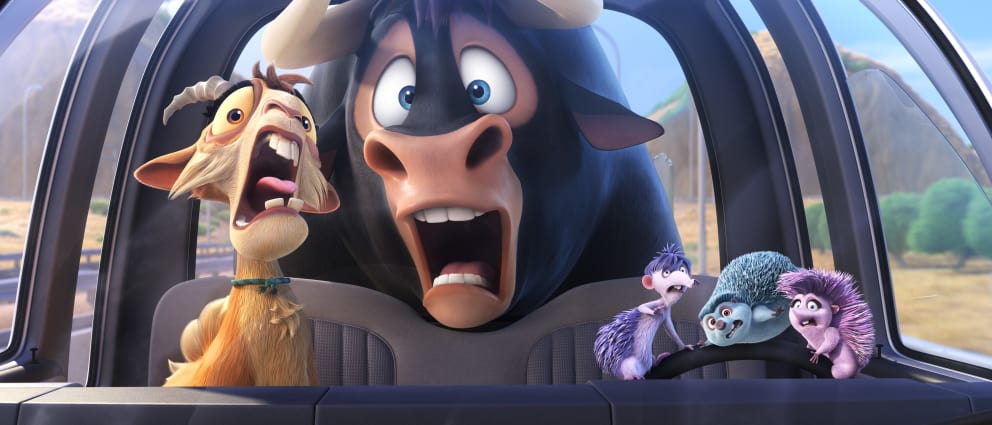 Oh. Animals driving trucks during the ending conflict. Lovely.
The book Ferdinand story was big huge bull, didn't want to fight, liked flowers, got taken away when he accidentally messed up a village after a bee sting, went to fight a Matador, refused to fight and was saved. Simple book, and hey, that is the basic point of this movie too.
We also just get some extra kid backstory, rival characters, several groups of side characters, extra human characters, and more. There are so many goddamn animals in this one. Not just the bull friends, but we have some extra 1 of animals only, then a group of hedgehogs, a group of horses. It just seems like I was drowning in side animals, most of which were unnecessary and one dimensional. Although the hedgehogs made me laugh occasionally.
Thanks to all these characters, we got one of the worst scenes I have seen in an animated film since the entirety of Norm of the North, when there was a "dance off" between the bulls and the horses. It was bad, it didn't match the characters, it went on too long and just was aggravating.
As for the rest of the film, the beginning was very boring, the voice acting was weak, and the film seemingly killed off characters willy-nilly without any big amount of remorse. Or at least it seemed that way, but actually the extremely efficient slaughterhouse has no actual employees. Seriously, they show up instantly to take away a bull not good enough, but when the bulls head to the place to save them, we have no employees, no people attempting to stop them, just an extremely elaborate and nonsensical "ground beef" making machine.
Add in the ending where we have our animals driving vehicles, because every goddamn animal movie needs that now, a way too long chase scene through Madrid, and an ending where, sure, Ferdinand and his friends make it but without any long term changes made.
We all know bull fighting is terrible at this point. It is a relic of the Roman Colosseum, killing animals in front of crowds for sport. It is awkward that basically every bull is super stoked about the idea of being chosen for most of the film, until they realize how bad it is. It is even more ridiculous when you'd think the goal would be to end all bull fighting to save the bulls, but apparently just their group of six is good enough.
Ferdinand had a treasured book to work with, and they used that material. Unfortunately, the people who gave us the bad franchises of Ice Age and Rio have seemingly, once again, failed to produce a quality product. Not surprising I guess.
1 out of 4.