September 23, 2022
Everyone Will Burn
I don't usually like to have my movie titles threaten me, but here we are with Everyone Will Burn. Damn, is that spoiling the movie as well? Haven't had something like this since John Dies At The End. The journey of this movie better be worth it.
Everyone Will Burn is actually a foreign film from Spain, and I didn't put the title as Y todos arderán, because they didn't advertise it to me like that. Everyone Will Burn is premiering at Fantastic Fest this year, which has a lot of both foreign films, and horror/sci-fi/strange movies, this one technically falling into that first category.
Who would have thought a title like Everyone Will Burn would end up being a horror movie!?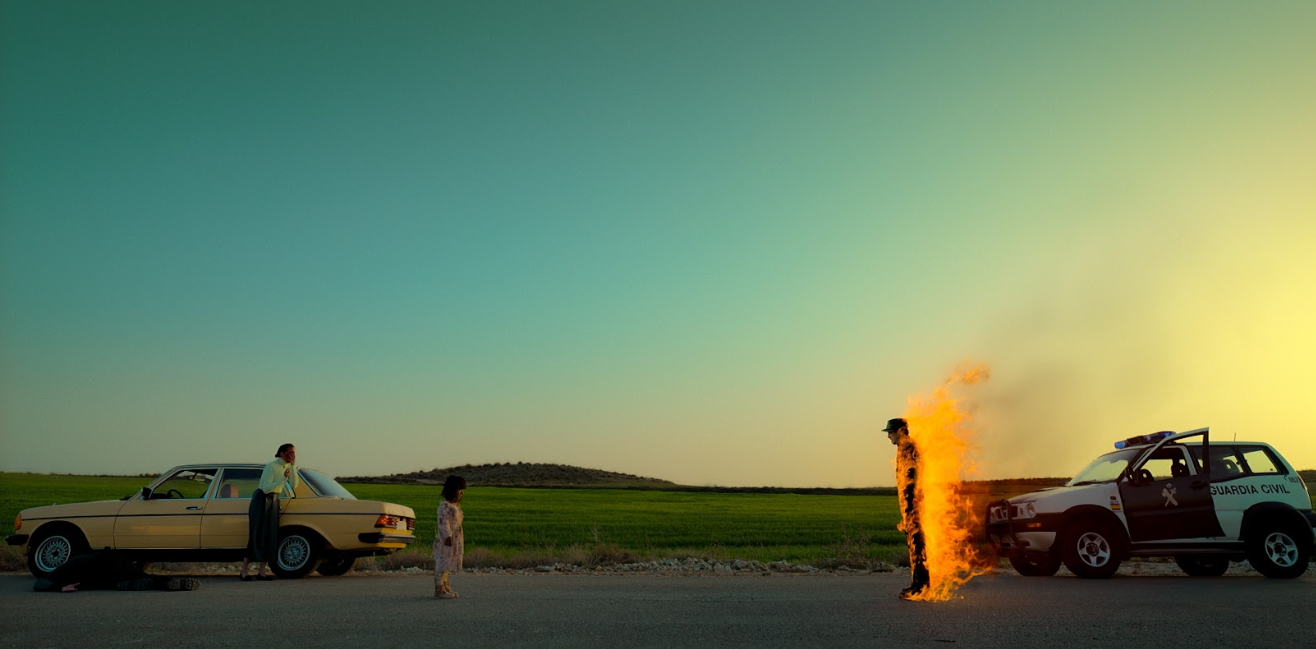 Well this is just one person burning. Get to the ending!
María José (Macarena Gómez) is done. She wants it all to end. So, she decides the best plan for her right now is to just jump off a bridge.
But then she shows up. Little Lucia (Sofía García). Whom starts referring to her as mother. And who is also covered with mud and maybe some blood. This is not a place for a little confused girl to be, so María decides, rightfully, she needs to bring her back to town to get her help. That is the right thing to do! But on the way home, she gets pulled over by the cops. The cops see the kid, and question her, and believe her when she calls her mom. Guess María will be in trouble now?
Nope. Lucia uses some mind magic, to have one cop kill the other, then burst into flames! Yay!
Oh, that is terrifying. What? Later in town, they apparently have a prophecy about something like this happening. A girl coming in and bringing about an apocalypse. And sure enough, the towns people gossip about this kid, and some mysterious deaths, and assume the kid has to be killed, or else they are doomed. You know, typical small town gossip. But María has taken a liking to the kid, and this gossip is just ridiculous. Right?
Right?
Also starring Rodolfo Sancho.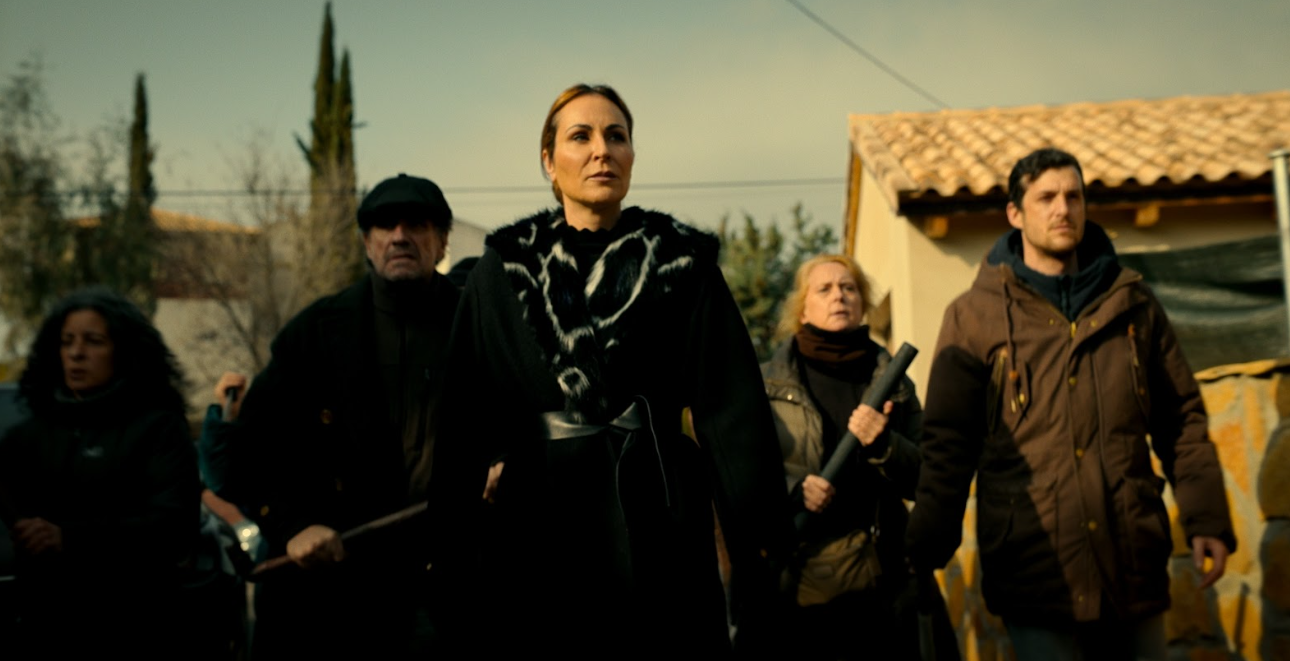 Mobs are always useful against arsonists.
Now, I hate to admit it, but I need to steal someone else's word, but they are accurate and they are more creative than I will ever be. This is like a horror film and a telenovela. We have a a standard story about a kid who might be evil incarnate with magic killing powers in a very religious narrative… and also, a lot of people acting very much like gossip is life. So much gossip. So many expressions. So much judging and assuming.
Nothing like some mysterious murders to really make people turn against each other. And you know, want to murder a child. It is that Christian Charity if anything.
Despite the strangeness of these two genres, it feels like a really fresh and unique molding together. I wasn't bogged down in silly exorcism level horror, which I am pretty much done with. Instead, I got gossip and drama, so I was happy when more people were getting killed. The type of town in this movie made the backstory of our lead make more and more sense, which made her motives in the main story make sense. It was well crafted drama, and not just drama for dramas sake. It helped and made sense for the plot. It gave me different motives to care about other than "oh demon kid = bad, everyone else = good."
I really, really, don't care about exorcism movies at this point in my life. So being able to see a sort of demon kid movie in a religious environment without worrying about those scenes, was just bliss.
In particular, the ending of this film is also very strong, due to the above. I didn't know where it was going, but it surely hit a satisfactory mark.
Hell, and there is a chance that not everything burned at the end. But I won't spoil that.
3 out of 4.