Sometimes when I like to pretend that I am cool, I use words like Dope and Chill. I will admit, when I first saw the screening listing for Dope, I honestly got it confused with the Straight Outta Compton movie coming out, figuring they renamed it for some reason. (How White am I? I spelled that first "Straight Out Of Compton" because I really didn't know).
I mean, could there really be two movies about black youth in California, despite being very very different topics, in the same summer? It is strange to say but it is actually hard to believe that.
But I am excited. I am all for diversity in my movie watching. And since I know absolutely nothing about Dope going into it, I feel kind of excited at what it might be about. Hopefully the references aren't too hip for me.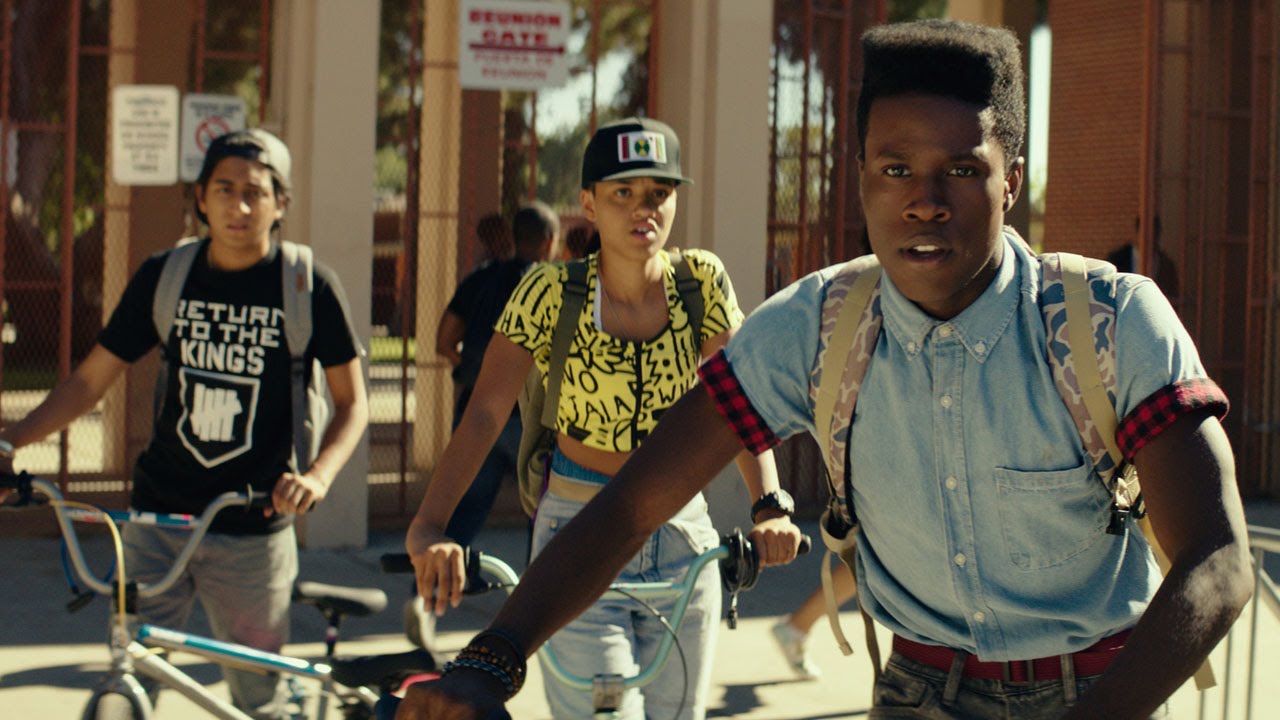 The trio is basically a themed gang from The Warriors.
When the movie started, I knew I was immediately wrong with any preconceptions I had. I honestly thought it would be set in the early 90's on the poster alone, but it is actually a modern day movie about some kids who just really liked the 90's music scene.
Malcolm (Shameik Moore), Jib (Tony Revolori, of The Grand Budapest Hotel fame) and Diggy (Kiersey Clemons) are loaner geeks who have banded together to form a friendship. They are from a generally poor neighborhood and don't really want to become gang bangers selling dope and going to jail. So they start a punk band and avoid getting into trouble to get into college!
That is until the night of Dom's party (Rakim Mayers aka A$ap Rocky (I don't know what to call him?)). Sure it may seem strange for them to go to a party of a thug dope dealer, but they want to live a little bit during their senior years before it is too late. Plus, Nakia (Zoe Kravitz) promised to dance with Malcolm if he showed up.
I don't know what they expected, but the party of course was full of drugs, booze, and hot tunes (I could rap, probably). They have a pretty awesome night! Until the cops show up, raid the place, and the next thing Malcolm knows, his bag is full of drugs and a gun that he doesn't notice until the next day at school. Yeah boyyy. Now he has to deal with this dope, not knowing who to trust with the information. Sketchy phone guys? Some mysterious AJ? Sell it on his own? Shit, he has Harvard to try and get into. And he doesn't want to go to jail so dang close to getting out of the hood!
Also featuring the talents of Chanel Iman, Quincy Brown, Roger Guenveur Smith, Blake Anderson, and some narration by Forest Whitaker.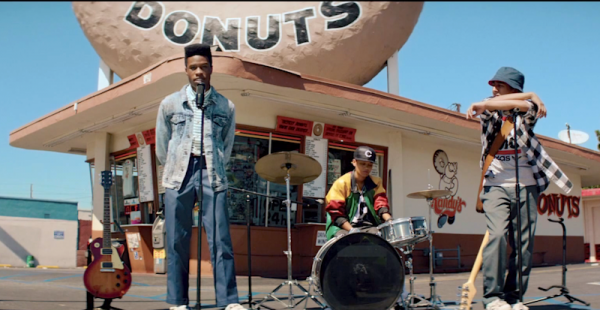 Please be a punk song about donuts. Please be a punk song about donuts.
Dope is the first movie I have seen from director Rick Famuyiwa, who also was the only writer of the movie, and if his past films are of any comparable quality then I should probably check some of them out. It should also be noted that the main producers was also our narrator, Whitaker, and an executive producer was Pharrell Williams. So despite its relatively unknown cast, it had some star power behind it. Although it should be noted, the narration was only at the beginning and felt quite excessive and unnecessary. Didn't match the rest of the film.
But let's go back to that cast. I was personally happy to not recognize any of the main characters (outside of the Lobby Boy). For our lead, the only movie or show I would have seen him in was Joyful Noise, where his character name was "Our Lady of Perpetual Tears Choir Master", so I can't even tell you if he had a speaking role. Moore blew me away, in all honesty. Everything about him felt sincere and real. Moore conveyed so much throughout the film through facial expressions alone, which is especially helpful since he didn't play a smooth talking confident character for the most part. He was relatable and he was awesome.
The film was also surprisingly up to date with current technologies and they do a good job of introducing concepts that not a lot of people know about. Dark web stuff. It makes a lot of sense that this is the first movie that is allowing tickets to be bought via bitcoins.
Favorite part about the film would be just how realistic the portrayal of modern hood life is like. It isn't just gangs, just drugs, just poverty. There is a lot of hope and a lot of people just trying to fit in. None of the characters were extreme stereotypes, providing some slightly thought provoking conversations despite the urban language throughout.
Overall, Dope is a surprisingly funny, realistic and a feel good movie that came up out of nowhere. I am not going to listen to MC Hammer today out of respect for that.
3 out of 4.