December 9, 2019
Dolemite Is My Name
Where you been, Eddie Murphy? What you doing, pseudo-retiring on me like that?
Sure your last two real films, Mr. Church (2016) and A Thousand Words (2013) were bad, but that is probably…uhh, your fault. Trying to do some spiritual family stuff instead of letting your real humor out.
Surely, giving yourself a role where you get to talk and swear and joke is just the role for you.
Telling a true story of a different stand up comic that influenced his whole career seems like a good tribute to that actor/comedian, while also getting Murphy back on his feet again. Dolemite is my Name? Well, make me laugh and I'll call you anything.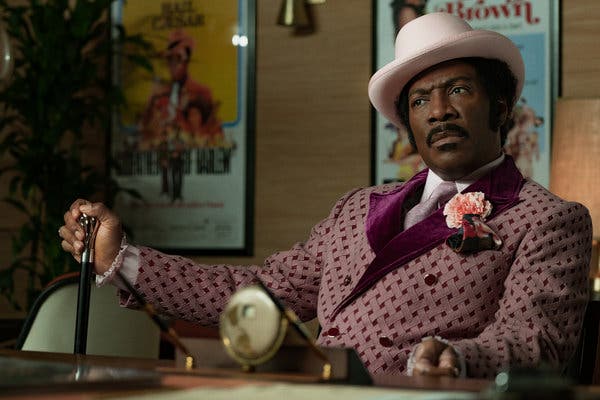 No, I won't call you daddy though, even with that suit.
Rudy Ray Moore (
Eddie Murphy
) is the baddest motherfucker around. Or at least he is in his own eyes.
He wants to be famous, he knows he can do it, and he has tried it all. He has released songs, has done stand up, and he is now middle aged and still nowhere. He can't get a damn thing going.
But while MCing at a local club, he decides to try a little bit of material he has taken from older homeless people in his neck of the woods. He asked them their stories, and listened to their jokes. They spoke rhythmically and told ridiculous stories, and he thinks that audiences might really enjoy it with the right delivery.
And this content takes off. He builds the character Dolemite, and people love his swears and graphic humor. He is able to sell records of his material, mostly on his own, and get popular in the hoods all over the world. And after all of that, he still wants more. He wants to make a movie. Who cares if he has never made a movie before.
Also featuring Keegan-Michael Key, Mike Epps, Craig Robinson, Tituss Burgess, Da'Vine Joy Randolph, Kodi Smit-McPhee, Snoop Dogg, T.I., Ron Cephas Jones, Barry Shabaka Henley, Chris Rock, and Wesley Snipes.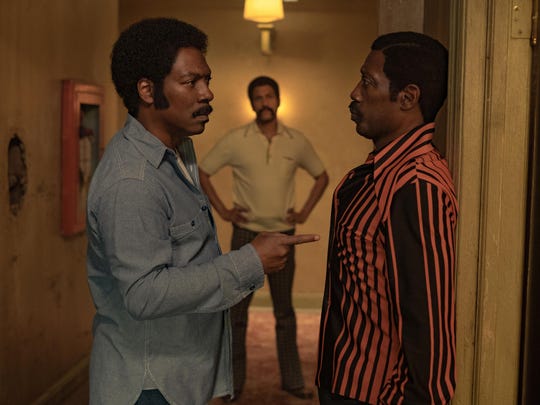 Fact: Snipes and Murphy have never been in a movie before together.
Dolemite is my Name is one of those films that comes along that you didn't know you needed until you had to see it. I never knew anything about Rudy Ray Moore. I knew about the blaxploitation films of the 70's and 80's, only a tiny amount, enough to enjoy Black Dynamite. But I didn't know who the real precursor to all of that was.
And sure, as research, I watched Dolemite just to really get the whole picture, which is not necessary for those who don't want to have to go searching for it.
I haven't seen Murphy this on fire in quite a lot of time. Over a decade probably. This is a great return to form and it is like he was never gone in the first place. Snipes was also on point in the film, and similarly, haven't seen him like this in a good while, but part of this is thanks to prison I guess.
A large cast of characters bring their own quirks and fun moments, but this is the Murphy show and they are all just a part of it. A funny comedy and a good story overall.
3 out of 4.