February 28, 2018
Black Panther
In 2017, I was a bit disappointed with the superhero genre. It was the first time in awhile that a superhero film didn't make it in my best of the year list. And that includes Logan, which I gave an average rating to.
As for Marvel, in 2017 they gave the average Guardians of the Galaxy Vol. 2, the decent Spider-Man: Homecoming, and the funny Thor: Ragnarok, but none of them really blew me away.
Black Panther I was really hoping would start the year off strong. I loved the character for years, he was amazeballs in Civil War, and for all intents and purposes, it looks like they took a lot of care to ensure this one would turn out right. To not be another Catwoman, if you know what I mean.
And somehow it exceeded most of my already high expectations.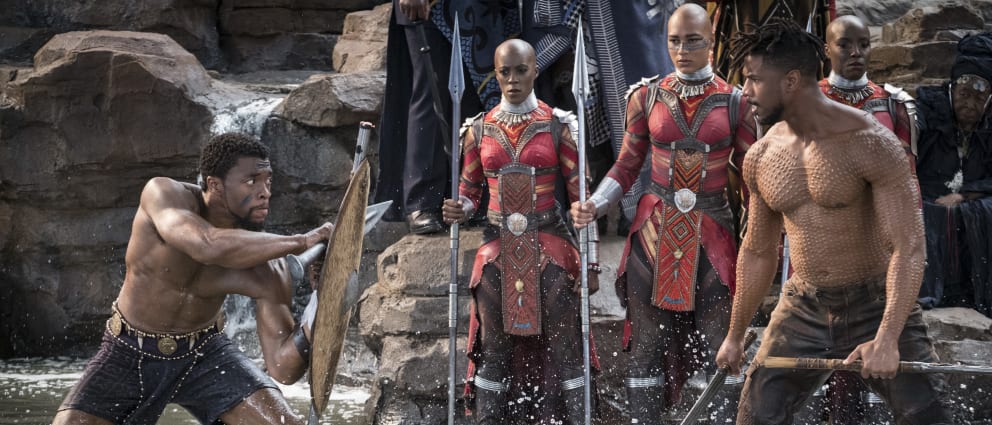 Ah sweet! A duel between two panther orphans.
Days after the bombings that took out King T'Chaka (John Kani), and all that Civil War nonsense has ended, T'Challa (Chadwick Boseman) has returned home to his country of Wakanda to ascend the throne and become their leader.
And you know what? Things are sure going swell for Wakanda. Minus the death of their ruler and some missionaries, they are still prosperous as fuck, living mostly peacefully in their walled off community. They are rich, they have crazy good technology, all thanks to luckily living where Vibranium deposits are, from a meteor a long, long time ago. Yep, it pays sometime to be lucky, I guess!
The Queen (Angela Bassett) is ready for her son to rule, and his younger sister, Shuri (Letitia Wright), is a tech genius, helping beef up his Black Panther outfit. And there is a former love interest, in Nakia (Lupita Nyong'o), a warrior champion of one of the many tribes who believes they need to be helping all of Africa, not just themselves.
Unfortunately, things are about to be not so peaceful in Wakanda. A combination of meddling white people (Martin Freeman, Andy Serkis), both good and bad, and the sins of their fathers, are about to change the way Wakanda is seen by the world and by the tribes who inhabit it. Because Wakanda is about to unknowingly welcome home a former son and member of the royal family back to their fold (Michael B. Jordan), and he has his eyes set on the throne.
Also starring Danai Gurira, Daniel Kaluuya, Winston Duke, Sterling K. Brown, Florence Kasumba, and Forest Whitaker.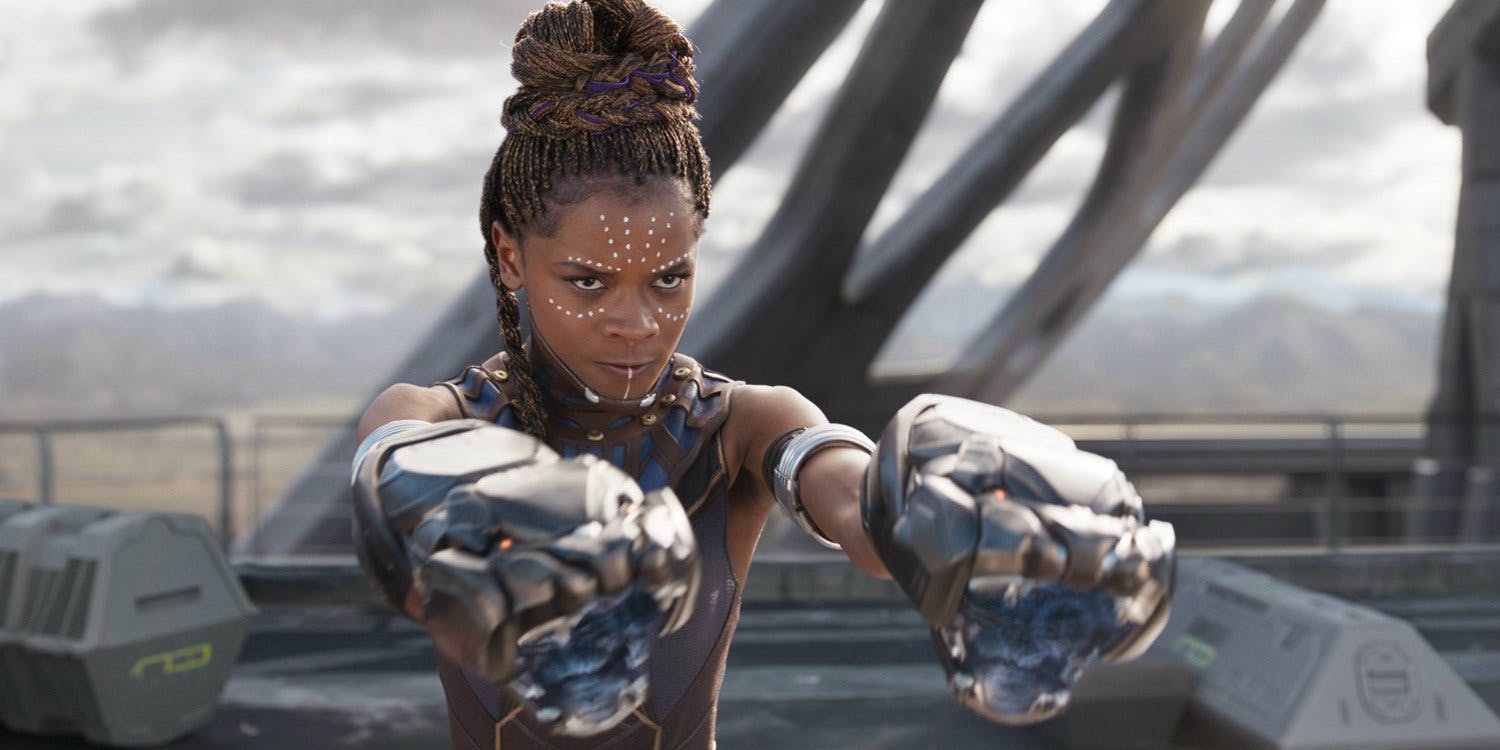 Ah sweet! A set of dual panther blasters.
Good news! Kilmonger is officially one of the best Marvel villains to date. You know why? Because he is a bad guy with realistic motivations, one who doesn't speak in cliches, and arguably, he is right. He is right! Not necessarily in the methodology he ends up employing with his drastic measures, but he has justifications that just make sense. He is correct that Wakanda should branch out more and that it is totally fucked up what happened to him his past. He legitamately deserved some amount of revenge.
Okay, okay, I will not talk only about how great Jordan is and his character. The rest of the cast really shines too. I want way more Shuri and certainly more M'Baku. This movie celebrates its diversity in ways we haven't seen in a blockbuster in almost forever, and that diversity shines brightly. There are vivid colors without relying on the Doctor Strange spectacles, and thrilling fight scenes without excessive explosions.
Hell, the best part about the climatic fight scene (besides the obvious repercussions as they are happening and the crowd pleasing moments) is that it for the most part took place in the open, during the day. It was well lit, we could see it all, and it wasn't hiding behind quick camera changes and bad choreography.
There are some easy things to nitpick, sure. Like Vibranium becoming a catch all wonder cure. Like the excessive amount of violence involving stabbing items without a lot of consequences from those actions. Like this film following the general strategy of "Intro Marvel Film" means good guy fights evil version of himself.
But it does a lot of things right, from a cultural stand point, from visual stand points, from the plot, to the acting, to the action, and to the scale. It is a strong bar to set for Superhero films this year, and one that Marvel is hoping to actually surpass in just a few months.
4 out of 4.