November 4, 2014
Birdman or (The Unexpected Virtue of Ignorance)
I really wanted to do some clever parody of Spoonman to start this review, but those lyrics kind of suck. Didn't give me a lot to work with, outside of obviously changing Spoonman to Birdman.
But let's talk about this great title. Birdman or (The Unexpected Virtue Of Ignorance) is the full title and so we should say it every time in public as such. Such a provocative title on its own right, and given that some of the people in here play strange fake versions of themselves, it gets even crazier.
And the movie itself is very pseudo-meta. In the quickest description, it is about a man going through a midlife crisis, who used to play a very famous super hero, but stopped and hasn't had great work since then. That person is looking for a comeback into the public fame and risking it all to succeed. Michael Keaton of course used to play Batman, and after Multiplicity, well, who cares? And now he is in a very similar situation. Awesome. I am stoked.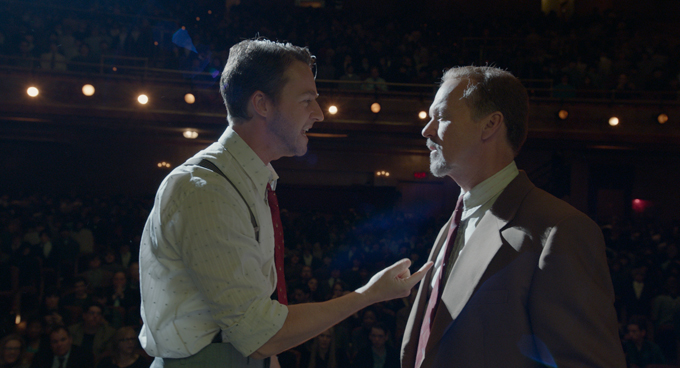 And Norton plays a great actor who others can't stand and is hard to work with. Hey!
To reiterate, Riggan (Keaton) used to be a hot commodity. He played BIRDMAN, the best super hero, people loved him. But then he stopped. He didn't want to do it anymore.
Now look at him, middle aged, divorced, and putting on a play. A play?? Yes. On Broadway, an adaption of a a short story that he is writing, directing, and starring in. Why? Hard to say, could be the crisis, could be because he likes the author, could be anything. But it is happening and soon. But at the same time, his life is falling apart. His relationship with his daughter (Emma Stone) is strained. He is putting all of his wealth into this production. His lead performers are either bad or egotistical. He might have gotten someone pregnant. He has to deal with critics with a vendetta. And bad things just seem to keep happening!
Did I mention mid-life crisis? Because Riggan is also having trouble, when he is alone, perceiving his own reality. He almost sees reality in a different light than everyone else. They just couldn't understand.
Also featuring Zach Galifianakis as his lawyer, Naomi Watts, Andrea Riseborough, and Edward Norton as his actors, and Amy Ryan as his ex-wife.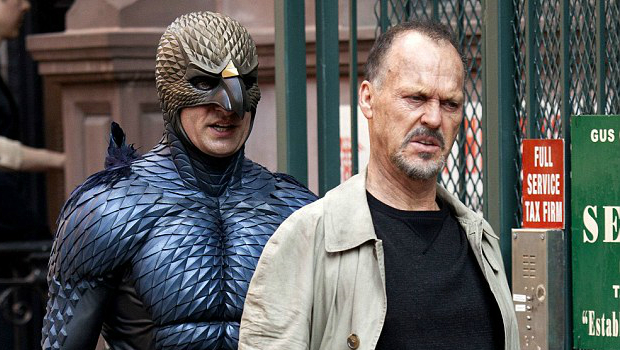 Also starring that guy, played by some Harvey or something like that.
One of the coolest things a director can do is have a few "really long shots" in their film, where the camera never leaves the scene, where there are not cuts, just a lot of dialogue and a lot of acting. The Master had an intense one of those, Before Midnight had a few, Tarantino does it a lot. It is awesome and shows a lot of great acting during these sorts of scenes.
I don't know a lot about the director, Alejandro González Iñárritu, except that I have reviewed only one of his films, Biutiful, but I am convinced that this man is a genius. The ENTIRE FILM is made up of incredibly long scenes. I'd say the camera must have only cut away under ten times the whole film, which is about two hours long. That is incredible.
And just so we are clear, this is not a movie with only a handful of locations where the camera is just watching a few people talking for 10-15 minutes at a time. No. People walk and people move from room to room of this tiny Broadway theater, from main stage to dressing room, to balcony, to the streets below. So the entire film is so meticulously planned that the whole thing is like a Rube Goldberg machine. Actors have to come into rooms at the right time, also props, sight gags, everything has to fit in correctly. Given that this is a comedy, timing is key for half of the laughs, so it was an incredible feat. It is almost as if they tried to convey this movie as if it was a play, where real acting had to occur.
Speaking of real acting, there were so much incredible talent in this film, but Keaton and Stone knock it out of the park. Obviously Keaton will get most of the fame, and rightfully so, most likely earning a Best Acting nomination nod for his work here. But I want to make sure that people know that Stone was also fantastic and had a monologue or two to convey intense emotions through.
The film had a great plot, it kept me guessing, and shit, even the soundtrack of "mostly just drums" worked really fucking well. Go see Birdman or (The Unexpected Virtue Of Ignorance) and then maybe go see it again.
4 out of 4.