November 5, 2014
Big Hero 6
For whatever reason, I know a lot of people who were upset when Disney bought Marvel Studios. They thought it was the end of the good stuff. They thought only bad could come. They said the same thing when they bought Lucasfilm.
I, however, was excited. They weren't going to mess around with a good thing too much, they didn't want to spend billions to not make billions more back! But I was even more excited about the potential of a full on, super good CGI Marvel/Disney flick. Yeah. Something with the cutting edge in technology, giving me full on super hero battles, with flash colors and everything the comics promised, and really that live action movies still can't fully give. So when I found out it was Big Hero 6? Well, I obviously had to look up what the hell that was.
Big Hero 6 is a much smaller property that has a small following. It is most well known for having, at times, Sunfire and Silver Samurai from X-Men in it, but we know that Fox has those rights, so they had to work around it. Disney also wanted to be able to tell a new story and not feel super tied down to any mythos, so messing with a smaller property would work well with that. And hey, if they didn't have the Big Hero 6 leader in it, they'd probably have to change a lot anyways.
And thus, this animated movie exists, presumably nothing like the (old) comics, and I knowing nothing about it couldn't have been happier.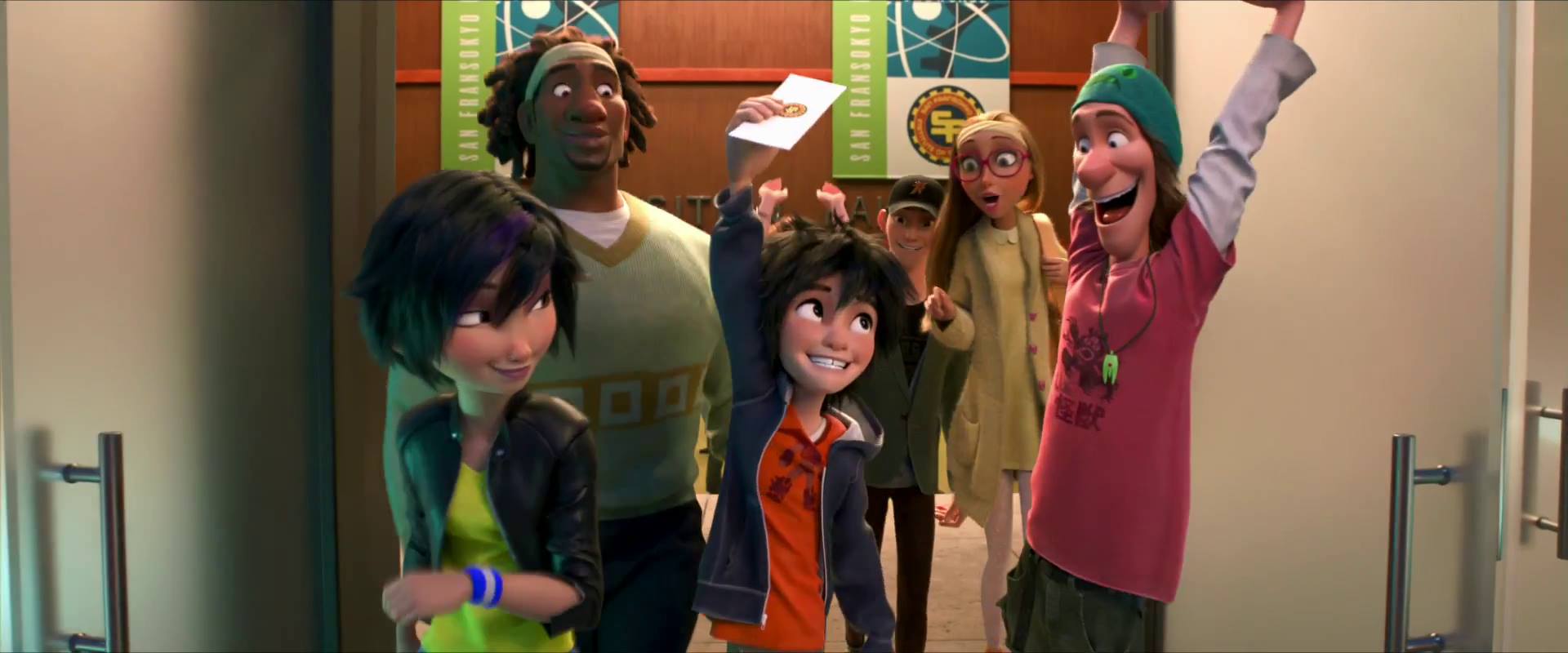 Yay surprises and happiness and sunshine flowers!
This story is about Hiro Hamada (Ryan Potter) and his trouble with ladies. That's not true, he doesn't have troubles, he just doesn't care. He doesn't care about ANYTHING really, outside of robots and robot fighting. You see, Hiro is only 14, but he already graduated high school. Bright kid. Has a bright older brother too, Tadashi (Daniel Henney), but he is in college doing boring stuff. Hiro just wants to illegally bot fight and make money that way.
But once he finds out that Tadashi is actually in a really fucking cool robotics program, with really cool people? Yeah, that is when he thinks college might be a good thing, and not just living at home with his Aunt (Maya Rudolph) in San Fransokyo (which you should be able to figure out what two cities were combined for this).
Well, Hiro is able to design super sexy nanobot technology to get himself admission to the school! But when disaster strikes and he loses his invention, he is sad again. Not even his new college friends can help: Go Go Tomago (Jamie Chung), Honey Lemon (Genesis Rodriguez), Wasabi (Damon Wayans Jr.) and Fred (T.J. Miller).
But when he finds out his invention was stolen and is being used for nefarious purposes, well, he cannot just sit idly by. He has to fight back. And he has to use Baymax (Scott Adsit), the soft robot helper and turn him into a fighting machine! And maybe he can fight back too. And his friends. Yes… Maybe they can be…super heroes.
Also featuring James Cromwell as Professor Robert Callaghan and Alan Tudyk as the seedy business man Alistair Krei.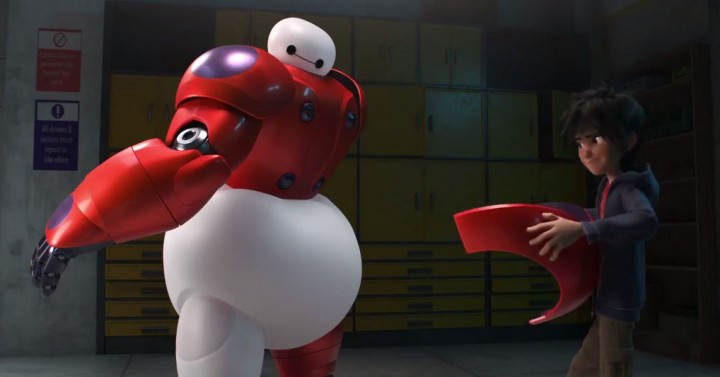 Shake that sexy butt.
Color? Yes. Fantastic animation? Yes yes. Likeable characters? Yesx3. A plot about science and why knowledge is good and how science can change the world? Hells to the yes.
Watching Big Hero 6, the best way to describe it was having a blast. This Disney film is notable for not having a lot of songs, which might be their goal. They went Tangled, then Wreck-It Ralph, then Frozen, and now Big Hero 6. A lot more "macho" themed movie, if you go by outdated gender stereotypes, so there is no room for silly songs. Just action, humor, and sexy sexy graphics.
This was just a really great both super hero movie and animated family film. That is a hard one to pull off. A lot of great humor and it has a lot of similarities (based on my research) with the comics, but unique enough to make it its own thing. The only issue with it being in the animated field and a Disney flick, is I know that if we are going to get it a sequel, we have at least a four year wait. Can't have one of these guys every two years, as it will make them compete with themselves for Best Animated Picture, and they don't want that.
And can we get another shout out to science? Yay science! Some of the tech was inspired by real life advances too, making this futuristic tale also a bit modern.
It is too close to Halloween now, but I expect fully by next year that we will see a lot of Hiro and Baymax duos out and about. Not more than Elsa, but a fair number still.
4 out of 4.