December 19, 2013
Anchorman 2: The Legend Continues
The boys are back in town.
The legend of Ron Burgundy continues, with Anchorman 2: The Legend Continues.
Anchorman: The Legend of Ron Burgundy came out in 2004, and from what I can tell, the first draft was horrible. So horrible that they had to rewrite and shoot the entire movie. The leftover original footage and other B rolls created another movie, Wake Up Ron Burgundy: The Lost Movie, but people wanted a real sequel, because it quickly became a cult success after its initial success.
The sequel came quite easily! Just kidding, it took a lot of work, and lots of convincing. But eventually the money numbers worked, so they did it because people like money.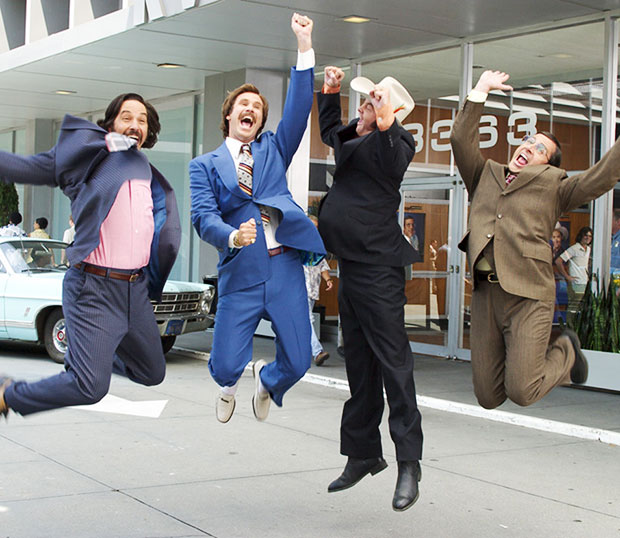 Money can literally elevate any person.
At the beginning of the film, Ron (Will Ferrell) and Veronica (Christina Applegate) are married and cohosting a news program in New York. Living the life! That is, until Ron gets fired and Veronica gets upgraded to hosting the prime time show on her own, a first of her kind in New York! This upsets Ron a lot, so they separate, and he starts living a shitty life again.
That is until he gets an offer he can't refuse. Someone wants to invent a 24 hour news network channel, and they want Ron to fill in a time slot. What? How ridiculous. However, it pays well, so sure. He just has to reassemble the news team (Steve Carell, Paul Rudd, David Koechner) and he is good to go. And win back his woman from the psychologist (Greg Kinnear). And get excellent ratings at the 2am spot to make Jack Lime (James Marsden) look bad. And survive his incredibly aggressive boss (Meagan Good).
And in the search for ratings, will he accidentally change the face of national new forever, for the worse?
Dylan Baker and Kristen Wiig and Josh Lawson are also in this movie. BUT SO ARE SO MANY OTHER PEOPLE. Oh my goodness, the cameos! I didn't tag the cameos, but if you want to not know who to expect, skip the next part.
We have cameos from: John C. Reilly, Marion Cotillard, Tina Fey, Amy Poehler, Sacha Baron Cohen, Harrison Ford, Kanye West, Kirsten Dunst, Liam Neeson, Jim Carrey, and Will fucking Smith.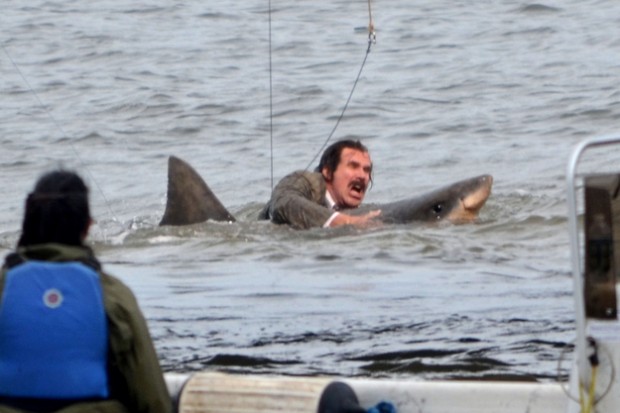 And lets not forget this Shark based cameo.
I am a big fan of ridiculous comedies, and this one had me laughing a lot from start to finish. There was a part after the halfway point where I did find it a bit dull, one joke going to the extremes and lasting a lot longer than I would have liked. But overall, many jokes, much laughs, and a good continuation of the characters.
So here is my one real complaint. I am worried that this movie won't be as hilarious for a long tim after watching, like the first movie. I was worried the sequel would be nothing more than a carbon copy of the first film, rehashing the same jokes but in different ways, playing off that nostalgia humor. I hate nostalgia/reference humor. To a certain extent, as expected, there was a lot of that. The film ended very similarly to the first one. There was a gang news fight. There was a singing scene. A sex panther joke. And there are more examples. Although I laughed during the watch, I would have preferred probably less references, and more original material.
But outside of that, this movie will make all of its production back and then some. Will hasn't had the best movies lately, so hopefully this puts him back on the right track.
I don't accept this as an end to the Mediocre Man Trilogy. Anchorman and Talladega Nights were the first two, with the third one rumored to be about a guy who works on porn, named Rusty Butte or something. The title themes should give it away, and the RB characters. I want that movie, damn it. Get to work, Will.
3 out of 4.