July 20, 2017
A Ghost Story
This is part of Fantasy and Sci-Fi Week at Gorgon Reviews!
2017 has been a great year for alternative thrillers and horrors. From Split, to Get Out, to It Comes At Night, to even Colossal on some levels, a lot of fucked up shit is happening this year in movies, and we get to watch it on our screens.
So why not turn things even further on their head with A Ghost Story?
The idea behind this movie I have to imagine was taken as a bet. And it seems funny that it is by David Lowery who just gave us Pete's Dragon. I wonder how many parallels can be made between the two?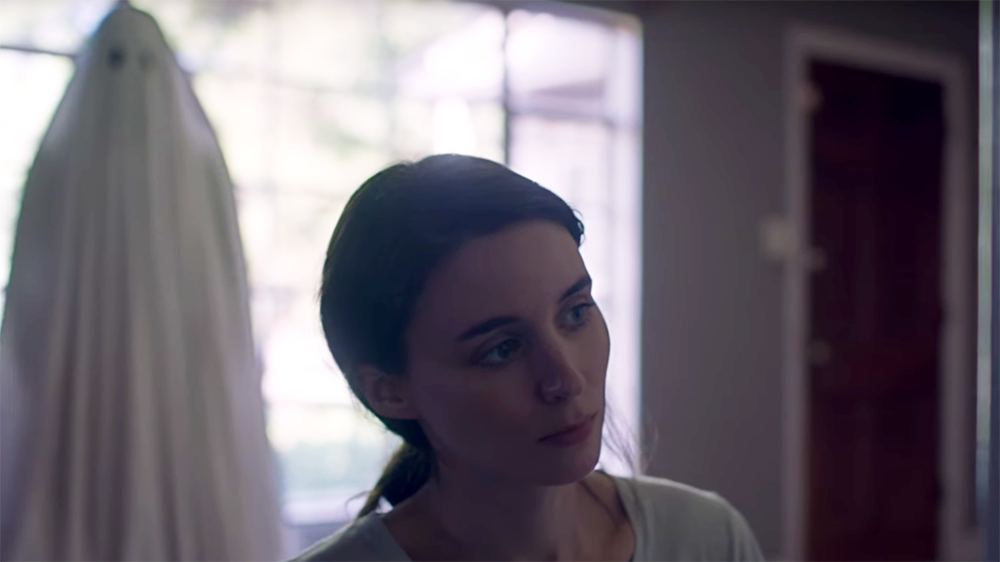 Omg turn around such spooks watch out!
The story is about a man (Casey Affleck) and a woman (Rooney Mara), madly in love with each other. The man is a musician, the woman really enjoys books and writing notes. They fight some times, sure, but they at least communicate well.
And then the man dies. In a car accident, right outside of their home. Fuck.
The woman identifies the body at the morgue and leaves, unsure of what she is going to do with her life. And then? And then? And then?! The man rises up from his table, still covered in the sheets from the morgue. He walks down the halls and no one notices him. He feels a calling, back to his home.
And in that home is where he stands and waits. He glimpses into the woman's life that he used to be married to. He sees her in her great levels of grief, he sees her begin to move on with her life. He even sees the worse thing of all – he sees her find another person to love.
Also featuring Liz Franke as a real estate agent and Will Oldham as the Prognosticator.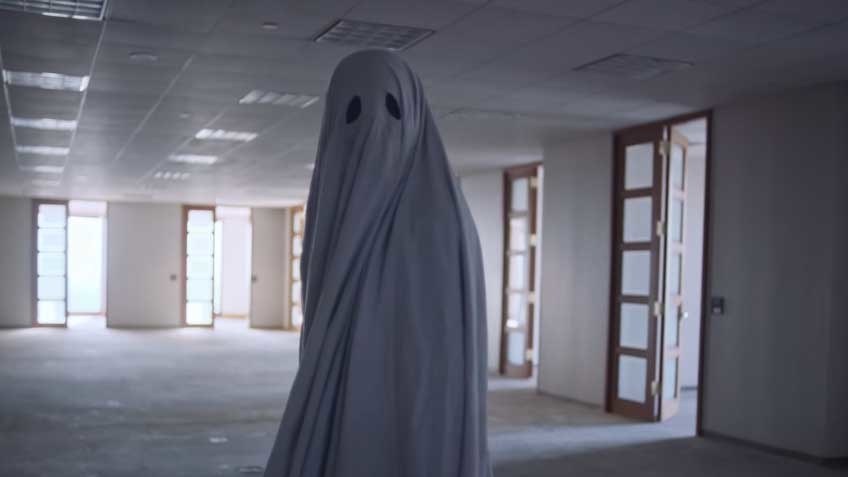 Something haunts these hallowed empty halls. Something that smells sheety.
Of course of course, how could a film that looks so much like a joke be anything more than a joke? How can a joke supersede its own existence into something greater than the movie average that exists? How can I cry to a man dressed in a ghost sheet costume?
Well, I did. At least five times. An emotionally gripping movie where sure, a lot of it was my own imagination getting away from me imagining how similar circumstances would affect my own life. But that's what movies should do, draw upon your own life experiences and make you feel shit.
But I am getting ahead of myself. The movie. First thing someone should notice is the aspect ratio. It is 1.33:1, which is basically a box with rounded edges, to make the whole thing seem like an old styled family film. It is not just the introduction, or the ghost scenes, it is the whole film. And the film uses very minimal camera movement. Long scenes where it just sits as the characters move around, or scenes where it basically floats around the house/room/office like a ghost itself.
In ghost form, Affleck doesn't say anything (if it even is Affleck under those sheets). But he says so much in those darkened sheet eyes. Fuck this is hard to describe.
A Ghost Story is possibly one of the realest feeling films this year. Mara herself just captivates the idea of grief incarnate. Watching her just exist in the home alone brings so much pain to the viewers. You just want to jump through the screen and hold her, letting her know everything is not okay but she is okay and she will be fine. Just get out of the house, make some friends.
In this film you get to watch Mara eat pie. Like a real human being. One long shot of her just going into some pie, with a break away shot, then more goddamn pie. It is the most human thing you will see in cinemas this year.
A Ghost Story is an experience unlike many others. It takes us across time to question what is the purpose of life and how hard it is to move on – both for those who survive and for those who do not.
4 out of 4.