This film was watched as part of Fantastic Fest 2023!
Check out my interview with the director, Nick Tomnay, here! 
In every horror movie, if it involves wishes, you know you are going to need to have a lawyer to go over the wish with a fine comb to watch out for loopholes. Hell, even the comedies about wishes usually follow the same rule. The Monkey's Paw is a fierce and fickle bitch, as it were.
But thankfully, this movie just has Wish in the title, and isn't about a sarcastic asshole djinn spirit.
What You Wish For is more just part of a saying with the words be careful. I guess the grass isn't always greener in this thriller mystery. Huh, what a wild concept.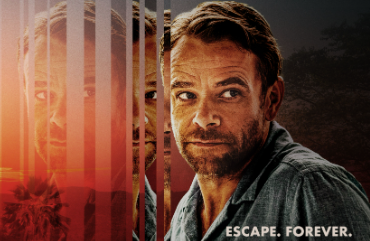 No joke here, I just had to edit the poster to get a second photo for the review.
Ryan (
Nick Stahl
) has hit a bit of a rock. And that rock is on the bottom. He is a chef, with some excellent cooking abilities, but no great place to work, and he is broke. He also is a gambler! So not only is he broke, but he owes some nasty people some money, and he is on the run for his life.
Lucky for him, one of his old pals in cooking school has a place for him. Jack (Brian Groh), arguably not as good of a cook, is living an extravagant life in Latin America. He has a beautiful house, and he is a chef for some rich rich people. He is living the life anyone could dream, and yet, he is alone. And Jack invites him to a visit, perfect timing for Ryan.
But there is something mysterious and secretive about this arrangement. How can a chef afford such luxuries? How great is Jack's cooking? Well. Ryan is about to find out, because he is going to be given an opportunity to take over from Jack, without knowing the finer details. And maybe he won't have the stomach for what happens.
Also starring Tamsin Topolski, Randy Vasquez, Juan Carlos Messier, Penelope Mitchell, Ariel Sierra, and Greg Winter.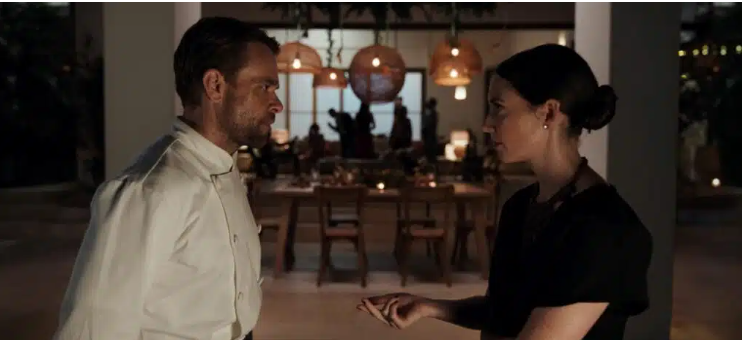 Fancy food? Hooray a film on how to cook, finally.
I am trying not to hint too much at this. Because a creepy movie involving food usually means one thing. But hey, if you remember The Menu from last year, then you should know it can mean a lot of different things. Just. Food will be involved. For an expensive meal. And even if you THINK you can guess what happens, you won't be able to guess the events around these actions still.
Nick Tomnay, the director, has only done one other feature film, and it was 13 years ago. The Perfect Host, with David Hyde Pierce. It was a charming film where people weren't as they all seemed and there was a dinner! Oh great, similarities in his body of work.
For this film, the mystery was only part of it. Because by the halfway point, the mystery has been give away. It's what you DO with the mystery that really gives the film its flavor. I am going with a cooking metaphor here, please accept it. I was kept on the edge of my seat, wondering how various characters would cope with the situation, when the stakes seemed to just keep getting higher. And the end is a stark realization that even when it comes to the elite and rich, no one can get by life's cruel twists of fate.
Now I just gotta hope a similar situation comes my way for my dumb skill set so I can be rich forever. Just kidding. Kind of. Maybe.
What You Wish For is an interesting look at not the most interesting story, but it does its own unique blend of herbs and spices to give it a kick that is quite enjoyable.
3 out of 4.