Here we go again…again.
Hotel Transylvania hasn't been a shining example of a good animated franchise. Its jokes are cheap, its concept is meh, its animation is on the lower tier of big releases.
But there is now a fourth one. Hotel Transylvania: Transformania. Why didn't they just call it Hotel Transformania? The world will never know, because clearly the FOR is meant to indicate the fourth one.
This was set to come out early October last year, same day as The Addams Family 2 (which also wasn't great), but sold to Amazon before hand. And then everyone was surprised when it wasn't out. Turns out the release date wasn't finalized. Early January next year? Fine.
And a lot of people also found out that Adam Sandler wasn't even involved with this one. Only him and Kevin James cut the plug, every other older famous person remained. Why did they leave? Where did they go? Maybe only Cotton Eye Joe knows.
Unrelated, did they ever say why there are so many of Dracula's friends at the hotel, all the time? They don't work there right? Are they on some permanent free vacation at their friends place of business? Honestly, if this was a first movie question, I have forgotten by now. If so, those early movies are a good metaphor for how Adam Sandler's movies have turned out the last decade.  He admitted that himself that his movies can just be paid vacations for him and his friends.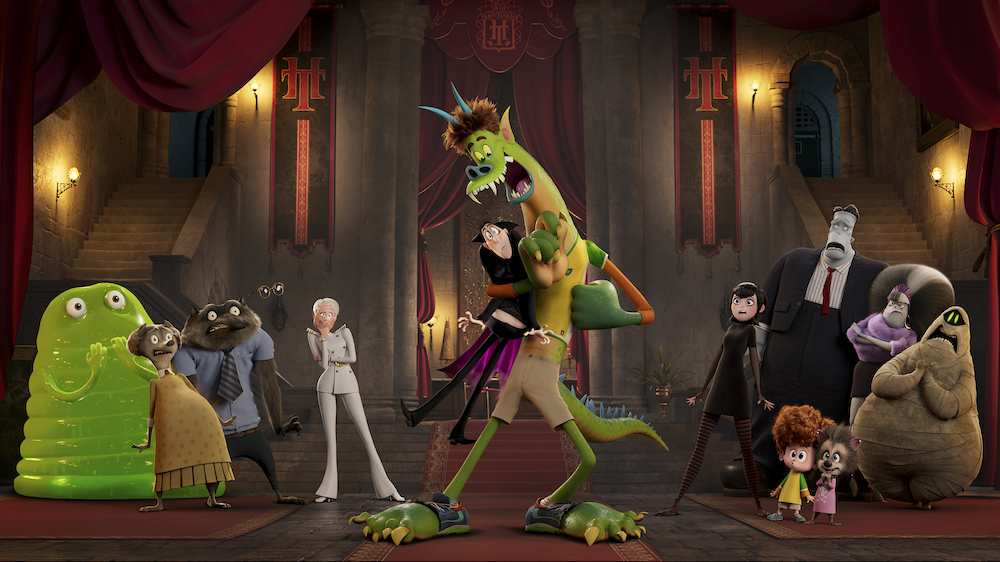 Turning Jonathan into a monster is going to make some weird fanart porn now.
So what is up with the hotel of monsters?
Well, the 125th anniversary is happening, and of course, Jonathan (Andy Samberg) is fucking things up. They had a big evening planned, so he did a lot more nonsense to surprise Dracula (Brian Hull), who hates surprises. Honestly, calling Jonathan a clumsy person with a big heart at this point seems ridiculous, since he knows what Dracula prefers and ignores all of his well wishes when it comes to things for Dracula. That means Jonathan is really just doing it for himself, or at least, for exciting Mavis (Selena Gomez).
Dracula was going to announce his retirement and giving the hotel to Mavis (and technically, also, Jonathan since they are married), but they find out early and piss him off again, so he lies and says he can't give Jonathan the hotel, since he isn't a monster. Some old made up real estate law. And so Jonathan finds someone who has a transformation ray, that turns someone into monster or human, and sure, goes monster. Dracula knows this will piss off Mavis, so he does the thing he always does, tries to hide stuff and not communicate.
Sure enough, he gets turned human (and his friends do also), the ray gets broken, so Dracula and Jonathan have to go on a long perilous journey for another crystal. Eventually the friends and Mavis and them join too. They gotta switch everyone else back, damn it.
Also starring a lot of returning voices, you know, except for the two who weren't. Brad Abrell, Fran Drescher, Steve Buscemi, Jim Gaffigan, Kathryn Hahn, Keegan-Michael Key, Molly Shannon, and David Spade.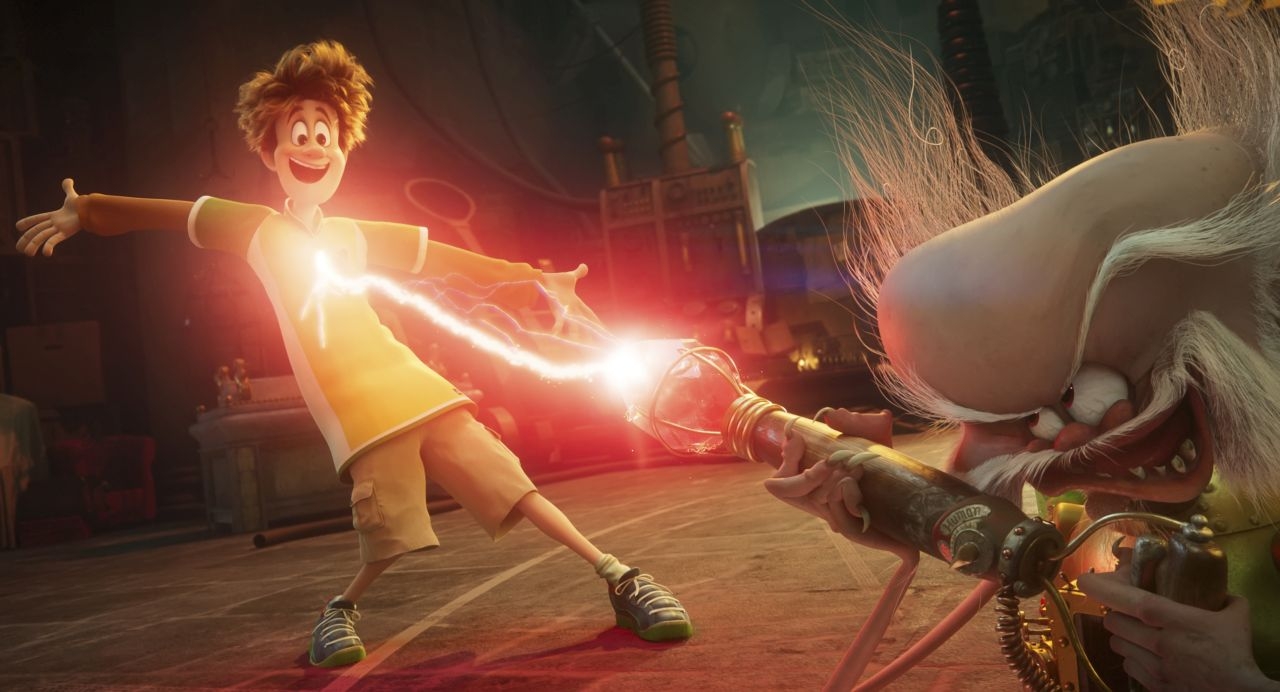 Hey look, it is that scene with the monster ray! How fun. 
I don't care if it is an animated film, but…characters should be able to grow and change over time? And having four movies in a row where Jonathan does the same mistakes, learns a lesson, then does the same sort of thing again isn't growth. When Dracula distrusts his daughter making decisions, and lies to friends and family, learns a lesson, then does that same sort of thing again next movie isn't growth. Adding children to a movie and more characters, isn't growth.
What the heck is the point?
One of my least favorite parts of the third film was the extended dance sequences they decided to have with each monster doing the macarena. Slowly. Over and over. Multiple times in the movie. That was a bizarre waste of time. This movie tried to test me early on, as they had the Cha-Cha Slide and started to do the same thing. Thankfully, it didn't last as long as the macarena, but I feel like it was done intentionally to troll me.
The movie itself isn't great. There is no reason for most of the adventure. It could be saved a lot of time if they just…fly…further. They know a lot of monsters who can fly and travel. Fuck. Mavis in bat form could do most of the work in the country, go to the cave herself, and get a crystal from looking safe without all the danger. It is such a nonsensical journey adventure, that exists purely for the movie, when clearly there are many work arounds for it.
Why the hell did the Slime DJ turn into a jello dessert? The goddamn ray said HUMAN and MONSTER. It didn't say revert to some non-monster form on it. It can take a non-human and make it human. That is it. They had a giant monster dog get zapped and it turned into a regular dog. That isn't a human either. These are just fundamental issues that make up a movie of lazy writing.
I will say it is technically better than the third film for me. But only because it has less dance sequences. I guess they are turning this into a TV show, with different animation style. Or already did. I don't know. I won't watch it.
0 out of 4.