February 15, 2016
Zoolander 2
Zoolander Zoolander Zoolander!
Fifteen years ish ago, I remember being a young impressionable teenager watching it for the first time. I laughed so much, so long. I quoted it so far for the rest of my life. It is probably one of my favorite comedies of all time and I am always in the mood for it. Hell, I remember putting in the DVD just to watch the Special Features Menu, because it was also hilarious. THE MENU!
The idea of a sequel has been kicked around for a long, long time. And yes, it has been delayed. But in this case, I am glad. If they forced a sequel, it would probably be shit. I expect they waited for a good script. I hope they waited for a good script.
Because it is clear that Dumb and Dumber To wasn't waiting for the right script. They just got the idea, ran with it, and gave us a pile of shit. Please Zoolander 2, don't be a pile of shit. Pleaaaase.
Bamblesport Cunnilingus was in it, so it can't be completely shit!
Fifteen years ago, Derek Zoolander (Ben Stiller) saved the Prime Minister of Malaysia with his Magnum look and changed the world of fashion forever. Mugatu (Will Ferrell), Katinka Ingabogovinanana (Milla Jovovich), and Evil DJ (Justin Theroux) went to jail! But bad stuff started to happen almost immediately.
Without spoilers, Zoolander soon found himself without his wife (Christine Taylor) and son (Cyrus Arnold), with Hansel (Owen Wilson) refusing to speak to him, and a laughing stock again in the world. So he left to become a Hermit, living alone in a cabin on a mountain.
Now, in 2016, he receives an invitation to Rome, by Alexanya Atoz (Kristen Wiig), the new big fashion person. Derek, along with Hansal, are to star in a new campaign and revitalize their careers. Derek wants to do it to get his family back. Hansal wants to do it to run away from his problems, from being part of a family.
Also, a whole bunch of celebrities are being killed. Including Justin Bieber! When they die, they seem to have Zoolander's classic look on their face. This investigation is being led by Interpol's Fashion Police division, Valentina (Penelope Cruz).
And featuring Kyle Mooney as a fashion designer, Sting, Kiefer Sutherland and Susan Sarandon as themselves, Fred Armisen as an 11 year old boy, and the return of Billy Zane and Nathan Lee Graham as Todd.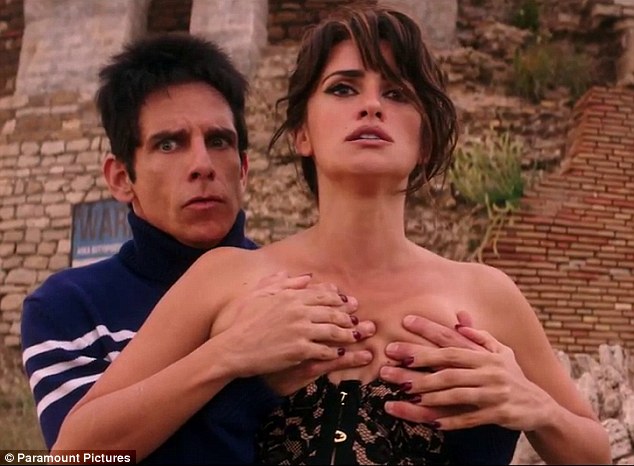 Zoolander's hands are being played by Jerry Stiller.
Sure enough, Zoolander 2 is not as good as the first film, but in reality that was impossible. Humor was a different beast in the last 90's and early 2000's. If they went for a film with the exact same tone, it would most likely feel just dated.
But damn it, this sequel gave me Zoolander and Hansel back, and they are acting like they never went away. These felt like the characters, the movie was true to them, and they didn't become warped caricatures. Well, maybe a little warped. But not terrible. I believed everything they did and said.
The film had a few unique laugh moments that had me in stitches. They rehash a lot of the old jokes, but it thankfully isn't a majority of the film like how it felt for Anchorman 2. They come and go, sometimes they stick, some time they don't. For instance, the Hansel being so hot joke? It was poorly placed and made it completely shit.
I would probably have given this a higher grade, for enjoyability and nostalgia, but the plot is almost incomprehensible. Looking back on it, trying to figure out character actions, none of it seems to make sense. I can't even tell if Billy Zane is supposed to be a bad guy. It has a large conspiracy element like the first film, but this one is so badly done I can't imagine how they thought it was a good idea.
And for the most part, the cameos were disappointing. The only two that had a large presence were Bieber and Sutherland. Everyone else was one joke and done, quite a shame.
Overall, you should definitely watch the film if you want more Zoolander. But you might not have to see it in theater.
2 out of 4.