October 22, 2014
Wish I Was Here
I have wrote before about the secret feud that must exist between Zach Braff and Josh Radnor. They both were the stars of long running comedy sitcoms that were ingrained in pop culture. They also both directed movies, Braff had Garden State and Radnor had HappyThankYouMorePlease. Both, very indie drama/comedies.
But then Mr. Radnor changed the rules. No longer willing to just copy Mr. Braff, he went and directed a second movie called Liberal Arts. Not only that, but the very indie movie dealt with sex. That is a huge game changer.
So Braff looked at Radnor, knowing he had to direct another movie to get back at Radnor's arrogance by jumping the line. He decided to direct and write a film called Wish I Was Here, trying to out indie the latest indie movie of Radnor. Braff just had to use the power of Kickstarter to do it. On plot alone, he might have done it too. Braff was attempting the very rare, and usually very good, indie family road trip movie.
With at least one Turkleton by his side.
Now, this is a story all about how Aidan Bloom's (Zach Braff) life got flipped-turned upside down. Hmm, not entirely true. One could argue it happened after his mom died and left a sizable sum of money to his brother (Josh Gad) who seems to be wasting it all. One could say it has been bad for the last couple years, as he is a struggling actor, unable to find work in LA, living in a shitty home. His wife, Sarah (Kate Hudson), is working at a shitty job with annoying coworkers and is taking out her frustrations on her husband who isn't providing income.
But at least his kids (Joey King, Pierce Gagnon) are going to a good school. They are in a private Jewish school, thanks to funding from his father (Mandy Patinkin). But even that is about to change. Looks like his cancer is back, and he wants to use the rest of his savings for a risky procedure to maybe get rid of the cancer for good. Maybe.
Well, Aidan didn't have a good life in public school, so agrees to home school his kids. But does he know how to teach them? They are quite different, and he wasn't the smartest in school either. But with so much in his life going sour, Aidan really doesn't even know what to do. According to the Rabbis he is failing, that is for sure.
Also featuring Braff's friends. You already knew Donald Faison was in here, but what about his Garden State buddies, Jim Parsons and Michael Weston? Natalie Portman was presumably busy.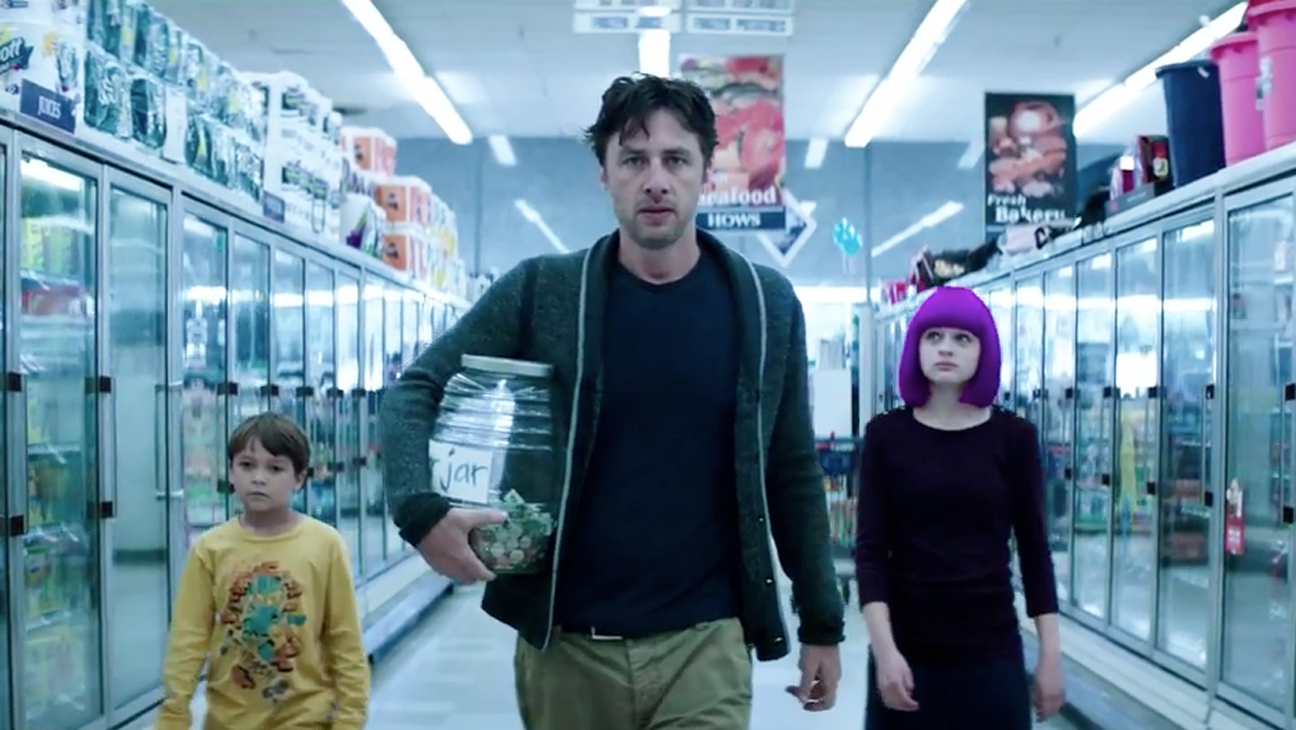 Braff literally carried around his Kickstarter money until the film was finished. Every last scene.
I know a lot of people were disappointed with this film, calling it "Not Garden State" but this film wasn't going for Garden State at all. Garden State was about depression, this film just has depressing subject matter. I was completely wrong with the genre though, the trailers made it seem like a road trip movie, and there is some traveling, but most of it takes place around LA.
It is about a man trying to cope with his existence, with what his family expects of him, with what others expect of him, and whether or not he truly is the reason that everything in his life is falling apart.
The film also has a strong indie feel, especially when Braff gets caught up in his imagination (not like JD). But it doesn't feel so indie that I am pissed off by the end, wondering what the entire movie was about. That's an indie stereotype. This film sort of celebrates the bizarre of every day ordinary life and of raising a family. And it does a decent job at the story it wants to convey.
Funny and serious, Wish I Was Here was better than I thought it would be, and certainly better than Liberal Arts, which I have to compare it to. Just arguably both of these gents had better first films than their second films.
3 out of 4.