February 10, 2012
Twilight: Breaking Dawn, Part 1
This is the 350th movie review! For 300, I was unable to review this movie, and so instead did the High School Musicals. But since the movie is finally coming out on DVD, hooray harooh.
Twilight: Breaking Dawn, Part 1 is the first half of the fourth movie/book/cash grab, behind Twilight, Twilight: New Moon, and Twilight:Eclipse.
Lets start with the Anna Kendrick update!
You can argue she has 1-3 scenes in this movie. But they are all in the first 15 minutes. Technically I could say she is just in the wedding scene. In the real one, apparently as a friend who just makes dumb jokes now, and in the dream one, no lines. Kinda gave a snippet of a toast. But that is all. Only a few glances in the first 15 minutes. It was weird watching her as some needy drunk girl too, since presumably she is like 19.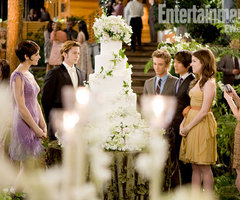 Only picture I could find of her at the wedding. Scarce!
So yeah, wedding happens. Very slowly. The only news that comes out of it is that Jacob is super mad (so much that he takes his SHIRT off! and runs away in the rain). That and Bella isn't going to go Vampire that night. They are going to enjoy the honeymoon first.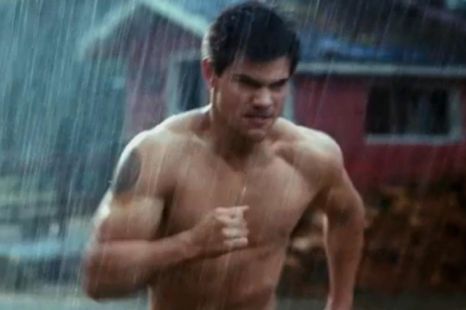 You see he is mad, because that means they are going to have sex. A dead guy and a live girl.
So that wedding takes about 20 minutes of the movie. Bella rarely smiles of course (except when she sees Jacob? weird). Then they go to mysterious Rio De Janeiro for their honeymoon, which takes up at least 25 minutes of time. Yes. Honeymoon, where literally all they do is have some rough sex, and then mostly just relaxing on the beach, having fun time. Until Bella discovers something.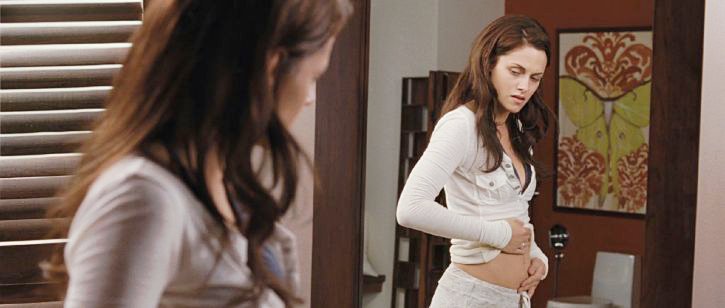 That she is disgustingly fat!
Yep, somehow Edward, a dead creature, that shouldn't have blood flow to do youknowhat, impregnated a live chick. Uh oh. Shits a problem. [Side note, randomly in the beginning real quick Edward was all, oh yeah I used to kill humans a long time ago. But only bad humans. Dexter-esque, super random].
But yeah. According to random wear wolf lore, that baby is not good. It will be powerful. And it will kill Bella coming into the world. So technically if that happens, Edward would also have broken the "Treaty" between the two groups, by killing a human in their land. Killing one with his penis. (Apparently it is gray area turning her into a vampire willingly, in terms of why that is or isn't an act of killing).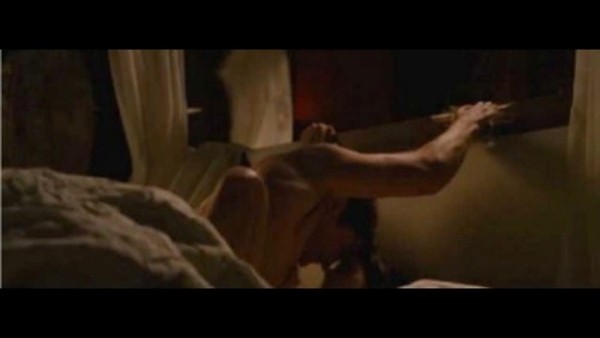 Picture: Killing Bella With Vampire Penis
At this point half of the movie is already over. If it feels like a lot of filler, that is because it is. Also if you have paid any attention to the other movies, you will know what the characters don't.
Hmm, the only time the Cullen family tends to add a member to their ranks is because the person is already dying. Bella is going to die giving birth. She is SUPPOSED to be turned into a vampire already, because of those hooded people (who aren't in this movie?). CONNECTION MADE. Clearly everyone knows that Edward will just get his bite on during birth, and they will have a weird vampire human baby, and she will go vampire, and everyone is alive. Right?
Wrong. I think that is what made me the most mad during the movie. That shit was obvious. They had weeks to plan this stuff. Never crossed anyone's mind despite it happening all the time (not usually during birth). What the fuck?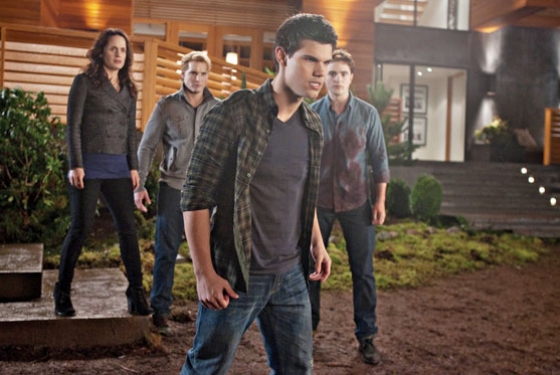 The stupidness makes Jacob mad. Also, yes, that is Bella Birth blood stuff on Edward.
So the birth is weird. Apparently the baby grows freakishly fast. Like, weeks after sex it is time to go. Edward even speaks to the baby, cause he can read thoughts. During the actual birth, which is GROSS. So gross! I kind of wanted to vomit. During that, most of the vampires try to attack to kill the baby right away. Jacob, and two other wolves, and the vampires fend them off. No one gets close, no one gets hurt. Gotta love it.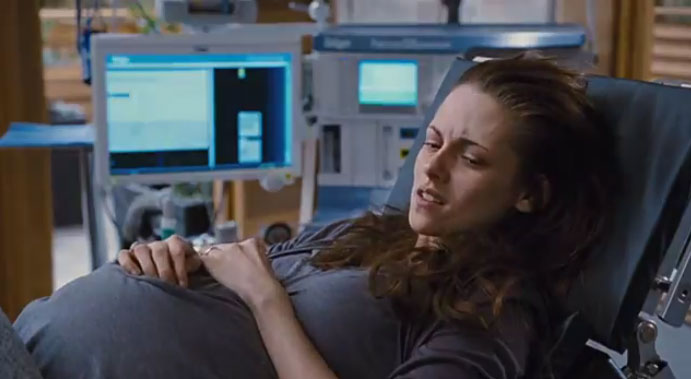 I guess Bella is allowed to not smile now. The whole dying thing.
Guess what. Post Birthing, Bella is lying there dead-ish. Then Edwards get the bright idea, "OH HEY LETS MAKE YOU A VAMPIRE! YES!". He starts biting her all over, looking for blood I guess. Finally hits it, blood becomes corrupt or something and good to go.
Also, the Wolves stop attacking. Why? Because as far as I can tell, they have some code, where they can claim a non werewolf, to love them and be there for them, as lover, brother whatever, and the tribe cant hurt them. Yeah. Jacob falls all sorts of in love with the baby.
Wait what?
Apparently the baby will grow super quickly. But ethically or morally I am not sure if pictures like this are appropriate.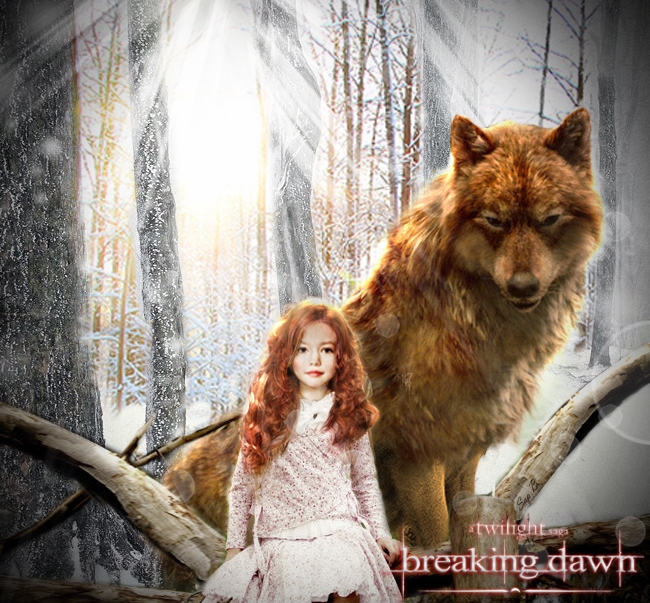 How to make bestiality worse? Throw in pedophilia.
The final scene has Bella open her eyes to the picture below. I guess its supposed to be a powerful ending, but it isn't at all. From the first movie you knew she'd be a vampire. The second one made it official, the third one set the date. The fourth one delayed the date, and ignored that fact until the end. But yes. She is now a vampire and a mom.
Of course its just part one, so I assume part two (The final movie?) will be about the swell times they have raising a family, and ignoring the hooded people. No more conflict right? Who knows.
But seriously, this movie is the worst of the movies so far. I hated how slow everything went. The first half was entirely too slow for what amounted to get married, and honeymoon sex. The second half just had them all worried about what they'd do, when they should have known what to do and just waited. That whole thing could have been like 30 minutes. Making this movie into two was stupid in terms of movie quality.
After all, if I thought most of New Moon could have been in Twilight, I'd see no reason to split up a book.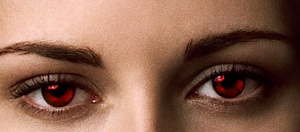 0 out of 4.