August 30, 2013
The World's End
Not a lot of people know that The World's End is actually the last movie in a trilogy. Yes, Shaun of the Dead and Hot Fuzz are the first two films, all three of which are directed by Edgar Wright and star the same two people.
These three films make up the Three Flavours Cornetto trilogy, which I would explain more, but it is British and thus inherently confusing.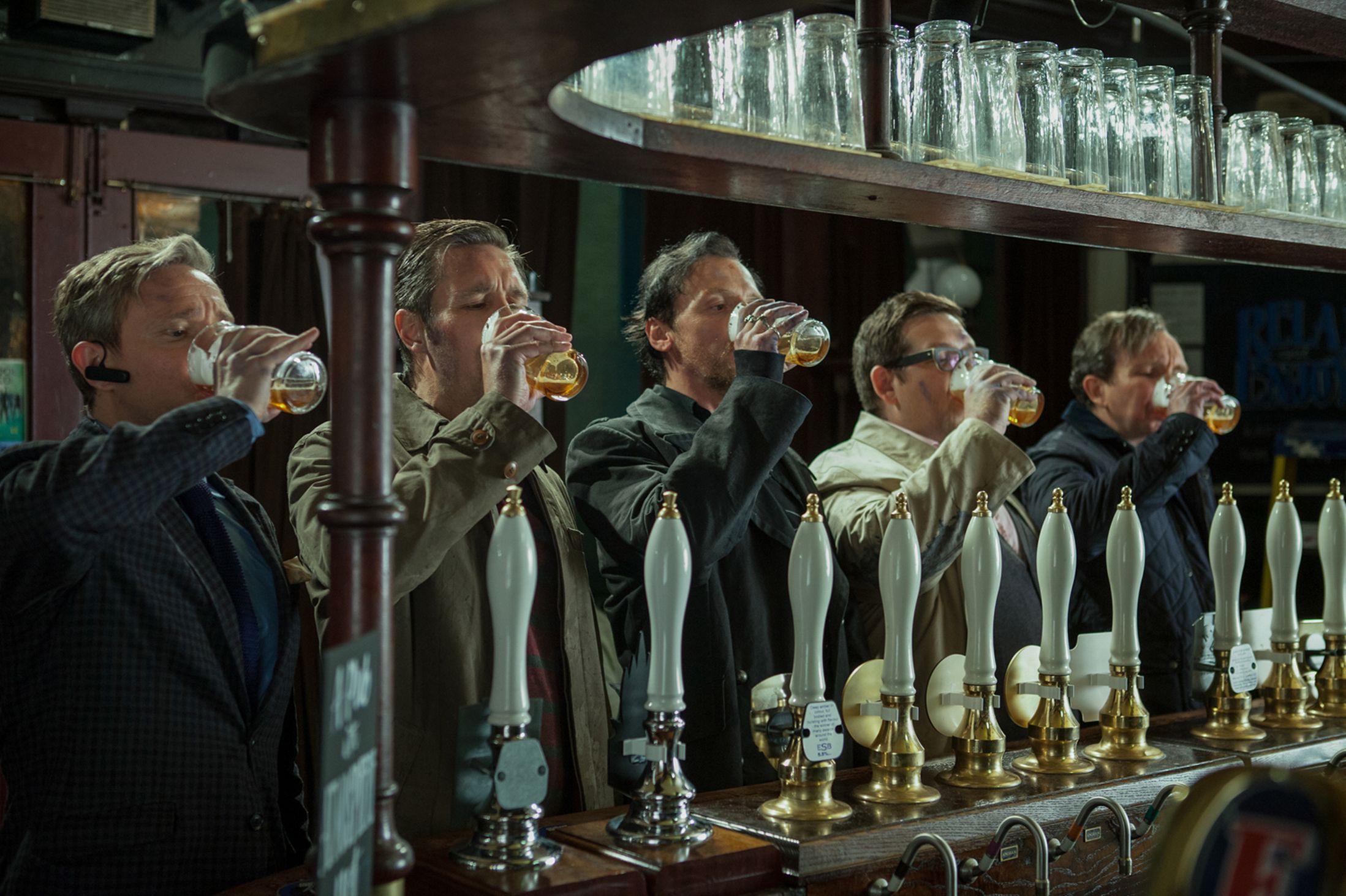 It's beer! Hooray beer!
In the town of Newton Haven, there exists a challenge. There are twelve pubs, and those who attempt this "golden mile" must travel to each pub and drink an entire pint before the night is through. That is a lot of alcohol and few have ever made it. Gary King (Simon Pegg) and his four friends attempted it on the last day of high school to celebrate their accomplishment. Unfortunately, he only made it to nine pubs, and has regretted it for the the rest of his life.
Now, twenty some years later, Gary King is exactly the same as he was in high school. Due to his regret, and living apart from his friends, he has decided to get the band back together to try again. Sure, he might have to lie to get them all to come, but at least his heart is in the right place. Kind of. His friends Steven (Paddy Considine), Peter (Eddie Marsan), Oliver (Martin Freeman), and Andy (Nick Frost) are now all adults with families, lives, and responsibilities, so they are reluctant when they see he is still so childish.
Their pub crawl becomes even more difficult when there is so much unspoken drama between the group of friends. Thankfully, alcohol makes speaking your mind a bit easier. The group also find that Newton Haven is not the same quaint town they left decades ago. It has changed, and not just in the metaphorical sense. Most of the residents are some sort of alien robot hybrid now. But that isn't the important issue. The important issue is getting Gary to stop living in the past and finally move on!
Rosamund Pike plays Oliver's sister and Pierce Brosnan a former high school teacher and mentor to our heroes.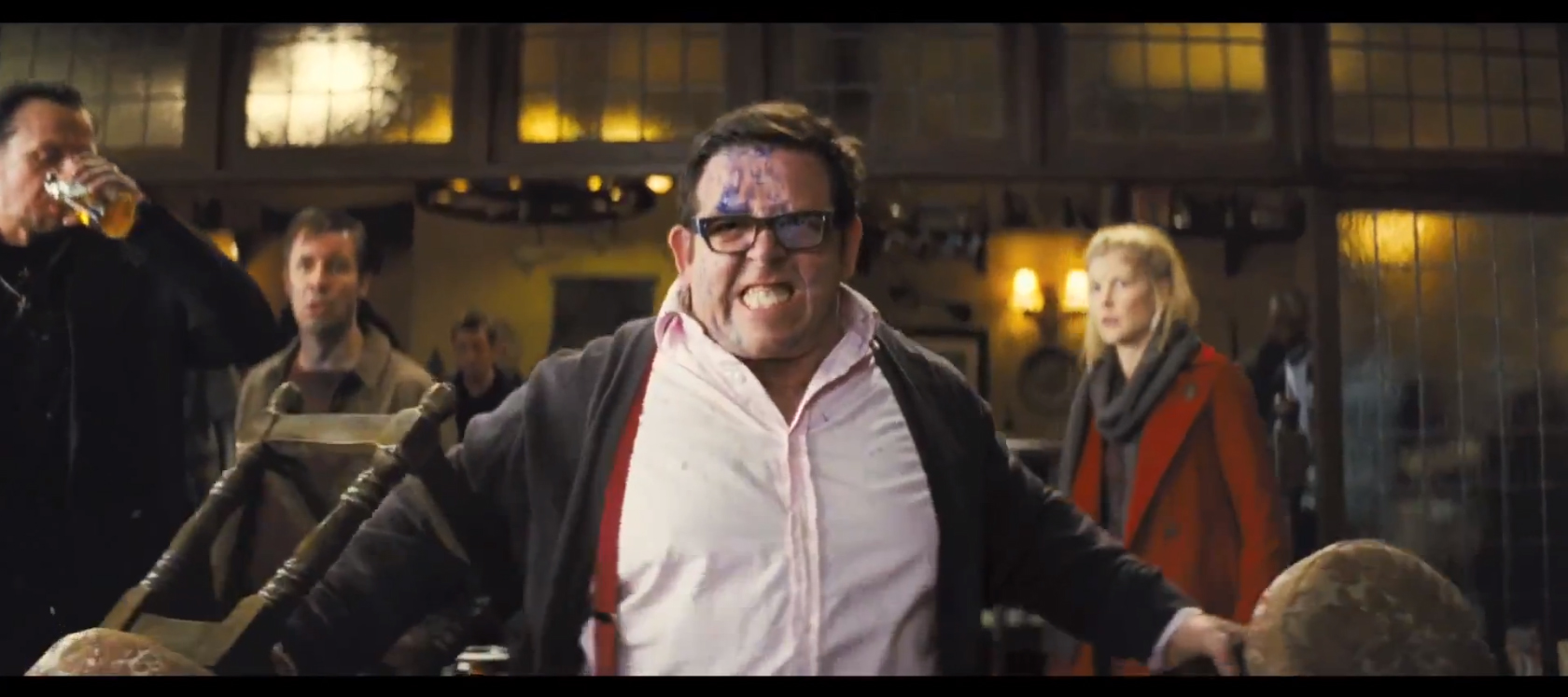 I've experienced emotions like this before. Once. Let's just say, it didn't end up with blue paint everywhere.
I guess I should start out by saying that I don't think The World's End is as good as the previous two films (and thus my rating!). Something seems inherently different. Maybe they were too aware of what they were doing at this point in the trilogy. Not sure, but something just feels missing.
Simon Pegg is playing a character unlike anything I have seen before from him. He was incredible in it. His character was so spastic, impulsive, and such a fast talker. Out of anything, I was most impressed with his acting in this film. Major props to Pegg.
It should go without saying that the chemistry between the group of actors was also high up there. A lot of these men have been working together and real life friends for so long, it is just completely natural.
The film itself was humorous but I don't think it was "laugh out loud" funny for the most part. You know when a joke happens and you exhale a bit harder because of it to show your appreciation? Yeah, I did that a lot.
The story also seems to run away at times. By the end, I was just waiting for them to get to the last pub, so the film would find some sort of conclusion. I also found myself not caring about the alien/robot threat, which is a main point of the movie. The glowing eyes were kind of neat/scary but by the end they were totally uninteresting.
Fans of the other two films will most likely enjoy this new addition. Someone new to the series is unlikely to get some of the "in jokes" that run rampant throughout, however. Whether this film will be as successful as the other two in a few years is yet to be determined.
2 out of 4.