August 2, 2013
The Way, Way Back
Jim Rash and Nat Faxon wrote The Descendants, and graced our screens with its presence in 2011. It was nominated for Best Picture and eventually won Best Adapted Screenplay. It basically made these writers pretty hot commodities.
That is why I was excited to see The Way, Way Back, their next film. No George Clooney this time, but they have plenty of other actors to fill his void.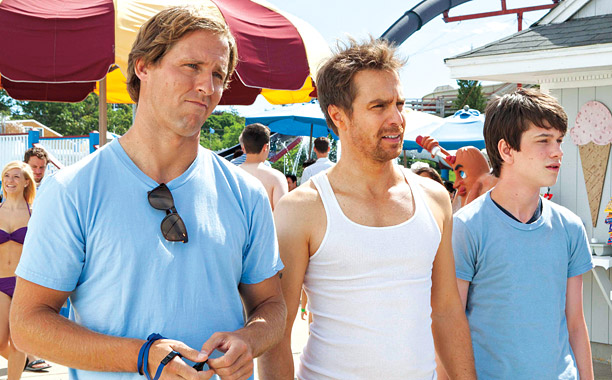 Look, here are three now!
Summer can suck. Especially if you are Duncan (Liam James). Your parents are divorced, your dad just moved from NY to CA, and your mom (Toni Collette) is dating the biggest douche in the universe, Trent (Steve Carell). Unfortunately for Duncan, he has to head out to Trent's summer beach house to pretend to give this new family idea a chance.
Did I mention Trent is a douche? He talks down to Duncan, constantly goes off with his friends (Rob Corddry, Amanda Peet) to get drunk or high or both. It is basically his personal summer vacation, where Duncan and his mom are afterthoughts.
But eventually, Duncan finds friendship in the local Water Park. Slacker manager Owen (Sam Rockwell) has decided to take pity on Duncan, give him a job and help him find a purpose in this long dreadful summer. With the help of Owen and the other workers (Maya Rudolph, Faxon, Rash), Duncan learns that there are non sucky things out there in life.
That is great, sure, but will this new found joy in life at all help him with his horrible home situation? Will it help him woo over the neighbor girl (AnnaSophia Robb), who has to deal with her constantly drunk mother (Allison Janney)?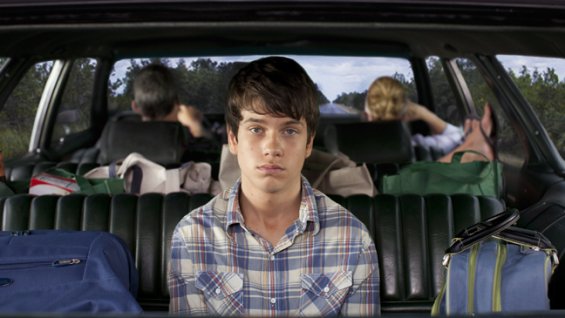 Oh god. He is staring into my soul. What do I do!? Just act natural. Ho hum…AHHH!
Comedy/Drama movies are actually quite hard to pull off successfully. After all, even the strictest of dramas tend to have some minor elements in comedy, and vice versa. But most movies labeled in this category are clearly still one genre over the other, or even worse, weak in both areas to try and find a balance. One of the best examples I could list of a real comedy/drama would be 50/50, a film that made me both laugh and cry.
Nat Faxon and Jim Rash wrote a decent comedy/drama with The Descendants, very enjoyable, but it could have been more dramatic. For The Way, Way Back, they decided to amp up their game, and created a much better film. Not going to lie, I cried three times during it. I can't say I relate specifically to the scenes in this film, but thanks to an excellent build up with terrific acting from everyone on the cast, the emotions quickly took over.
Steve Carell had to play the biggest jerk in the world, and he pulled it off well. It was quite surprising. Sam Rockwell and Allison Janney carried the comedy for me, while at the same time their characters felt real. Everyone felt real. I love real, even though real characters lead to uncomfortable moments.
Major props as well to Liam James. I can't say I recognized him in anything before, however he pulled off the awkward/lonely teenager role really well. But hey, apparently he was Young Shawn in the Psych flashbacks, so that is kind of cool.
4 out of 4.