Why the hell is Channing Tatum in so many Romance based movies?
A guy who's face that screams out "Big dumb strong man" doesn't seem to be romance movie material. Or at least once every awhile. But damn. I feel like that is 2/3 of his movies.
In The Vow, not only is he the main male lead, he is kind of the only romantic character in the movie. So weird.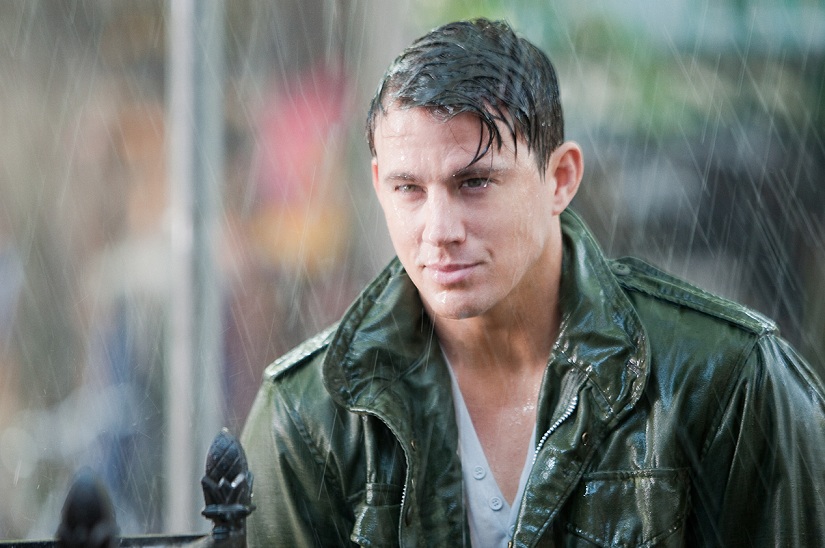 You can tell, because there are no pictures of anyone else out in the rain.
The movie begins with Tatum and Rachel McAdams, driving at night with lots of snow. Aw, they are married. How sweet. Rachel has to leave, so she unbuckles, but before getting out of that car, she gets her kiss on. And then a truck slams into the back of their car, and she goes out the window.
What the heck!
Yeah it sucks. Then she gets into a coma, and well, some amnesia happens. She forgets the last few years of her life, but not everything. Definitely everything involving her husband. What does she remember?
Going to law school, being close to her parents (Sam Neill and Jessica Lange), and being engaged to someone else. What?! Her old fiance, Scott Speedman, whom she left to move to the city and find her own way.
Tatum has a hard enough time providing evidence that she ever even loved him (in the form of a voice mail and their wedding video (and their vows!)). He is all weird and different, and she doesn't like the idea of living with a stranger. She also finds it odd that he doesn't seem to know her family well. What if he is just an intense stalker and going to kill her?
What she doesn't know is why she ever left her home, her rich life style, law school, and fiance, to move to the city, become a sculptor, and you know, fall in love with Tatum and stuff. None of her family feel like bringing it up either, not even her sister , Jessica McNamee, who is also about to get married.
Will she ever remember her past? Or will she be all, whatever.
There is an amnesia clause in vows, right?
So, somehow this ended up being a decent romance movie. I'd imagine losing someone you loved (and who loved you back) would suck, especially if it was via amnesia. Especially if she used to be an entirely different person, who also was kind of a bitch. Understandably, at least. No one likes not knowing anyone around them.
This is based off of a real couple, and even given a factoid based off what happened at the end. The ending to the movie? Well, I thought it was kind of a let down. I guess they wanted to go away from a more obvious turn of events so we wouldn't guess what happens. But still. Eh.
But the beginning, starting with the accident, and flash backs to when they met and their marriage? That was all very cute. But Tatum's character is a total dumbass, who does a few things that are quite horrible in the movie, and that was also annoying to watch.
And then again? Some other things were not. Sooo….Yeah.
2 out of 4.