November 26, 2012
The Raven
With The Raven we have a movie based on Poe's works! Hooray! But not just his stories. This is actually a tale set in the "Real world" where someone is off murdering all these people based on the works of Poe. Even better.
I've seen weirder concepts for a killer to copycat. I am hoping one day there is a movie about a serial killer basing his kills off of classic Simpsons episodes. But then something else happened. Turns out this is a fictional account of the last few days of Edgar Allen Poe's life. No one knows about what happened to him before his death, kind of just found him all drunk and dead. So why not have the actual Poe help solve a case about murders based on his book? Ehh, that's not weird at all.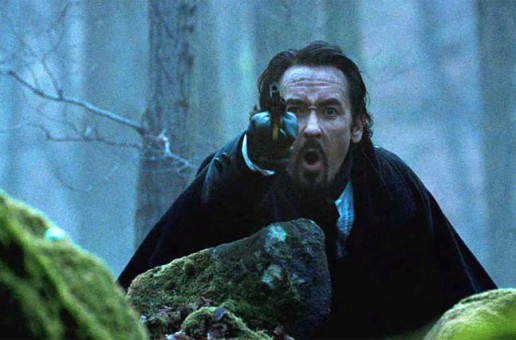 I hate how much I still think he looks like Matt Macfadyen. Mostly because its all in my head?
Alrighty then. Poe (John Cusack) likes to drink. No one cares about his work, and he is poor. Life is hard, and having a hard life leads to great stories apparently. Some people recognize his work, but I guess at this time, most people don't care. We all know an artist becomes much more famous once they are dead!
But as you know, some murders go down. Apparently the crime scene looks like The Murders in the Rue Morgue, a story of Poes! Detective Fields (Luke Evans) realizes this and naturally questions Poe. He is all, what in the fucks, and appalled. So he gets brought in to help solve the case! This is good, because he is into the Emily (Alice Eve), but her father (Brendan Gleeson), captain of the force isn't okay with that. Well, maybe helping out can get him on the good side!
But yeah, he doesn't really help too much. Stuff keeps happening, based on the Pit and the Pendulum, The Tell-Tale Heart, and more stories I have never heard of. But will the pursuit of the truth in this case be the death of Poe?
Well, yes. That isn't a spoiler. We know he is dead by the end mysteriously. Hopefully he at least gets an answer though.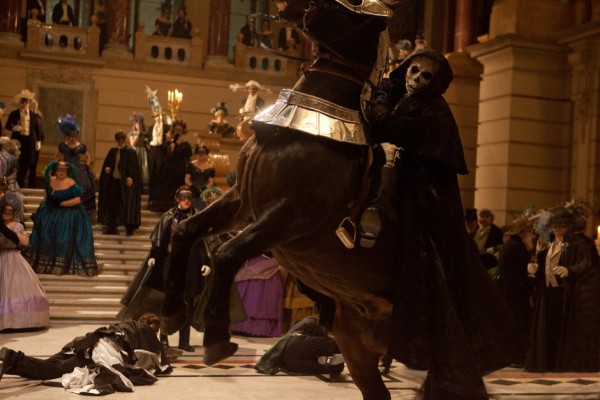 I watched this movie and still have no real idea what is up with this scene.
Blah. I either had a weird taste in my mouth the whole time I watched this movie, or I just found the movie itself unappealing. I guess I was a bit turned off knowing that Poe was actually in the movie, rather than just a serial killer imitating Poe's works later. Which yes, is my fault. But still. Definitely was put off, making it feel like they are cheapening the real tragedy that was Poe's final days.
It might not help that I didn't get most of the literary references. I think I have read three whole Poe stories in my life. I probably know more, from TV show allusions or whatever, I just couldn't name them off the top of my head. But overall I thought the movie was a bit boring, and possibly a rushed piece of work that was trying to cash in…something. I don't know. Not like there has been any other Poe show/movies that have come out recently. Kind of on its own.
Oh well, I got nothing.
1 out of 4.