February 10, 2014
The Lego Movie
When I first heard of The Lego Movie, sometime mid 2013, I will admit I thought it was stupid. I know Lego has been revamping itself pretty intensely for the last decade, being more than just a child's toy. With so many themes, and now video games based on movies, it is no surprise they are making a movie based on a game.
When I first saw the trailer? I was immediately hooked. This became one of my most looking forward to movies in the first half of 2014. Shit, it was even done by the guys who did Cloudy With A Chance Of Meatballs and Clone High. Those guys know comedy and they also know their pop culture references. Combined with an idea that has stuck its fingers in most pop culture references over the last few decades, and you have the potential for a storm of success.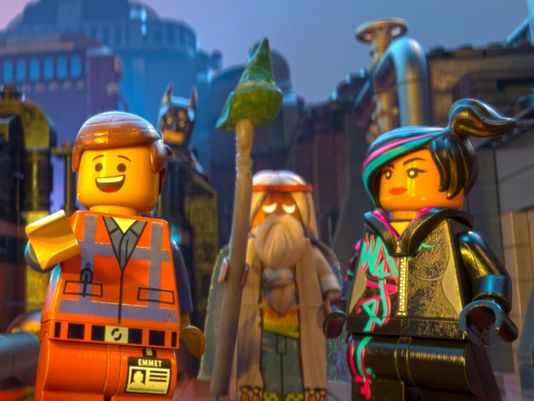 See! One of these guys is excited about the storm of success!
In this story, our hero is one Emmet Brickowoski (Chris Pratt), who lives in the city and does the same thing each and every day. He follows the instructions on the box, lives his happy life, and builds things. There is absolutely nothing unique or special about him. That is, until he meets Wyldstyle (Elizabeth Banks), who is about to turn his reality upside down and change his life forever!
She introduces him to the Master Builders, other Lego people who can see from the world around them and build creations quickly and without instructions. Like Vitruvius (Morgan Freeman). He also learns that President/Lord Business (Will Ferrell) is going to unleash some power called "The KRAGLE" on the population in a few days, destroying everyone's way of life forever!
From a series of accidental circumstances, Emmet is being labeled the "Special" and all of their hopes to saving the day are coming down to him. He will also have the help of other Master Builders like…Batman! (Will Arnett), Benny the 1980s space guy (Charlie Day), Metal Beard a strange huge pirate (Nick Offerman), and Unikitty (Alison Brie). Also, a Good Cop / Bad Cop (Liam Neeson) is working for Lord Business to capture the builders on the war front.
Shit, there is a ton of cameos too, which I won't tag on the bottom, but might as well mention here. They also have Channing Tatum as Superman and Jonah Hill as Green Lantern (because, 21 Jump Street), Cobie Smulders as Wonder Woman, Shaq as Shaq, Billy Dee Williams and Anthony Daniels reprising their roles as Lando Calrissian and C3P0, and Will Forte as Abraham Lincoln again. His first time as Abe was of course, Clone High.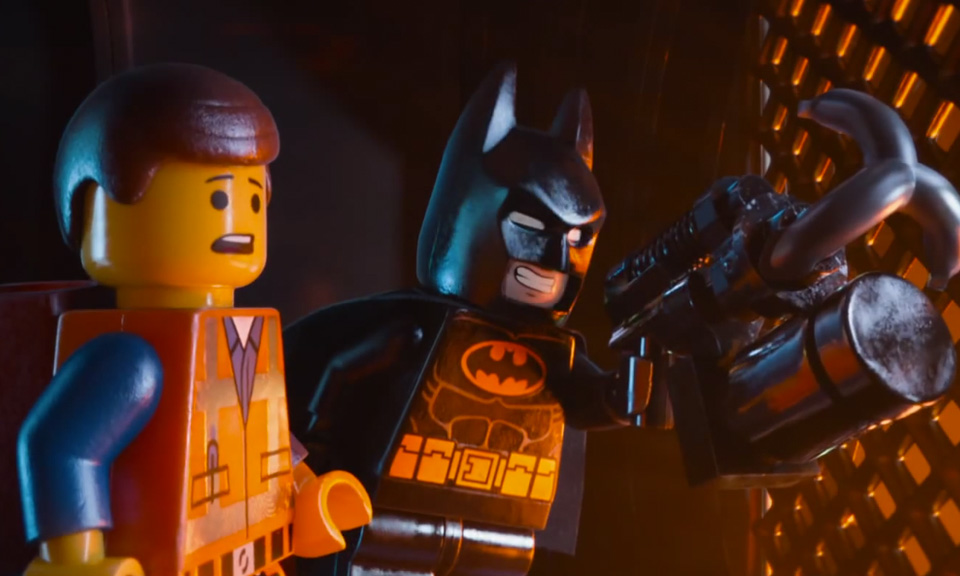 But you don't care about them. You all just care about Batman. Don't you?
Wow. Just wow.
Easily, the first thing that should be talked about is the animation style. They went full out wild with this, wanting to insure that everything always A) looked like Legos, and B) looked like how Legos moved. [Editor's note: Some contention as to whether or not LEGO is supposed to be pluralized by an S, given it's company name. They might prefer 'LEGO Bricks' if you do multiple ones. Well, I say fuck that, we call them Legos in America]. So yes, the movie could be considered a bit choppy to get all the movements right, but that gave it charm and personality and made me giddy the entire time. Watching waves or an explosion, but noticing they are all still lego pieces is incredibly exciting.
It was also pretty hilarious. I love pop culture as much as the next guy, but I do think their humor relied far too heavily on the fact that they were using major properties, such as Batman. Batman was in this movie way longer than I would have imagined (longer than any other already existing property). Although he was funny too, they were all specifically Batman jokes, and rarely just joke jokes. Most of the main team had their quirks, but none were as trademarked as Batman.
I also feel like parts of the ending were a bit…forced. Shit went real different at the end, kind of ruining the pace for me. All of the sudden, bam, we got a lesson to learn from this movie. I think it went far too long and took away from the film a bit.
I still really like this movie though, just the slowed down ending and over reliance on specific characters is what disappointed me. It was hilarious, creative, and shit, the animation itself is almost worthy of 4 out of 4. Honestly, I have a hard time believing there might be an overall better animated film the rest of the year. But it still had some faults for me. Even if Everything Was Awesome.
3 out of 4.