July 13, 2017
The LEGO Batman Movie
If you are new here, I have rallied against animated films so far this year. We just had a summer with Cars 3 and Despicable Me 3, both incredibly bad to super bad films. And these are our tent pole films for the year more or less!
There is very little hope of animated films saving it by the end of the year, but I openly acknowledge that I had not yet seen The LEGO Batman Movie. I know a lot of people enjoyed it, our first LEGO movie since The LEGO Movie.
But I am one of the people who only gave The LEGO Movie a 3 out of 4, it was no where close to being my favorite animated movie of the year, but it was quality and hilarious, I give you that. Despite that, I was never looking forward to this movie. I was disappointed to hear it as a sequel.
I want some new original LEGO content, not relying specifically (mostly?) on pop culture content from a single established franchise. I also acknowledge that the previous LEGO film was FULL of pop culture content, but it wasn't entirely. This just feels…well, unoriginal.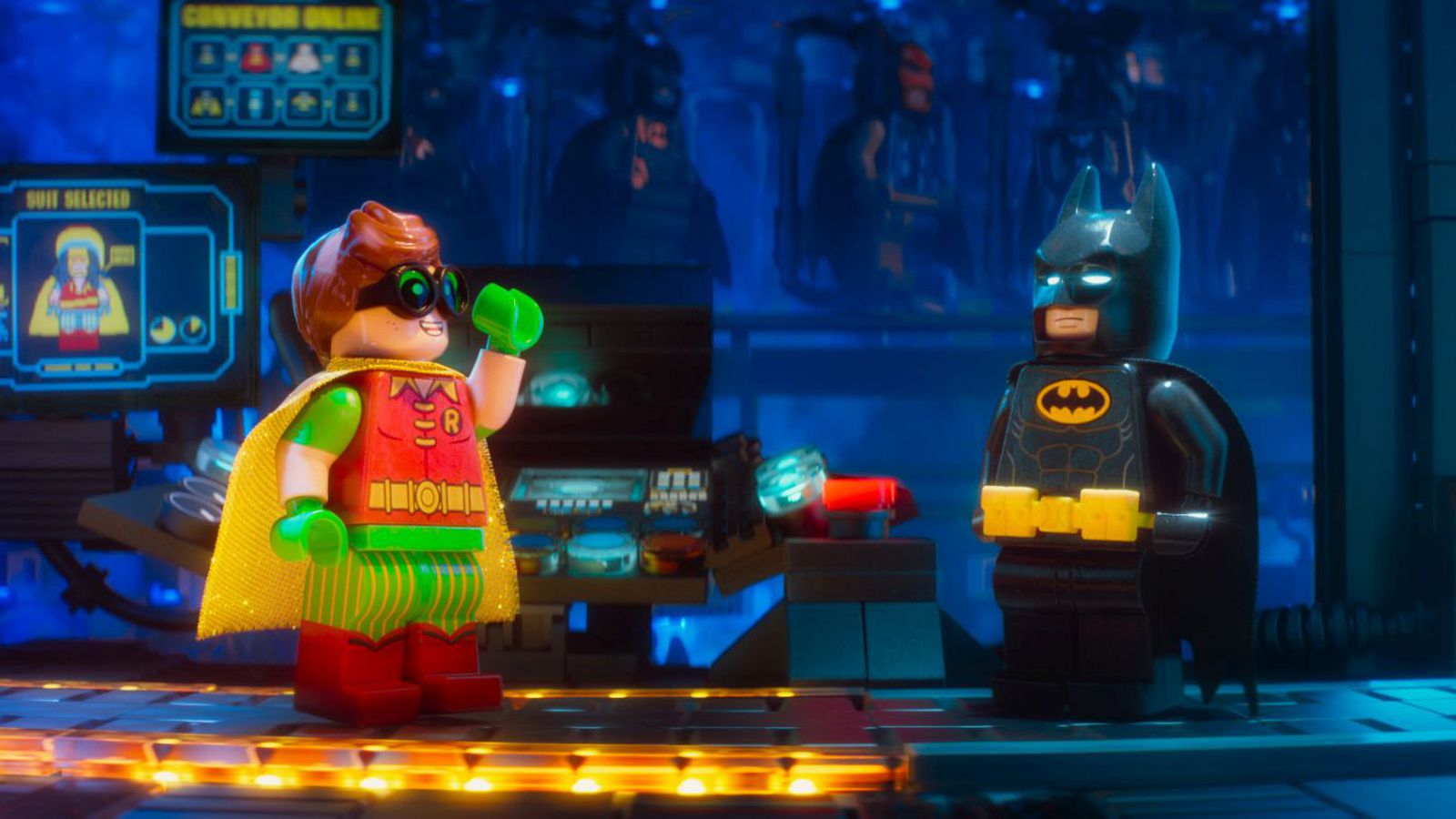 Now that brightly colored chap, he seems like a great way to take any brooding franchise.
Ah yes, Gotham, city of villains and crime and 1 super rich dude and some vigilantism. Batman (Will Arnett) is the best and everyone loves him! But he lives a life alone, mostly hanging out in his house, sometimes interacting with Alfred (Ralph Fiennes). But you know, just being a lone with all his money, cool gadgets, and lobsters.
He is still really good at fighting crime though, and even when the Joker (Zach Galifianakis) gets a shit ton of villains to work together to blow up the city, Batman still stops them. Even worse, Batman refuses to acknowledge the Joker as his greatest villain, his foil, his reason for Batmanning. So now the Joker feels bad. Batman just shuts the door on everyone!
However, with a new commissioner in Barbara Gordon (Rosario Dawson), they are going to focus less on Batman and more on actually catching these bad guys who still terrorize the streets. And you know, maybe focus on getting them fixed instead of just imprisoned. And shit, it starts to work, so Batman has even less to do and no one to hang out with in his increased downtime. Except for Dick Grayson (Michael Cera), whom he accidentally adopted.
Of course eventually some stuff happens and things get really bad, but Batman has to learn to work with others if he is going to defeat this new threat!
Featuring an incredible slew of famous people doing extremely minor voices, because YOLO. Seriously, most of these people have like, 1-2 lines, or grunts, or one scene.Again most, there are like two people thrown in here who have slightly more lines. Totally pointless for the most part still, so, whatever. We got Adam DeVine, Billy Dee Williams, Channing Tatum, Conan O'Brien, Doug Benson, Eddie Izzard, Ellie Kemper, Hector Elizondo, Jason Mantzoukas, Jemaine Clement, Jenny Slate, Jonah Hill, Kate Micucci, Mariah Carey, Riki Lindhome, Seth Green, and Zoe Kravitz.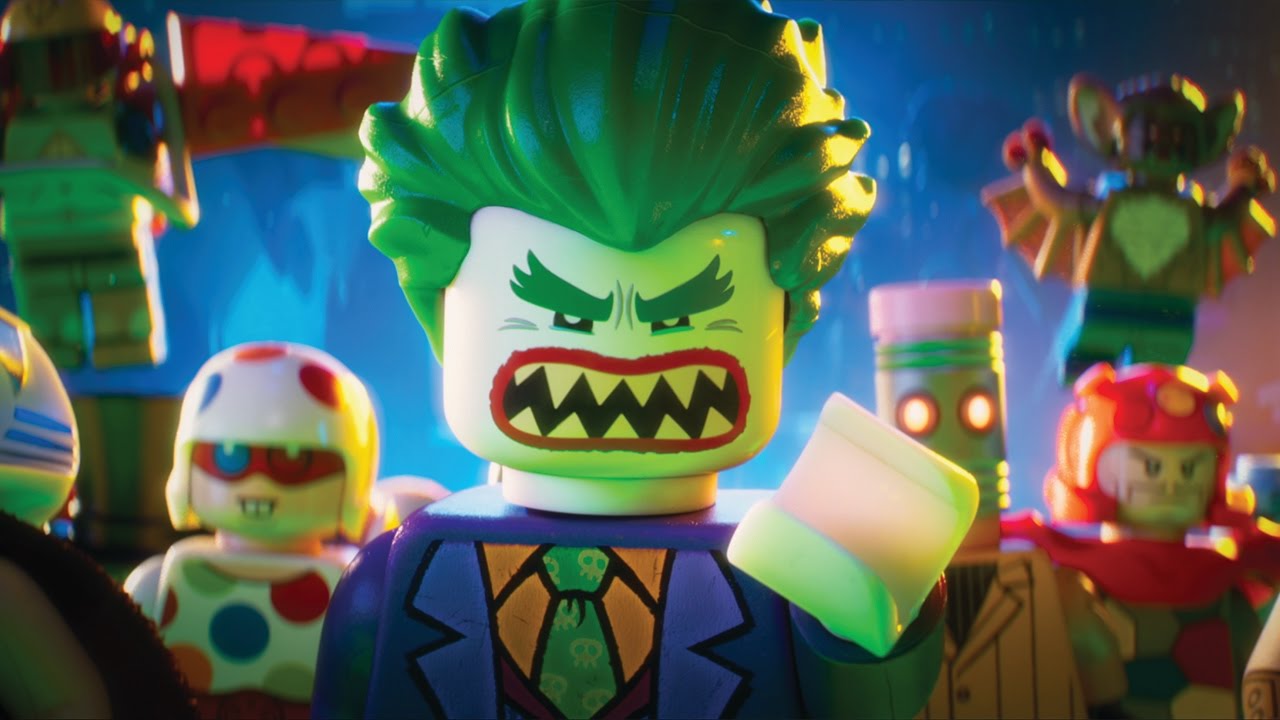 And just think, that wall of text is just the famous people you know who did voices.
Right away in the film, we get introduced to the Joker and his plans to take over Gotham once and for all, with a giant team of villains on his side, which are all presumably real Batman villains. Action, fighting extreme. I was shocked it happened so early, but since this film mostly deals with Batman's loneliness, we needed to just get him doing Batman stuff, so we could see him existing waiting to do more Batman stuff.
And that part was just…okay. It didn't connect with me on an emotional level or anything, because this is a film focused on comedy, so it went for quick jokes instead. And to contrast the opening, the ending is long and even more action packed. Even more villains, many more than you'd expect in a Batman movie, and explosions, and action and…
Being overwhelmed. That is what this movie felt like. It went to the extremes early on, then it went to the extremes in the end. In the middle, it is mostly lowkey, plot stuff. My body didn't enjoy the "rollercoaster". It failed to find a middle ground, and frankly, basically all of the action felt so excessive that it was not enjoyable from my point of view.
The best parts of the film were just Batman interacting with Robin and Barbara, regular dialogue for regular jokes. But the majority of the plot was off, along with my earlier complaint. It was an okay film when it comes to entertainment, but not one I am rushing off to buy and talk about over and over, like The LEGO Movie.
And now, also this year, we have The LEGO Ninjago Movie? This is based on their own IP, so hopefully they stick to their own stories to give a good film and don't rely so heavily on other franchises pop culture references.
2 out of 4.