July 12, 2013
The Kings Of Summer
I'd argue that there are two really "big" coming of age indie movies competing for top dog status this summer. The bigger of the two is The Way, Way Back, as it was written by the same guys who brought us The Descendants a couple years ago. The lesser known movie is The Kings of Summer, written by Chris Galletta, who is writing his first movie.
If you are surprised that we have a first time movie writer, stop it. They are called indie films for a reason.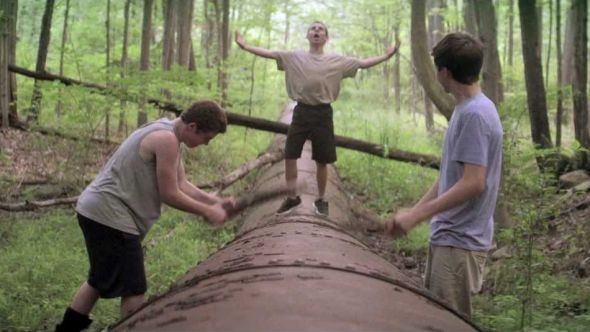 Indie films tend to include forest dance scenes and drum solos, right?
Being in high school can suck. Why? Well, your life is changing, you feel like an adult, but you still live with your parents. You just might lash out against your parents. Like Joe (
Nick Robinson
). His mom died a long time ago, and his dad (
Nick Offerman
) is now dating. He is also a bastard and has become very strict in his single parent raising. His sister (
Alison Brie
) has already moved on, but he is stuck with him for at least three years more.
Patrick (Gabriel Brasso, from The Big C) has a different problem. His parents (Marc Evan Jackson, Megan Mullally) are over bearing. Not in any mean way, just nice. Way too nice. Really fucking nice. Also they are ridiculous, it is just hard to feel alive under their care.
Eventually, Joe has the idea to build a house in the woods. Not just some lame tree house either. A real house, with two stories, multiple rooms, and they can live there, by their own rules, live like MEN. You know, hunt their own food, boil their own water, the whole nine yards. Biaggio (Moises Arias) is there too, neither of them really know him, but they are afraid to tell him to leave.
We have a few kids, building a house in the woods, and attempting to live on their own. They of course will also discover a bit about themselves, their family, and maybe what it means to be a man. Potentially with the help of Kelly (Erin Moriarty), a fellow high school buddy. We also have Mary Lynn Rajskub (most well known as Heartfire from season 4 of Arrested Development) and Thomas Middleditch as the head cops on the missing kids case.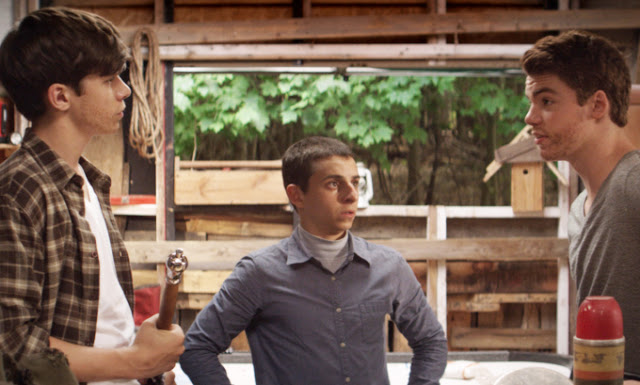 The race to grow the best pedo-stashe is on.
Coming of age films tend to be hit or miss with me. They are popular for both indie and mainstream movies, so to have a great one nowadays, you really have to offer up something new. Not just another misunderstood kid with big dreams.
The Kings of Summer takes the running away story, and well, runs away with it. For the first time movie writer, his dialogue was pretty top notch. Full of memorable quotes, I found myself looking for a piece of paper in the theater just to write some of the absurdly funny things I heard.
Witty comedy doesn't make a complete film however, so the plot has to also stand on its own. I was afraid I would be dealing with a lot of teens who thought they were god's gift to suburbia, the standard definition of first world problems. Thankfully, I found myself agreeing with Patrick and Joe, at least a little bit, and thought leaving home made sense for both characters.
It wasn't perfect though. No, I would have changed the ending a lot. It was a bit too cliche at that point, which made it feel off from the rest of the movie. I am also pissed off by the romance element in the film, although it is more at the naivety of youth, and not for being actually bad. In other words, it hurt me square in the feels.
But despite that, The Kings Of Summer is wickedly funny and unique. For sure, it is worthy of at least one viewing, if not two in your summer line up.
3 out of 4.