¨It only took twenty years, but we finally have a Jumanji sequel…" said no one ever about this movie, Jumanji: Welcome To The Jungle.
Especially since everyone of course remembers that Zathura: A Space Adventure totally exists!
But also because when this movie was announced, a lot of people got pretty angry. Saying things like it would tarnish Robin Williams´ legacy, that it was changing too many things, that it didn´t feel like Jumanji, and everything else. People seem to think that movie studios were sitting on this idea for years, just waiting for Williams to fall over so they could move on. Williams did not own the rights to Jumanji.
When I saw the trailer initially I was actually a little bit excited. Getting sucked into a video game is not a new prompt. It has been done many times as one-off TV show episodes, entire shows have been based on them, and movies as well, but it feels like when it happens it is usually shit. And since I like a lot of these actors, I had a bit more hope for this one.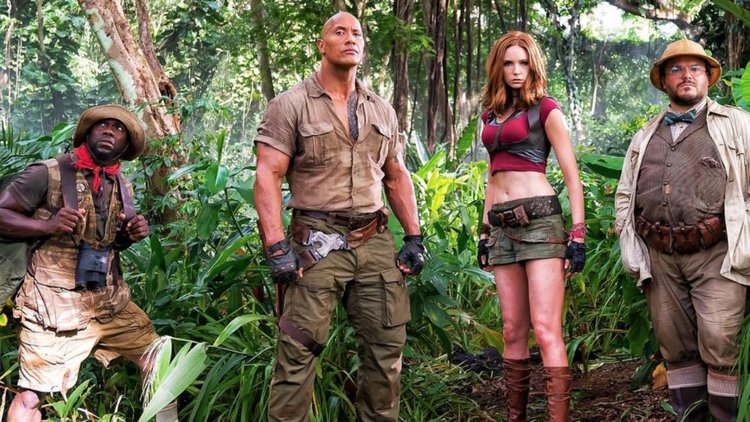 A diverse cast of characters in a jungle, WHAT YEAR IS IT?!
Don't worry purists, this film takes place in the same universe as the first Jumanji film! As it starts in the mid 90's, boardgame found on a beach. However, board games are lame, so the kid doesn' play it and goes back to his video games. So what's an evil sentient-esque game supposed to do but morph into a playing system? That is how they will get the kids hooked.
Flash forward to modern times, and we have four kids, very distinct histories and likes, who end up getting detention at the same time. Spencer (Alex Wolff) is our nerd/video game lover, we have The Fridge (Ser'Darius Blain) who is good at sports, Bethany (Madison Iseman) a popular cute girl addicted to her phone, and Martha (Morgan Turner) who also is nerdy but more reclusive. They have a task of removing staplers from hundreds of magazines in a basement, hooray child labor! They of course instead find this old video game, all agree to play, because fuck work, and lo and behold, they get sucked into a video game!
Now, they are all the avatars they chose as their characters. Spencer is now Dr. Smolder Bravestone (Dwayne Johnson), good at everything, while The Fridge is Mouse Finbar (Kevin Hart), the backpack guy sidekick, Martha is now Ruby Roundhouse (Karen Gillan) a fighter good at fighting, and Bethany has become Professor Shelly Oberon (Jack Black), an overweight cartologist.
They must work together to balance their strengths and weaknesses in their new bodies to save the jungles of Jumanji, and also, get themselves back home.
Also starring Bobby Cannavale, Rhys Darby, Nick Jonas, Marc Evan Jackson, and Colin Hanks.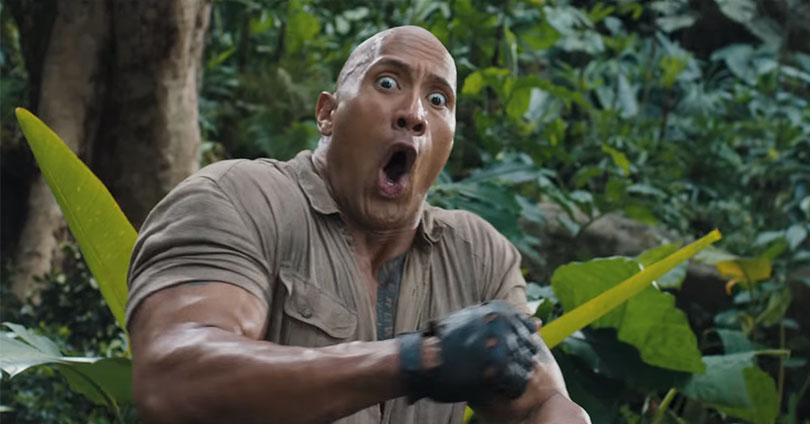 The Rock showing emotion, WHAT YEAR IS IT?
As previously mentioned, most "jump into video game movies" are poorly made. Just look at the third Spy Kids movie. The problem with all of these films or tv shows is they just never seem to "get" video games. They make them awkward puzzle based challenges, but mostly a lot of…non gaming things. The closest we have to a movie understanding video games has been Edge of Tomorrow.
If there is anything you can say about Jumanji 2, it is that it at least understands video games. Our characters have multiple lives, sharing lives, strengths and weaknesses, there are obvious levels, there are boundaries, there are goals, NPCs, weird interactions. It feels like people interacting with a video game world for the most part, that is wonderful.
It is wonderful, until they contradict themselves. For example, one of my biggest issues with this movie is Dr. Smolder Bravestone. He has no weaknesses, and his strengths include Fighting, Strength, Endurance, Speed, and being Fearless. Yeah, he has a bunch. And all the characters in avatar form obviously have strengths or weaknesses that are not normal. But hey, Ruby can actually fight despite being weak in real life. And Smolder can run fast, jump high, and all that.
Except for apparently his Fearless trait. Because a recurring plot point is watching Johnson scream at the slightest and smallest of animals, running in terror, over and over again. It causes one of his deaths. It is such a ridiculous oversight, it really bugs me because everything else was on point and this one felt glaring.
Overall, the movie is just okay still. The video game aspects are fine, the plot is really week. It doesn't have an overall sense of awe or wonder like its predecessors. Everything is of course just extremely CGI'd and action scenes, with too many of the scenes focusing on human bad guys instead of swell animal problems. We don't even get natural disasters, despite the several plant or weather based issues that Jumanji gave us.
A fine film, it just still could have been a lot better.
2 out of 4.