January 1, 2016
The Hateful Eight
Quentin Tarantino is a crazy sunuvabitch.
He has passion, you gotta agree with that. He loves movies and wants movies to be real. Christopher Nolan and him are some of the only reasons film is even relevant anymore.
Tarantino had a lot of problems leading up to The Hateful Eight. Like when his script was leaked before they even began filming, causing him to cancel it completely. After awhile, he apparently changed some things and did it eventually.
He also wanted to film the whole thing on 70mm film, but barely anyone had a projector that could play it. So he decided to just provide free cameras to almost a hundred movie theaters across America, just so people everywhere could see his film in the vision he had in his mind. I can respect that, but I also think he is a single man on a mission to move a mounain. So we will see if his lunacy gets us anywhere. Until then. H8FULL8.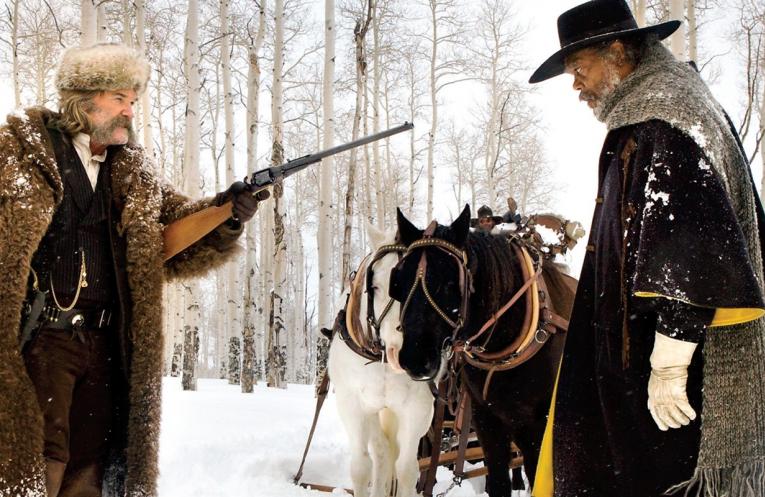 "Replace more parts of words with numbers, I dare you."
Set a few years after the end of the Civil War, and thus, after Lincoln's assassination, The Hateful Eight is about a group of would be killers, maybe killing each other.
Namely, John "The Hangman" Ruth (Kurt Russell), rocking the same facial hair he had in Bone Tomahawk, is bringing a bounty to Red Rock to get executed. Daisy Domergue (Jennifer Jason Leigh) is a very bad murderer and she has a $10,000 bounty on her head, dead or alive. Well, Ruth brings them in alive, because they deserve to have justice done to them. By hanging. Hanging justice. He is nicknamed The Hangman.
Unfortunately, they are currently racing against a mighty big blizzard and his driver, O.B. (James Park) is hoping to get him to Minnie's Haberdashery before it hits so they can have a place to stay until it all melts. Along the way though, he runs into Major Marquis Warren (Samuel L. Jackson), a bounty hunter with his own set of bodies heading to the same place. He is able to get a ride. But they also run into Chris Mannix (Walton Goggins), son a Rebel leader who claims he is going to be the new Sheriff of Red Rock!
But when they got to Minnie's, Minnie wasn't there. She apparently was away to visit relatives and left Señor Bob (Demir Bichir) was left in charge. Other patrons included Oswaldo Mobray (Tim Roth), a British literal Hangman, Joe Gage (Michael Madsen), a cow puncher visiting his mom, and General Sandy Smithers (Bruce Dern), from the Rebel side looking to bury his son.
Ruth thinks someone is lying. He thinks someone here is not who they say they are and looking to free Daisy and kill all the witnesses. People are lying, and now everyone might die because of it.
Also featuring some less hateful people, Dana Gourrier, Gene Jones, Zoë Bell, and Channing Tatum.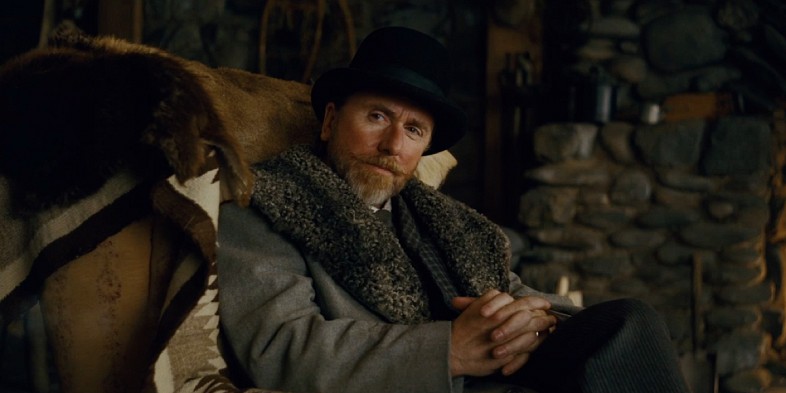 Tim Roth is actually just playing the real life Christoph Waltz.
The Hateful Eight feels like a play, and I love plays. It is definitely the best part of the film and it is why I might want to watch it over and over. The action is of course another big part, graphic and very violent once it gets going. Not as violent or crazy as his previous films, but it is still pretty up there.
The 70 mm version of the film, which is what this is based off of, did not feel too long at over 3 hours. It went quickly because there was rarely a dull moment. And hell, an intermission meant I could buy a drink and not torture myself for two hours refusing to leave my seat. The overture was a nice touch and of course the music throughout.
The film is tonally different over its two halves and I wasn't as excited during the second half. The whole thing is set up as a mystery as to who is a liar and a cheat. Without spoiling, let's just say the whole thing let me down. It was unexpected surely, but not in a good way. There were still some great acting moments in it, and some of the scenes were very tense, but damn, it just wasn't that sexy of a reveal.
I cannot say for certain of the 70 mm actually added a lot to the film, it'd be hard to without seeing both versions. I believe the digital version is about 20 minutes shorter including the intermission, but I have no idea what they'd cut out of it.
Not Tarantino's best work, and worst of his most recent films, but still quite memorable and worthy of multiple viewings.
3 out of 4.