October 4, 2018
The Hate U Give
I have heard about The Hate U Give at least two years ago as a teacher in middle school. I had not read it yet, but I did want to read it. I just never got around to it. You know, movies and all.
I knew I had to wait until after I saw the movie. Maybe it would be like this year´s Wonder, in terms of book lovers all excited. Wonder was decent, and the book was decent. I assume there were a lot of fears about turning this allegedly very great book into a mediocre or shit movie. It has a big uphill battle, but at least its subject matter has been making good strides in cinema lately.
This year we already got Blindspotting and Sorry To Bother You, but neither of them are from the kid perspective. Of course, if there are already great movies on similar topics, it has a lot to live up to.
The Hate U Give has a lot of battles to climb, so on its own, it is its own representation of race relations. Another way to examine this is the IMDB rating, which at the time of writing is a 4.6, weeks before it comes out. Why? Oh, almost 200 votes for 1/10. Either this movie is very polarizing, or you know, racism.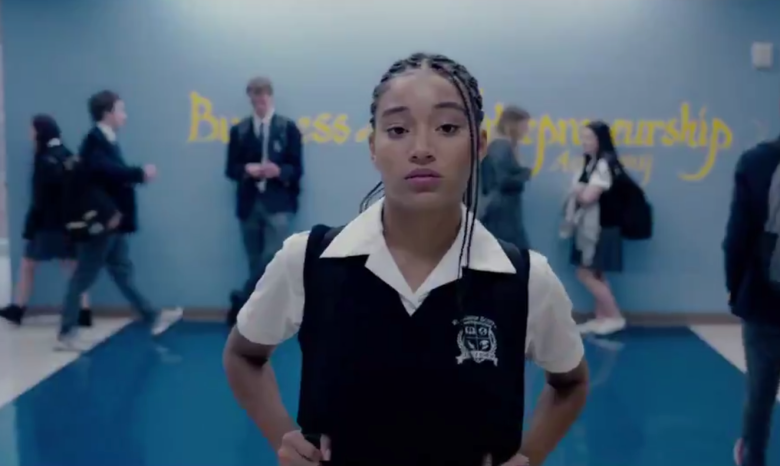 Pretty sure we all know what she thinks.
A few years ago, the Carter family had to have ¨the talk.¨ So Lisa (Regina Hall) and Mav (Russell Hornsby) sat down their three kids, Seven (Lamar Johnson), Starr (Amandla Stenberg), and Sekani (TJ Wright). The oldest are just in their pre-teens, but it is time. No, this talk isn´t about sex. It is about what to do if they are in a situation where they are detained or pulled over by the cops.
This is a real talk that black families are starting to have to talk to, due to the violence and targeting that is going on in our country. It is not a great talk, but for families that care for each other, who know they cannot always be there to protect them, it is necessary.
It is the type of loving family that Starr grew up in, full of knowledge and strength. And now she goes to school outside of the hood she lives in. It is a white school, with white friends, white boyfriends (K.J. Apa) who won´t ever understand what she is going through at home. She has to balance these two lives. But it is when tragedy strikes her life and her friend Khalil (Algee Smith), she has her worlds start to crash together, giving her a whole new insight to this thing called life.
Also starring Common, Issa Rae, Sabrina Carpenter, Dominique Fishback, Megan Lawless, and Anthony Mackie as a bad guy drug dealer. Been awhile since he has turned south in his roles.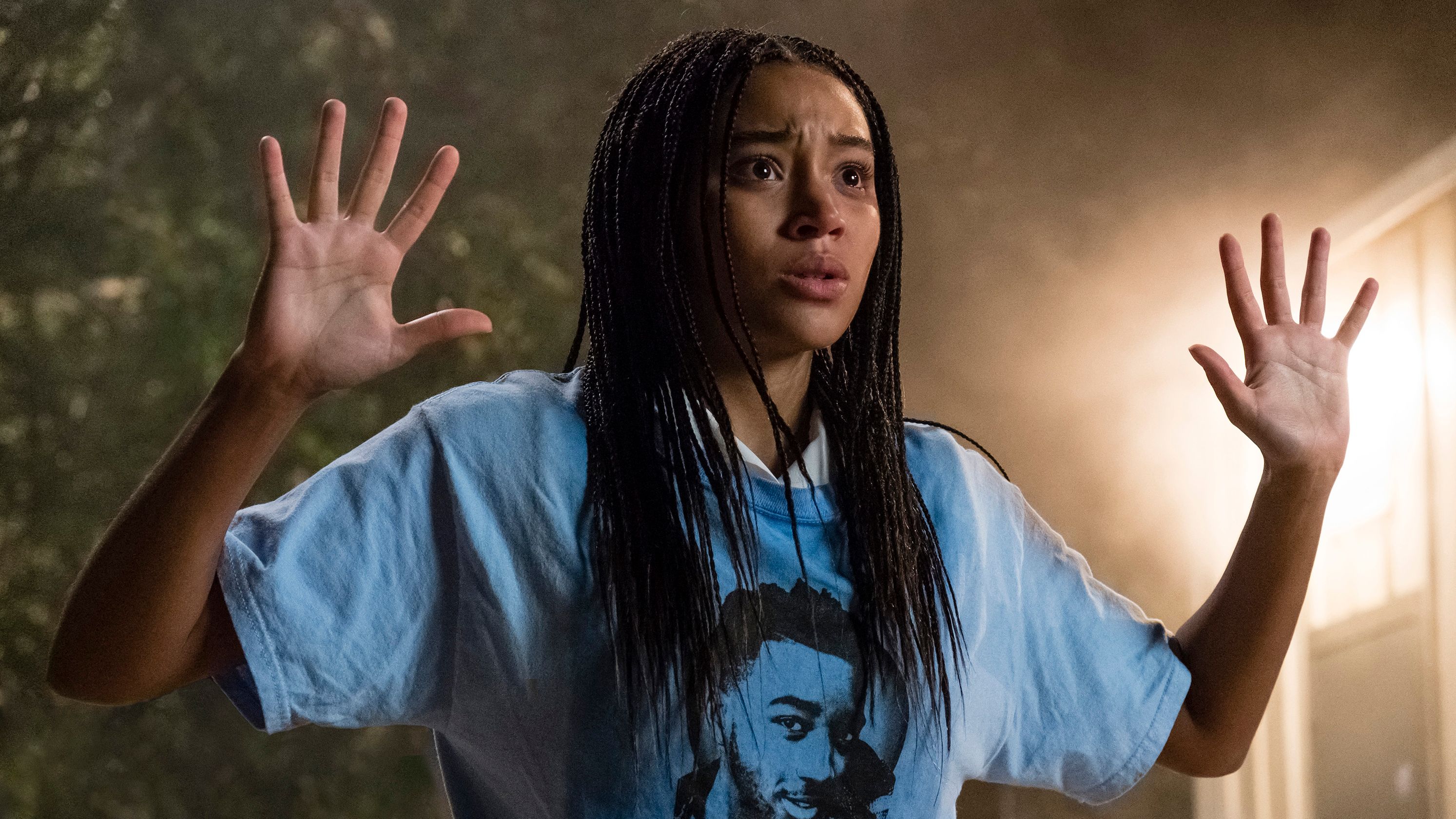 Hands up won´t protect her on its own, but that Carolina Blue shirt will help.
The Hate U Give is a powerhouse from start to finish. From ¨the talk¨ at the start of the film, to the different worlds, to the cop tragedy, to the protests, to the speeches, to the riots. It is full of emotion from unexpected places. My first cry was because the father was by his daughters side after a nightmare. She wasn´t screaming causing him to run in the door. No, she woke up panicked and he was already there. Just subtle clues to show that clearly he had fallen asleep in a chair by her side to protect her, to help her with the morning after, and just be a goddamn amazing father. And that is the type of stuff that gets me.
Sure, I did cry a few other times, not just a one and done deal. It is hard not to get wrapped up in the story. Hell, at over 2 hours it almost doesn´t feel long enough. I need more of the story, I need to be there to help comfort the characters, to rage against the machine or whatever it takes. I am definitely going to grab the book, and it is going to make me upset just like the movie.
And more importantly, it is going to get me more upset about real life. I am white, if my writing doesn´t make that obvious. I am a man, if you cannot tell with my boob tags. And this is the type of movie that can get people to see the other side of the fence if they come to it with any amount of openness.
Stenberg was fantastic in the lead role. She wasn´t great in The Darkest Minds, but no one was. She was good in Everything, Everything despite the fact that I didn´t like the movie. But she was outstanding in this film. She carries a lot of weight and emotion in her face. Hornsby as the dad is my goddamn hero. I hope I can one day grow into a worldly intelligent and caring man like him.
Just so much of this film is relevant, at this point, it is practically essential viewing. It deals with heavy topics that kids in their pre-teens can better handle unlike other films and will be seen in schools throughout the nation within the next year.
4 out of 4.