The 100-Year-Old Man Who Climbed Out a Window and Disappeared
I have to type it out at least once, so here I go.
The 100-Year-Old Man Who Climbed Out a Window and Disappeared (whew) is a movie actually recommended to me sometime last summer. Except it was a foreign flick and I had no way of watching it. But it has a lot of acclaim over in Sweden, and I like Sweden so I hoped I would like it too.
Hell, it is Sweden's third highest grossing film of all time. Right after The Girl With The Dragon Tattoo and The Girl Who Played With Fire. I have no idea how much money The Girl Who Kicked The Hornet's Nest made, but I assume they all hated it as much as I did and it wasn't actually third before this.
Seemingly out of nowhere though, this movie was nominated for an Academy award. No, not for foreign film, and not for cinematography. It was nominated for Best Makeup! It is competing against Mad Max: Fury Road and The Revenant. Technically I shouldn't be surprised because those two films were nominated for everything, I just expected a bit more diversity.
Oh well, let's see what this very specific movie title is about!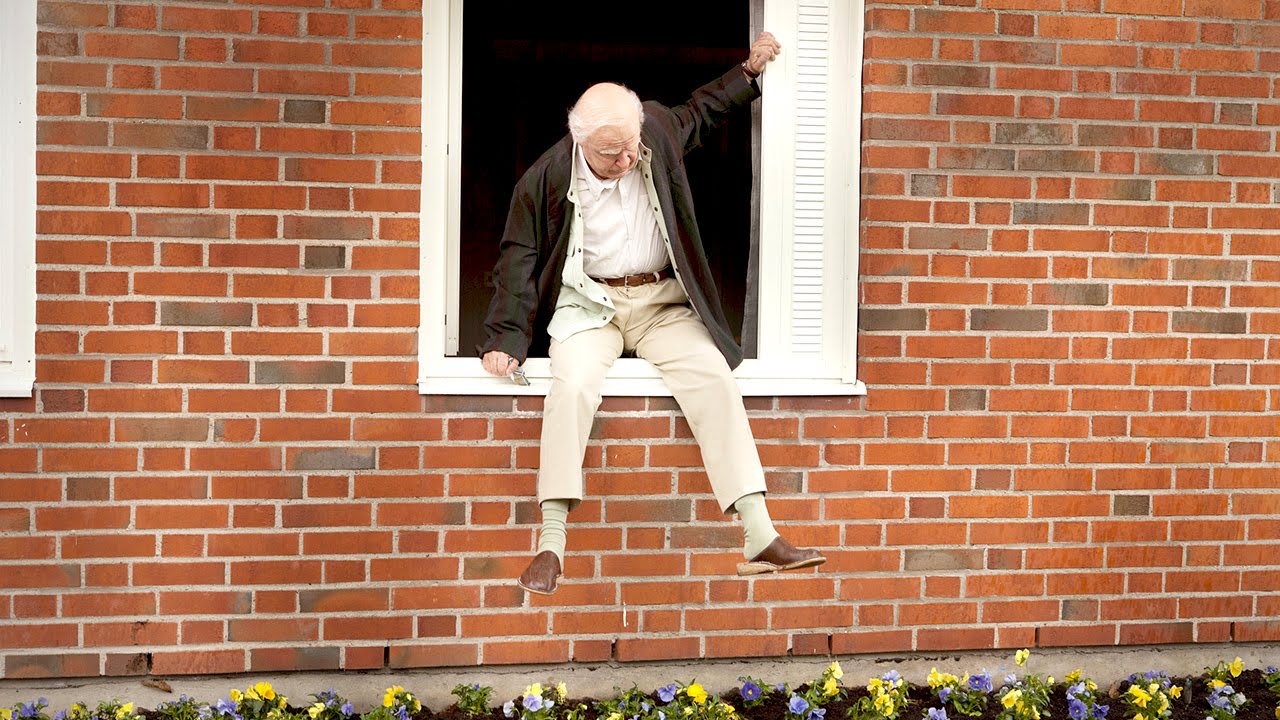 Look! There he goes! Disappearing out of a window! Now you know!
Allan Karlsson (Robert Gustafsson) is old. He is about to turn 100, and thus, our man with the plan. Well, plan isn't true either. His plan is to get away.
You see, Allan is cooked up in a nursing home, because he was found unsafe to be living by himself after he used dynamite to blow up his chicken coop to get a fox. So he jumps out of his window and goes to a nearby bus station, with only a bit of loose change.
However, some angry skin head (Simon Säppenen) comes in and tells Allan to hold on to his bag while he hits the toilet, because the suitcase won't fit in the room. Just as he does, the bus arrives to take Allan to the middle of nowhere. So Allan takes the suitcase with him.
And what happens is a brief adventure, where Allan runs into a very diverse group of people, some violence, and of course man hunt to find him from the local authorities and a biker gang. At the same time, we learn about what Allan did throughout his long life in a series of anecdotes. Anecdotes!
Also starring David Wiberg, Iwar Wiklander, Jens Hultén, and Mia Skäringer.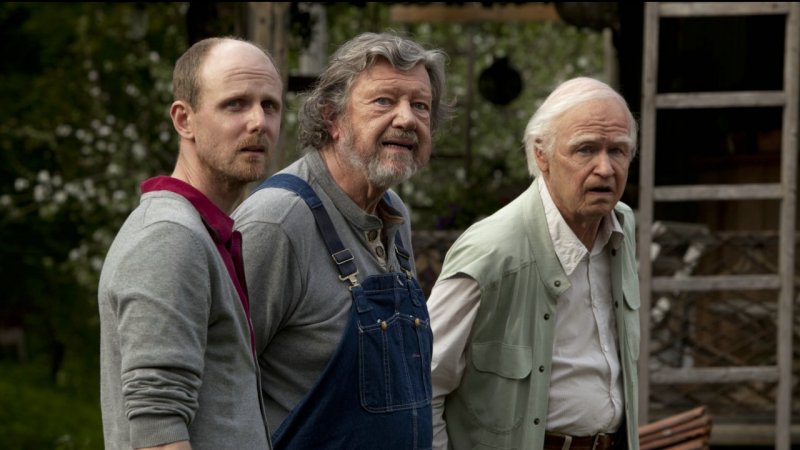 What a ragtag group of so-and-sos.
Let me save time. Did you like Forrest Gump? This is the Swedish Forrest Gump. Sure, he isn't mentally slow, he just lacks a lot of formal schooling. But he goes around the world, joins the military, and becomes a big player in a lot of events over the last 100 years. He meets Stalin! He helps with the Manhattan project! And more!
The good news is that the stories of his past are only 35-40% of the film. The rest is of him being 100 and doing his little adventure thing. The cast of characters are diverse, the situations are funny, and I didn't know how it will end.
It was nominated for best make up because our main actor, Gustafsson, is not actually 100 years old, but they made him look super old for the film. He is only 50 ish, and plays Allan through all parts of his life outside of being a little kid. So it is pretty good. I just wish, again, the category was a bit more diverse. The other two films will win enough awards. So I hope this one pulls off the upset.
A pretty good movie, probably a really good book. And hey, Sweden everyone. Sweden.
3 out of 4.