Adventureland! A title like that, it must be a good time.
This is actually my second attempt at watching Adventureland. The first time I tried, it was going to be while I was donating Plasma. But the nurses kept talking to me the first 30 minutes of the film, so I missed a lot of plot (and was quite annoyed) and then the machine blew up. Very messy. Never really tried to reschedule after that!
I also had a temporary ban on Jesse Eisenberg movies, because there was a month span when I saw…pretty much all of them but this one.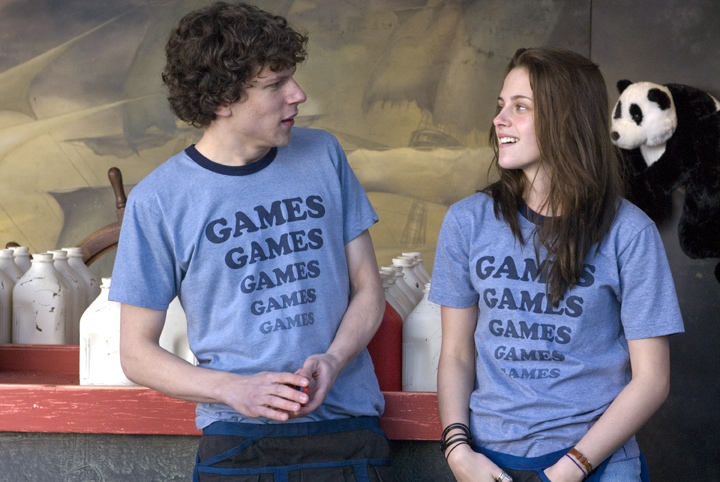 Fuck the plot, just tell me how to get one of them giant pandas.
James (Eisenberg) has just graduated from college! And as part of his college grad gift, he gets to go to Europe for the summer for many weeks. All planned out, just needs a bit more to fix the cost of travel.
But fuck. His dad kind of got demoted and they are losing a lot lot of money. They can't even help him handle graduate school in NYC. So his Euro trip is cancelled and he has to move back to Pittsburgh to find a summer job. But where could he work with virtually no real world work experience (fucking literature majors man)?
Adventureland! Too bad the owner (Bill Hader) and his wife (Kristen Wiig) have him working at Games. Rides are where the real winners get to be. A lot easier, no asshole customers. I mean, even his asshole old friend Frigo (Matt Bush) has a rides job. Oh well.
'
So he gets shown the carnie ropes by Joel (Martin Starr), a fellow intellectual lost in the pit of amusement park despair. And it kind of sucks a lot. But then he meets Em (Kristen Stewart), and it gets a bit better. Kind of. Too bad too much drama happens at this place, and way too much pent up sexual frustration. Especially one Lisa P (Margarita Levieva) returns to the park. Not to mention having the maintenance guy (Ryan Reynolds) being a kick ass musician who once jammed with Lou Reed.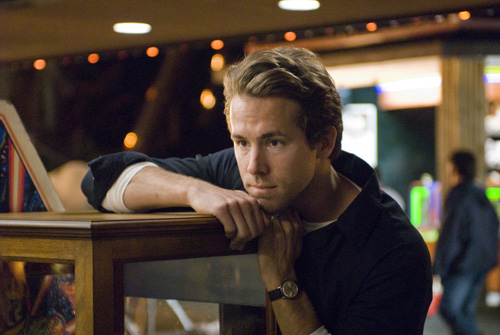 Studies have shown that reviews with a picture of Ryan Reynolds get clicked on 3x as much than those without.
Adventureland! Where uhh, dreams go to die I guess? Apparently carnie life sucks in Pittsburgh, and it is full of privileged white people. It happens all the time, I am sure.
I was kind of very disappointed with the movie. No one really stood out as a great role, except for the Hader/Wiig duo of awkward owners. Good at conversations they are. But didn't feel like it was that funny for a comedy. Probably has a lot more drama in it than people would expect. But when one of the biggest movie problems is just based off of miscommunication and people not talking about what is actually happening? That is such a cop out. That shit doesn't happen in real life. Anger can still be there, but at least people generally get the truth.
But overall, the movie felt pretty lazy and just eventually ended for me.
1 out of 4.