November 6, 2017
Suburbicon
Hooray the Coen brothers! Their last picture was Hail, Cesar! Which I have a 4 out of 4 to, but in retrospect it was a weak 4. It was just so bizarre and atypical for films that I couldn't hate it.
So I had pretty high hopes with Suburbicon. It is set in the past, it has quirky characters and a murder plot so fowl. It is probably going to be similar to Fargo just with worse accents.
I really wanted to see it but I was surprised at the lack of, well, anything about the movie. Advertising was basically nonexistent for this film, like it was meant to be buried before it even premiered. And damn it, George Clooney is the director, his name used to mean something.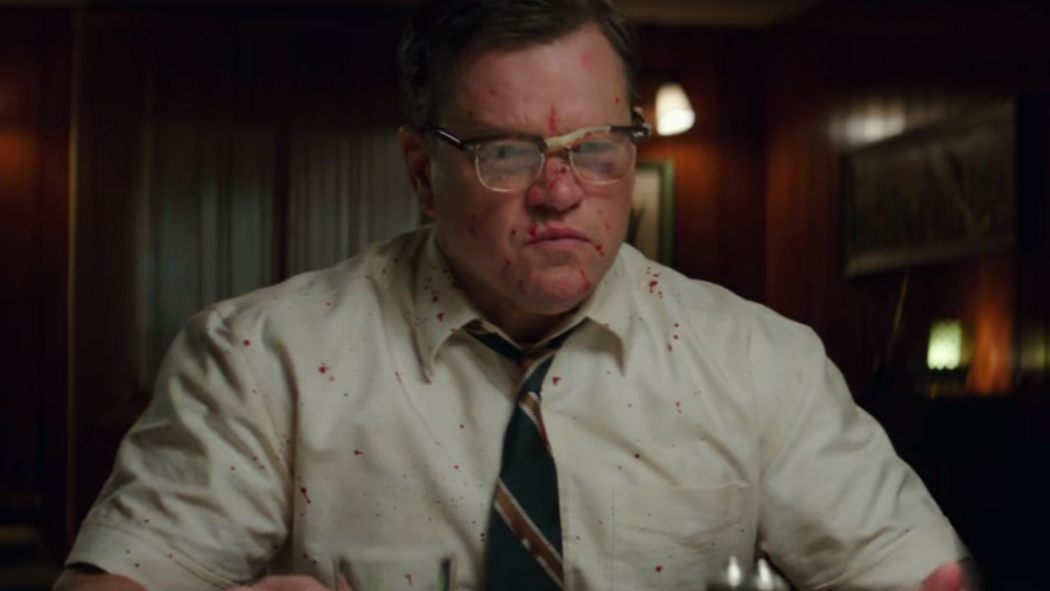 Maybe some elements will also bring us back to Falling Down.
Welcome to Suburbicon! A community set in the 1960's or early 70's. Life is perfect here. There are jobs, there are families with husbands and wives, there are kids who play baseball in the lots. There are no big fences between their houses, there is no crime, and everyone is happy, happy, happy.
And then a new family moves in, the Mayers (Leith M. Burke, Karimah Westbrook, Tony Espinosa). They are black. This sort of thing really shakes up their community, as apparently most of the families left their homes to move here just because of how white it is. They think this family will ruin their community and will go out of there way to make their stay miserable until they decide to leave.
But that is only one small part of the movie. The other part deals with the Lodge family. Gardner Lodge (Matt Damon) is running his own business, living with his wife Rose (Julianne Moore), who is in a wheelchair, and son Nicky (Noah Jupe). Sometimes her twin, Margaret (Moore), also stays with them. After Nicky ends up playing baseball with the new neighbor's son, the Lodge family are woken up by two goons (Glenn Fleshler, Alex Hassell) who are threatening and mean.
This leads to a death in the family, which is only the first of a series of weird things to occur after their new neighbors arrive. It turns out that this area might not have been as happy as everyone had imagined.
Also featuring Oscar Isaac as an insurance man.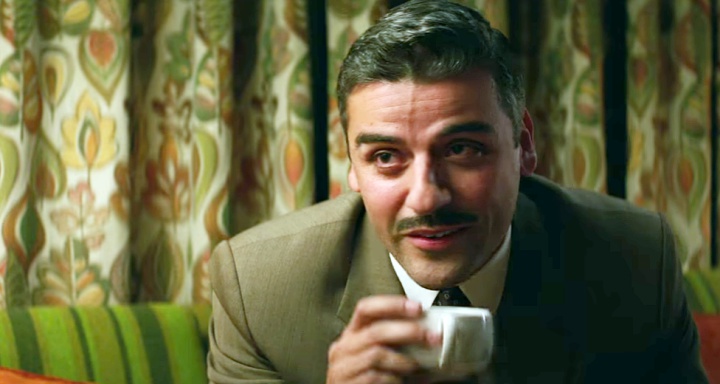 I'd let him give me an insurance adjustment anytime.
There is something odd about Suburbicon, in its core, that makes it really hard to get into for a really long time. With wonderful dark comedy writers at the helm, you would think it would be a surefire hit, or at lease a cult classic. But this will not be either of these things and it will be promptly forgotten in the annals of cinema.
Is it like Fargo? Yeah, a bit, but Fargo had charming characters that you could invest in on both sides. This movie basically has a little kid and a neighbor family that is a distracting subplot.
And maybe that is a bigger problem with the film. As the intro goes, it is clear that the ideal utopia place to live is super white. It is clear that there will probably be a black family to move into the neighborhood and force some issues. And these things do happen, but only to provide a rather large and awkward distraction of the main plot.
I'm an America as racially divided and tense as it is right now, how could they decide to treat a real issue facing people now as some sort of fluff piece? It shows real anger and scary situations, but every time it heads back to the main family with their insane plot it reminds the viewer that "no, they are not important. This white family is really the important one."
The reason for all the chaos makes sense. By having it in the background, we are able to give a reason why all of the film's plot can take place without too much notice. But even if it makes sense, it is still an incredibly insensitive and poor choice for the creators to make.
The acting is fine. Some of the twists are fine. Oscar Isaac was great in his two scenes. Top notch. It slightly saved it from a 0.
1 out of 4.