August 27, 2013
StreetDance
I sometimes watch the worse movies. Today's excuse was going to the rental store, finding out what came out on DVD that day, and picking the weirdest looking one. Shit, I used to watch /every/ new movie that came out on DVD, regardless of how low budget or weird, so I need to do it every so often to get back to my roots.
Well, this time I picked StreetDance. It looked like some bad cross between You Got Served and Step Up. That's right, a cheap knock off of those two. You know its going to be ridiculous. Or cliche. But as a dance movie, it could secretly be the grail we are all looking or.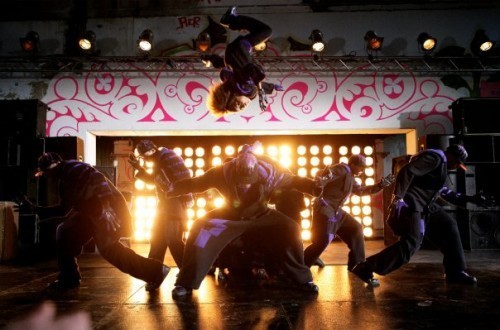 These are the bad guys. You know it, because they wear (and are?) black.
Oh yeah. This movie is totally British. Set and filmed in that UK.
A street dance crew, called Jay 2.0 (I believe) is attempting to become the best street dance crew in the UK. Seriously. It opens with their audition to the contest, or whatever. The Surge is a dance crew that has won the last few years, and they are the bad guys. Grr them.
Well, after their performance, they find out that Jay (Ukweli Roach), their leader and obvious name inspiration is going to quit dancing. He has too many responsibilities, and decided to quit right after they qualify. Da fuq? His girlfriend in the group is shocked, and then becomes the defacto leader. Unfortunately, Carly (Nichola Burley) also loses their rehearsal space, and has very little money, so they are basically screwed.
Well, Carly finds herself accidentally in a big ballet studio to inquire about renting space and the cost. Well, Helena (Charlotte Rampling) is worried about her students losing passion in their dance. They can ballet the shit out of some dance, but they don't have that desire anymore. After watching the crew perform, she agrees to let them use the space for free, only if she will take on five of their dancers.
What?! Ballet and street dance? Can these two art forms interact? Can she teach them how the streets move? Can she incorporate their skillset to make their street dancing even more off the chain? Will she fall out of love with Jay, who is a liar, and fall in love with Tomas (Richard Winsor) the main ballet guy? Yes.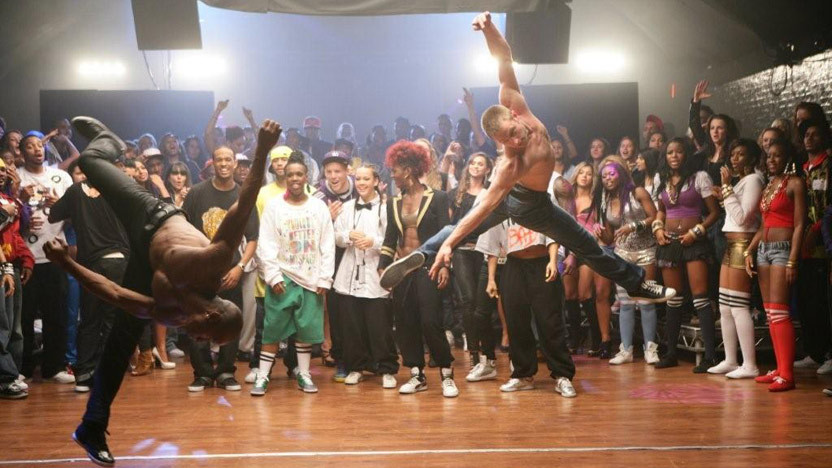 Can you guess if these people are street dancers or ballet dancers?
Fun fact about this movie. It was released theatrically in 2010 in the UK, and came out on DVD by 2011. But not in America. It didn't come out to the US on DVD until Aug 20, 2013. THREE YEARS after it was released theatrically. I feel slighted by our old country parents.
As expected, a lot of this movie was pretty shitty. Cliches everywhere. They actually ended the movie on a freeze frame of two people raising their arms in the area together, in a moment of triumph. The plot is not unique. They had a food fight when the two groups weren't friends yet, only so they could throw food for 3D purposes.
But something else happened. The dancing was fantastic. Some of these dance movies I get even more pissed off when I don't think the dancing is cool enough. This dancing was great. The final dance where they figured out their dances and their knew style to give a unique performance was insanely sexy. It incorporated the street+ballet dance far better than Step Up.
In addition to the great dancing, I liked each and every song on the sound track. A lot of them were mixes with older and newer elements, perhaps creating the theme for the whole film. I enjoyed every song. Here was one of my favorites: Ironik – Tiny Dancer (Hold Me Closer).
Shit. A good soundtrack? Good dancing? Shitty plot and acting. Well. There ya go. Also, the main girl was one of the three chicks in Donkey Punch. I was very amused to find her name already tagged on my website (and shocked).
2 out of 4.