March 15, 2016
Sleeping With Other People
It took me so long to watch Sleeping With Other People, because I made a lot of assumptions based on the title.
I assumed it was about two people in a relationship who were going through a tough time. Their sex drives were low but their love was high and that was making them frustrated. So they agreed to let themselves sleep with other people. Just to spice things up.
I didn't feel like seeing it, because I already saw that movie in The Freebie. And hell, I also saw Hall Pass which was similar enough and shares a main actor.
But I was wrong, and the assumption made us all assholes. Or something like that.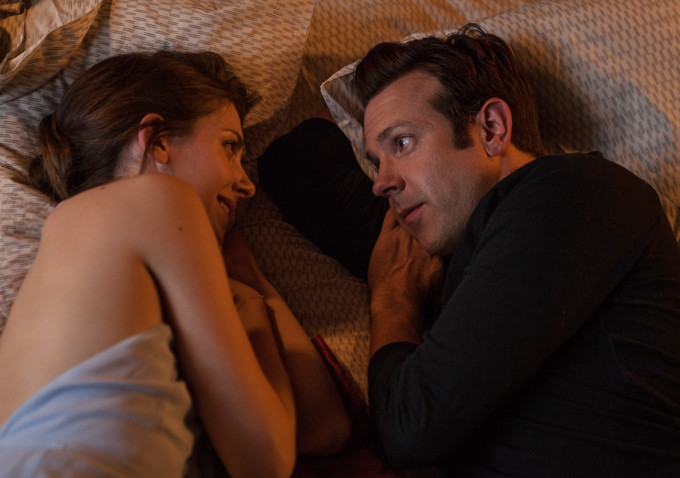 Shit, here they are sleeping with each other. What the fuck movie title?
Let's start out in 2002 or so. I forget the year. Early new millennium! Lainey (Alison Brie) is banging on a dorm room door, trying to get some sex with some loser. Before she gets kicked out, Jake (Jason Sudeikis) says she is here as his guest, so they hang out and talk about her issues. And they have sex, both of them being virgins after a long night of getting to know each other.
Then you know, they lost touch over time. Now it is modern day. Jake is addicted to sex, full on. He has sex a lot, is known as a player, and has even gotten around to his job. He is trying to sleep with his new boss (Amanda Peet).
Lainey is addicted to…love! She breaks up with her boyfriend whom she has been cheating on with constantly. With Matthew (Adam Scott), a gynecologist, the guy who she tried to sleep with in college so long ago. Except he has a pregnant wife, but she can't get over him.
Either way, Lainey and Jake eventually meet up and go on a small date. They both open up with their relationship problems and agree that sleeping with each other would be a bad thing. They should remain just friends, avoid sexy talk if possible, and just help each other with their issues.
But you know, this is romance thing. That's all I will say.
Also starring Anna Margaret Hollyman, Jason Mantzoukas, Natasha Lyonne, and Andrea Savage.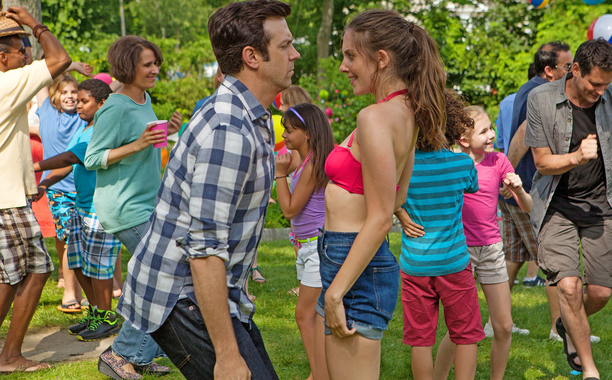 Taking off shirts at a kids birthday party is one way to avoid sexy time.
Sleeping With Other People is one of those strange movies that doesn't even show some sexy times occurring. I am not clamoring for penetration in film or anything ridiculous, just that the sex they show looks very unnatural, with the characters wearing all their clothes still and usually just collapsing at the end. Yes, this happens all the time now it seems, especially with the PG-13 Rating. But this movie is rated R. Let's use the old internet sexist phrase, "Tits or GTFO."
Sorry to be crass. But just an annoyance and a strange step away from realism that has been growing.
There are amusing moments in Sleeping With Other People, but I think the downfall of the film is in its dramatic moments. They tended to feel a bit more nonsensical than the comedic ones, which is normally opposite. I could never fully connect with either character, who both were living lies for months. They needed Mike Tyson to just walk up to them and say "Now Kith" to get it over with.
This analysis is dull, because the movie is just so damn average. It is a mediocre plot, with average acting, an occasional funny moment, and many without. Watch it if you like the actors, ignore it otherwise.
2 out of 4.