April 29, 2016
Sing Street
Originally, 2016 was looking to be a poor year for musical films. We would have movies about music, sure, but not enough musicals. Most of them are coming later in the year, up to this point I would say we have exactly 0 for the entire year.
But let's take a step back and talk about John Carney. When I first saw Once I was disappointed, because it was hyped up as this wonderful musical, so I expected synchronized dancing and ridiculous situations. But it was raw and realistic. On later viewings, I understood it better, but still cannot fully appreciate it. Begin Again I have still only seen once, but thoroughly enjoyed it. It is a very different film, going from indie to main stream, both in theme and reality.
And now we have Sing Street. Another movie about people who just want to play music and make a living off of it. And hey, this one has street in the title, so you know this time the singing on streets is expected and not just a bonus. This time he is returning back to his indie roots and writing a whole lot more music. But this one isn't about adults. Screw adults. This is about a boy making a band to impress a girl, which is how most bands ever got their starts.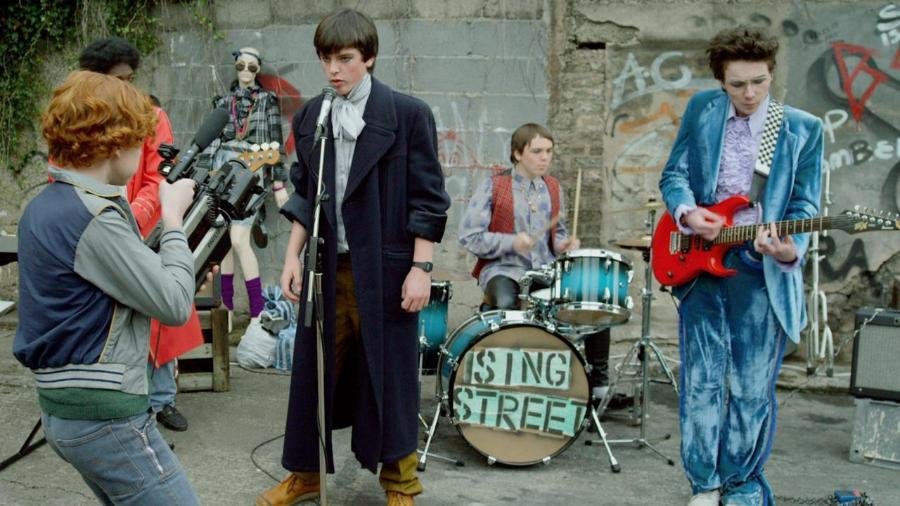 And clearly they are the funkiest teenage group in Dublin!
Conor (Ferdia Walsh-Peelo) is just a teenage kid, the youngest in his family, and his parents (Aiden Gillen, Maria Doyle Kennedy) are going through a tough time. Hell, this is 1985 Ireland, everyone is going through a tough time. Jobs are getting lost and many Irish youth are flocking to London for work and leaving their homes in a worst state. And now due to their financial state, Conor is transferring schools to a much cheaper Catholic school, where the boys are rough.
And now Conor gets bullied by Barry (Ian Kenny) and the head priest, Brother Baxter (Don Wycherley). But then he sees her. Raphina (Lucy Boynton), a girl who looks like she belongs in on film, with wild hair and jewelry. She says she is a model, so Conor asks her to be in a music video. After hearing him sing a bit, she agrees once they figure out the details. Great, now he just needs to get a band together.
He gets Darren (Ben Carolan), our little ginger kid who knows people, to be their manager/producer/camera man and introduce him to other musical kids. Conor knows how to play the guitar a bit and sing, but they need more than that. They are introduced to Eamon (Mark McKenna), who plays basically every instrument and owns them all, because his dad is in a wedding cover band. They get Ngig (Percy Chamburuka), Larry (Conor Hamilton) and Garry (Karl Rice) to complete the rest of the band.
Great, he has a band! And now, with the help of his older stay at home stoner brother, Brendan (Jack Reynor), he can write some songs, so they can make the music video and maybe win the heart of a mysterious model. You know, while all the other problems are going down. Also featuring Kelly Thornton as his older sister, Ann.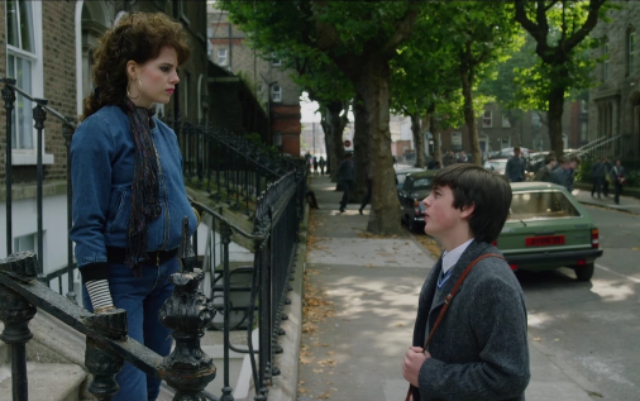 Stoop girl afraid to leave stoop?
Feelings, this film is full of feelings, how can I express these, with a sonnnng?
Sing Street was good. It was really good. Carney is some musical directing genius, that is the only way all of this makes sense. I was extremely skeptical going into this film. Based on the description, I took the film to its most basic parts, and all of his movies just sounded the same. I wondered how long he could make similar movies before we stopped caring. Well, after watching Sing Street, I could easily take at least another half dozen of these, as long as the lyrics remain original with a different overall plot.
As advertised, this film is about a boy just trying to impress a girl by starting a band. But the film is more than that. Just like it is more than a comedy. It is certainly more comedy than drama, but it deals with some serious issues involving divorce, infidelity, abuse (sexual and physical), giving up and following your dreams. I technically only cried one and a half times, but I had another half cry on the way home from the film just thinking about some of the plot.
Perhaps the strongest subplot in it is the brotherly bond between Conor and Brendan. Reynor does an incredible job as his pseudo role model while they both live in a house with parents who just don't understand. Reynor is a complete scene stealer and you can see all of the deeper issues he is working with, culminating with not just one but two powerful emotional climaxes. If it sounds sexy that is because it WAS sexy. Reynor, I judged you badly for Transformers: Age of Extinction, now I want you to become Han Solo and win a supporting actor award for this film.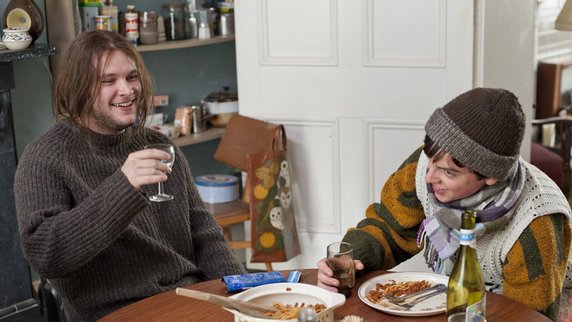 Heh. I said climax.
Ahem. Sorry. The acting from our lead was also good from Walsh-Peelo. In fact, basically the entire band and manager were all first time movie actors. Walsh-Peelo and McKenna were the main two that mattered, but the other boys held their own pretty good. Seeing the transformation of Walsh-Peelo as he learned about new bands was amusing and how he eventually coped with the failing home and school life that made up his current reality.
And finally, the soundtrack for this movie is just a blast. Both the original songs by our boy group and the 80's music that inspires them create an overwhelmingly nostalgic experience. I have already listened to most of the original songs 3-4 times since watching the movie, thanks to YouTube. My favorite song is called "Up" and you should check it out if you are unsure if you will like the music in the movie.
Thank you Carney, you have given me a great pseudo-musical to give hope to this dry musical year.
4 out of 4.