What's that? Do you hear that? Shhh, listen!
That's right, that is the sound of Silence, blistering in the wind.
It is also the sound of Martin Scorsese, old and still not giving a fuck. He is making movies that he wants to make and he is making him epic. When his last film came out, The Wolf of Wall Street, it was hacked down to 3 hours from a much larger length. And the same was true for Silence.
It ended up around 2:41, making it just a few minutes shorter than American Honey, and thankfully the only two films to be pretty darn long this year. But on average, the movie lengths have still probably gone up. You know, thanks to the behemoth that is O.J.: Made In America.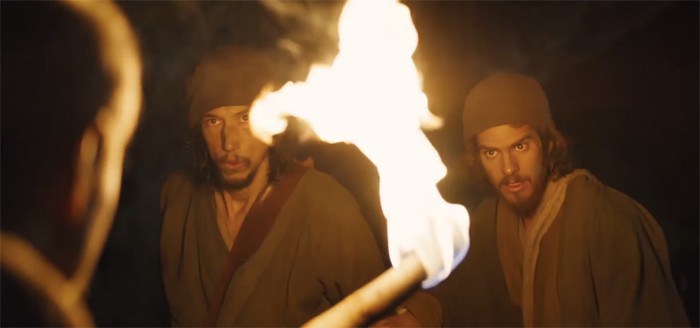 And this is just a sign of the behemoth that Garfield's hair will become.
In the mid-1600's, we meet a couple of priests, Father Rodrigues (Andrew Garfield) and Father Garrpe (Adam Driver). They are young and have strong hearts for Jesus in their Monastery in Portugal. From another Father (Ciaran Hinds), they find out that Father Ferreira (Liam Neeson), their former mentor and teacher, was still alive in Japan.
But he was no longer there to try and and convert a nation. He apparently has actually denounced his faith and is living there a Buddhist now. Shocking rumors, for sure, but his last letter was from a long time ago, and about Christians being tortured and killed.
Strong in their faith, the two priests decide to head to Japan, a very anti-Christian nation. Not only to find the missing priest, but to see what became of his life, try their best to not get killed, and also maybe restore Christianity to the nation that was flourishing with followers just decades ago.
Including a major role from Yôsuke Kubozuka as Kichijiro, a secret Christian with a weak mind, Issei Ogata as the main Inquisitor, and also Tadanobu Asano, Shin'ya Tsukamoto, and Yoshi Oida.
Speak softly, confess frequently, and carry a regular sized stick.
Silence, despite its gargantuan length, starts captivating very early on. You don't get bogged down in Portugal. After two quick scenes and Ferreira's letter, our boys are in China, meeting a guide to the island. And once there, they are basically smugglers, only able to come out at night, not sure who they can trust.
It is just a very tense film where it feels like anything can happen. Loosely based off of a real individual, the story is very personal and it made me start to feel like I was there with the priests. By having the point of view specifically with Garfield's character, all of the fears and mysteries are revealed when he finds out the truth. The truth about Ferreira, about any of his friends when they are away, about who to trust, just everything. It is a great journey, even with large swaths of it involve him hiding up in some cave or shack or building.
The film also features some incredible shots of jungles, mountains, and seas. It is fully immersive in 1600's Japan and creates a wonderful experience regardless of the story.
And yes, it is a film about Christianity and how right or wrong religion is at certain parts of the world. And no, it is never a problem. This year was a great comeback for "Religious films". Yes, we had God's Not Dead 2 and I'm Not Ashamed, the normal cheesy crap. But Miracles From Heaven ended up really average, which is something positive. And along with Silence we of course had Hacksaw Ridge.
Can you believe it? In a span of a few months, Andrew Garfield starred in two extremely good religious films about Christianity and someone sticking to his faith and principals against incredible odds and struggles. What the hell are the chances there, that two films like that, could get 4 out of 4's? This is the direciton the genre needs to go, and Scorsese and Gibson gave a giant push in that direction.
4 out of 4.