When it comes to musical biopics, I am really all for them. Give me the stories of these icons of our youth and our future. Give me their stories of overcoming the odds, of being famous, of maintaining any level of humbleness. Just give it to me if it is worth being a story.
And I was looking forward to Rocketman, despite the trailers making it seem very unrealistic, because it was going to for theatricality and style instead of just substance.
And no matter what, we have to compare Rocketman to Bohemian Rhapsody. Both about gay icons and music. And Bohemian Rhapsody is very controversial due to its treatment of the main character, who died twenty years ago. Were they respectful? Was it just a standard biopic? all of that? Well, Rocketman has to try and elevate past the noise of the controversy, ideally by not featuring any controversy. We shall see how that unfolds.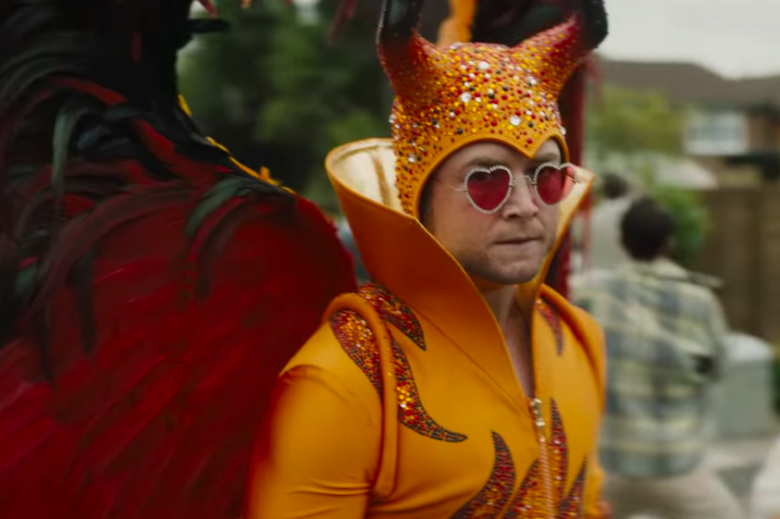 Well aren't you a handsome devil.
Elton Hercules John (
Taron Egerton
) was a musical icon once he got it big, hit after hit, known for his extravagance, stage shows and more. Sure, he wasn't the first to do this, but he was unique in his own rights, and helped lead the way to plenty of performers going all out.
Rocketman tells the story of Elton John's life, from Elton John's point of view. And more importantly, it is being told during an AA meeting about his past, when his drug and alcohol consumption has reached his breaking point and he realizes he needs help.
Most of the film, besides his rise to fame and increased levels of flamboyance, is his relationship with his mom (Bryce Dallas Howard) which seems to start out somewhat positive while also maintaining a huge level of shame, and his relationship with his best friend/songwriter Bernie Taupin (Jamie Bell), who helped create all of his hits, because apparently lyrics are John's weak point.
And you know, eventually his rise after he kicked all the bad influences out of his life! And if you are hoping to hear some Lion King songs, you have to wait a month for a different film.
Also featuring Matthew Illesley and Kit Connor as little Elton Johns, and Tom Bennett, Gemma Jones, Richard Madden, and Steven Mackintosh.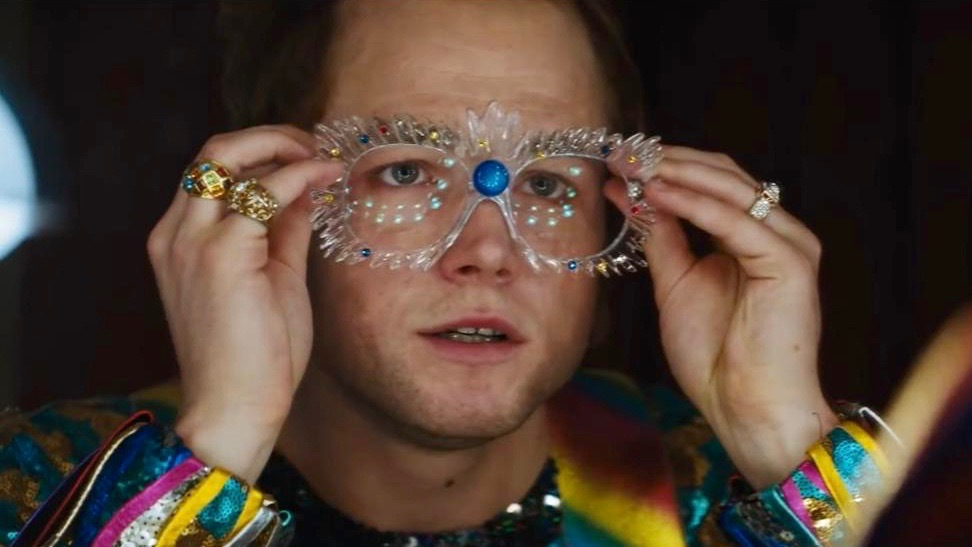 These are terrible sunglasses, not for the design, but for not blocking any sun.
It is very important to note that Elton John is very much alive right now at the time of this writing and involved in this movie being made, so it is all from his point of view. It isn't a strict biography of factual events, but more a fun retelling of his life, with important points that he wanted to highlight to define who he is as a person and why he went certain places in his life.
And at the same time, this is a "musical" and biopic, where the focus on around half of the stories are more there for story purposes and less performance pieces. That means we get singing, dancing, choreography, great sets, basically a lot of sweet music videos. When the first song hit and it was like a standard musical, I was ready to be floored.
I will say that the first half felt overall more exciting than the second. Although some bigger songs are in the second half, they are a lot more standard and less elaborate so that was a bit disappointing. I probably most enjoyed Saturday Night's Alright for Fighting which was probably the second or third song. I will also say they went with very unique choices when it came to song choices, because there were plenty of songs I didn't know that made the cut with ones I was hoping for barely mentioned. But what do I know, I am not a John fanatic or anything.
More importantly, when compared to Bohemian Rhapsody, I definitely prefer Rocketman. One of my biggest problems with BR was how they treated his sexuality, coming across as filmmakers as very homophobic and anti-Mercury's lifestyle. And despite this entire movie taking place in some sort of AA meeting with flashbacks, clearly noting problems in John's lifestyle, it wasn't blamed on his sexuality. Just good old fashioned poor upbringing and a lack of support structure from those who claimed to be loved ones.
John's sexuality is important for this movie to exist, as is his non-sexual relationships. And all of them are treated with respect and not a disdain.
Now, I did wish it was a little bit better overall, but it was still a good step in the right direction. Hopefully the next film we get is for David Bowie, and then maybe finish it up with George Michael. Let's get all alternative sexually up in these theaters.
3 out of 4.