April 2, 2018
Ready Player One
I probably first heard about the Ready Player One four or so years ago, as a book recommendation from a friend. I figured I would rush right out and read it, due to their very appealing sell, but I also had found out that no, they are going to be making a movie out of it. Eventually.
So I did the right thing, and knowingly did not ready the book, knowing one day, Steven Spielberg was going to make the movie. Years later, it appeared!
Now I did hear eventually a general plot synopsis. And I did get to see parts of the book. Especially cringe worthy scenes of nostalgia for nostalgia sake, or lines that were very transphobic. All of it certainly turned me off from the book, knowing I would probably hate it at this point if it wasn't very well written.
Sign. Somehow I became a book snob when it comes to prose. Blame Patrick Rothfuss. And let's get on with the nostalgia.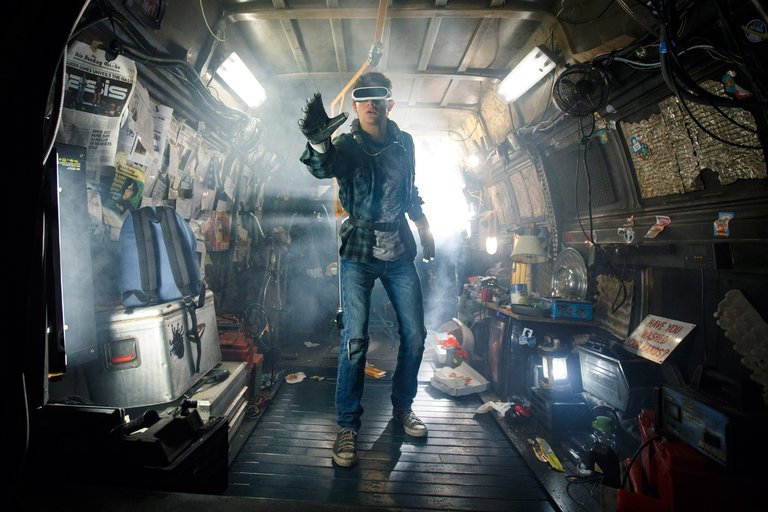 Our star is living in a van down by the river?
RPO takes place a few decades in the future, in 2045. Life sucks by now, overpopulation, war, all the reasons you can imagine. People are living in stacks of trailers to get by and deal with the number of people. Columbus, Ohio is one of the central hubs now! Why?
Well, Halliday (Mark Rylance) and Morrow (Simon Pegg) created a game called Oasis. It is a completely VR experience, where a user is transported into a digital world where they can live their fantasies. They can be anyone. They can be tall, short, strong, fat, boy, girl, something more fluid, whatever they want. The way to buy gear and get better is through in game currency, through leveling up. If you die in game you lose all your items and go back to level one.
Anyways, everyone loves Oasis. It helps them escape their bleak miserable worlds. Wade (Tye Sheridan), our hero, is one of the people in the game hoping to find the three hidden keys to unlock and easter egg. Before Halliday died, he inputted a secret competition, so that the best of the best would compete his crazy challenges. The first one to get all three keys would gain a controlling share of the Oasis, money, and worldwide honor and praise.
But one company, IOI, is hoping to find them first, to change the Oasis into a money making ad tool, and also, do this thing with people slaves. Just general bad stuff.
Also starring Ben Mendelsohn, Olivia Cooke, Hannah John-Kamen, Lena Waithe, Philip Zhao, Win Morisaki, and T.J. Miller.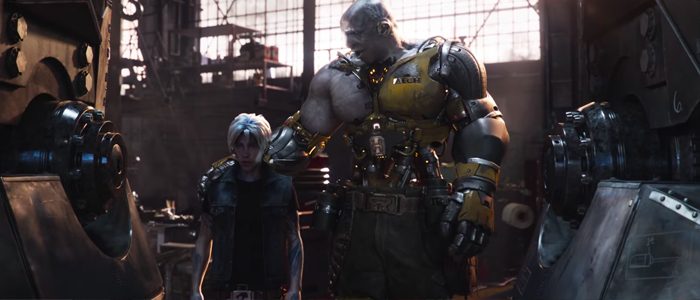 Hello, totally not Kratos thing!
Ready Player One is a CGI-fest film, taken to the next level, and is animated enough to qualify for Best Animated Film, should they want to go that route. It has obvious references to pop culture throughout it, using the fact that the main creator was a very autistic pop culture junkie, who wanted all of the biggest things in his world. Pop Culture knowledge was supposed to be some sort of saving grace for the characters in the movie, but only one example really helped save the day. Or at least, one non common example.
There is a lot of problems with this film. It is going for a pure popcorn flick, so it isn't really trying hard on certain levels. Acting is never really believable, and they turn Mendelsohn into a cartoon villain, quite literally with his behavior. It just feels so juvenile.
A lot of artifacts are brought up and clearly used later in the film, but one has to wonder why they exist. Why would they put in an item that kills everyone in the game so everyone goes back to level one? Why? Why would someone make special real life suits for you to wear to feel everything that happens? Most people would just feel pain and hurt in the constant warring atmosphere, its popularity doesn't make sense.
The game makes you wonder who are the real people behind certain avatars, and well, yeah, for the most part they are all average to attractive looking people. No uglies in this VR world, despite their fears. Come on, almost 30 years from now, in a land where most people just play video games all day? Where are the fatties at?!
One thing that Ready Player One had going for it is that it didn't feel like a 140 minute film. It was relatively interesting to watch, but it is not something that made me very excited or happy or sad while watching. I just felt indifferent. Throwing a quick scene of a character I recognize into a film isn't going to increase its grade, it is just going to distract me from the story that is relatively weak.
Ready Player One is a convenient movie (one where things just keep lining up nicely), that relies on nostalgia and an average story and flashy effects to sell the tickets. Easily something that can be better watched at home.
2 out of 4.