At blockbuster there are tiny strips of paper to show what is coming soon, with the title and release date on them. The one for prom must have been prented incorrectly, because the background was dark, and I could only barely make out the words PROM on it, definitely not the word disney. So I assumed it would be a horror movie. It was pretty creepy. But then there was a colorful poster, with a big group of diverse kids all dressed up and no blood. And the word DISNEY. My mistake!
I definitely thought this movie would be bad based off the company and idea, but it ended up being a much more pleasant and enjoyable story than I could imagine. It also has tons of recognizable faces in it. Hank and the Rehab Dude from Breaking Bad. The main chick was in Scream 4 (She plays the "dumb blonde with big tits"(Scream 4 quote)) who dies at the beginning. There is also the ginger gay kid from Shameless. But finally, my personal favorite, THE DUDE WHO GLOWS from Sky High. Now he is all grown up and super tall. Black hair too, not gold.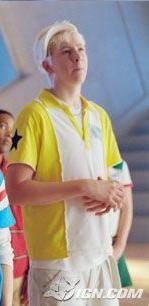 Most useless super power ever? Maybe to you. But I lost my keys and it is dark.
This movie starts 3~ weeks before your typical movie prom aka best night of high school…in film. It has quite a few storylines outside of the main one which is largely predictable. Unfortunately it shows a lot of crazy/dramatic gestures from males in this high school asking females to prom. I am afraid for future generations, in case this movie becomes popular enough to fill girl's heads with even more unreasonable expectations about a dance.
I thought most of the storylines were fine / cute / good, but the one I liked the most was with THE DUDE WHO GLOWS from Sky High (man sky high rocks). Maybe because its a been there, done that type story for me.
Movie has some stereotypes and cliches, but thankfully there is enough "different" people that you could probably find someone to relate too. Wont buy, but I did enjoy the one watch I had.
2 out of 4.