March 26, 2018
Pacific Rim: Uprising
A few years ago, Oscar Winner Guillermo del Toro directed a fun little giant monster movie named Pacific Rim, that was meant with not real acclaim, but most people admitted it was at least a bit fun.
I remember going to the opening night release, a theater full of guys, and my now wife being the only (presumed) lady in the audience. It was a fun experience. It had a lot of fun characters and great actors, some of which hammed it up sure, but they put an end to the goddamn apocalypse.
This next film, Pacific Rim: Uprising, has no del Toro directing it, was put off of the line up indefinitely a year back, and is just now finally coming back. It is set later, so we can have a mostly new cast, and uhhh, I dunno. I guess it is about monsters and robot stuff still.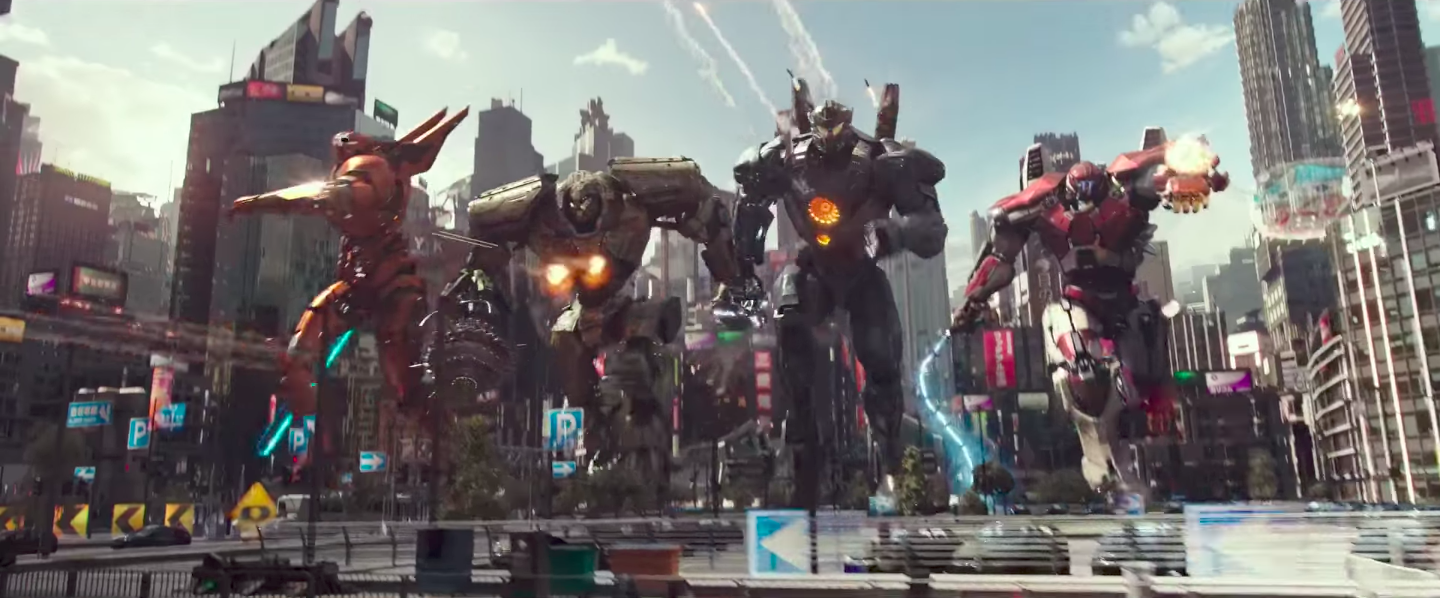 I think I will just refer to them now as battlebots.
Set ten years after the first film, the humans have won the war, no more alien sightings, and they are just living their lives. Some areas have never been rebuilt on the coast, others are back to normal. The Jaeger program is still kicking around, building a few machines and training new recruits just in case another attack comes. But for the most part, they don´t do a lot.
Jake Pentecost (John Boyega) thought about living up to his father´s legacy, but instead he would rather live in an abandoned city, stealing Jaeger parts and other items for junk food and dollar bills. Hey, YOLO and stuff.
But during a theft gone wrong, he ran into a younger girl, Amara Namani (Cailee Spaeny) who built her own very tiny Jaeger on her own stolen parts, small enough to be run by a single person, not two! They get into trouble, arrested, and now Jake has a choice. Join the Jaeger Pilot program (again!) or, you know, jail. His older ¨sister¨ Mako Mori (Rinko Kikuchi) is sort of leading the thing again, so she gave him that totally not forced option.
Long story short, this movie has a lot of cadet training, and worrying about the future of the Jaeger program. Will they switch to drones? Why waste money at all? What did the Kaiju want? And why is there a rouge Jaeger running around, kicking ass and killing people? Oh wait, what?
Also starring Burn Gorman and Charlie Day reprising their roles, along with other newcomers like Tian Jing, Jin Zhang, Adria Arjona, and a loaf of bread. I mean Scott Eastwood.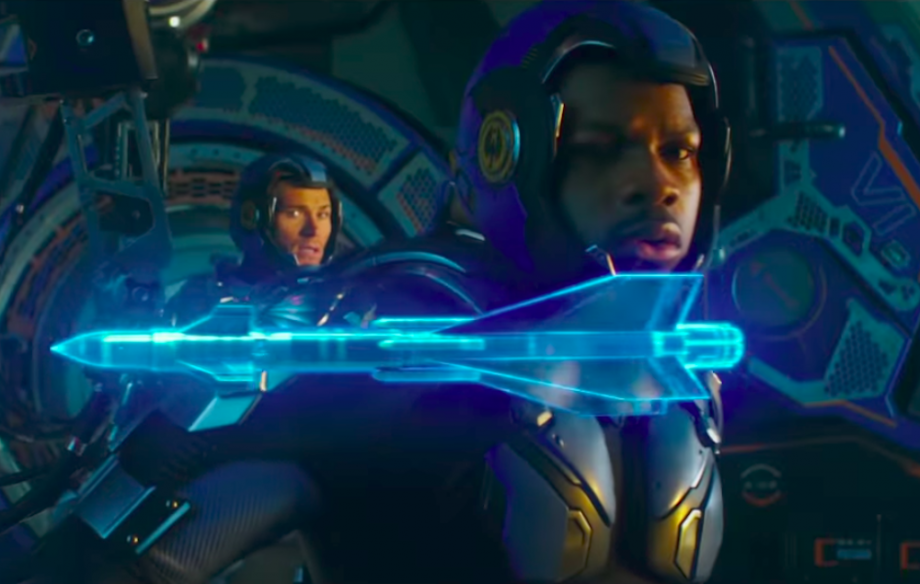 Well, if anything Eastwood is an incredibly attractive looking loaf of bread.
¨Hi, my name is Pacific Rim: Uprising! Allow me to make a film full of boring cliches and not a lot of fun action!¨
Boring cliches you say? Well, we got a son who doesn´t want to associate with his dad´s trade beside his knack for it. We got in general, cadet training programs of teenagers (with attitude!) who aren´t doing as well as hoped. But you know by the end, those same kids are going to have to be the ones who save the day. The band of misfits who struggled and grew together, not only learning how to be heroes, but to…love.
Other mistakes this sequel wanted to make was killing off old characters in dumb ways just so we can focus on the fun spunky youths more. It took WAY too long to get to some goddamn robot versus monster fighting action, which is what we signed up for in this film franchise. We had to see robots fight for each other for awhile, and obvious plot twists instead. Timing was very strange throughout the film, with the implication they did a lot of things fast that felt like weeks of work, despite having a huge time crunch to do it.
But hey, I won´t completely shit on it. Here are some pros. 1) The final fight was long (and really our only robot/monster battle), but entirely during the day, so you know, you could mostly understand what happened. 2) The Jaeger battle armor to control them didn´t have boob plates for the ladies. And, 3) There was a bit of talk about geology! Not a lot of it, and not necessarily accurate, but still, geology, what fun!
1 out of 4.