What better way to celebrate the American Independence Day than with a movie entitled Outsourced?
Har har har. The title probably sounds familiar, because NBC later took the movie and turned it into a sitcom. Only lasted a season, but was pretty funny. Same concept, names same for characters and everything. Just a bit more comedic vs serious.
I am sure I never would have heard of this movie if it wasn't for the show. Just hoping it isn't completely identical to show, I wouldn't want to know everything that happens already.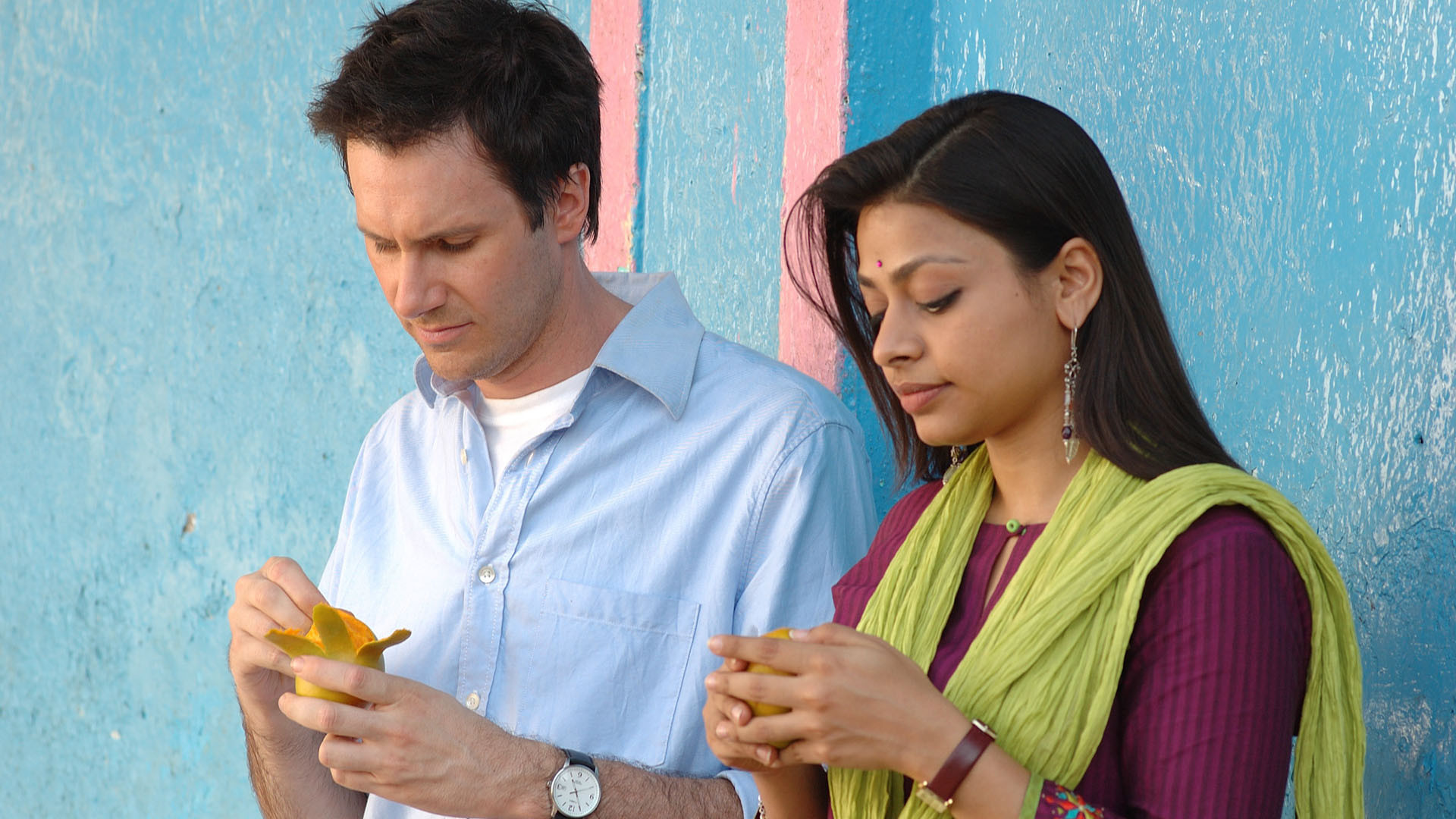 Aw, fruit. It is in India.
Todd (Josh Hamilton) works in a call center in America. His company is weird, sells only novelty knick knacks to the United States. Sure, most of it is made in China, but you might need an American Flag lamp. Well his division is getting shut down, but don't worry, his boss (Matt Smith) is giving him a promotion! To India, to go to their call center there to increase their efficiency. Make them more American, and sound American, so callers wont get mad.
He agrees, after he fixes up India, he will get an offer somewhere else higher in the company. Seems good. Especially when the other option is quitting and trying to find another job in this economy. Yuck! Next thing we know, India! He is met by Puro (Asif Basra), the manager who will be in charge when Todd is done, who wants to learn all he can. Puro, once he is a successful manager, will be able to marry and care for the woman of his dreams. In the group there is also the outspoken Asha (Ayesha Dharker), who is very blunt with her criticisms of her new boss, his attitude in India, and in her confusion with American customs.
So as expected, the movie is based in cultural humor and of a man discovering himself in India. He can't just teach them about America and expect them to get it, he has to embrace himself as an Indian to better relate and teach them. Hard to sell jokes if they don't get the same jokes.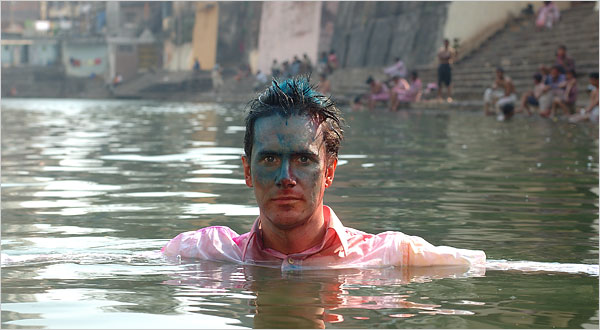 Holi is a crazy holiday. Sometimes it requires reflection.
Writing that plot felt weird, mostly because it was just the same as the Outsourced show, but it ends after the movie. Since the show got canceled unexpectedly, it is interesting to watch the movie to see probably where the show was going. A pretty fucked up, yet also completely acceptable, ending.
I was originally going to give it a 3 out of 4, as I thought it was really well done, but while trying to talk about the plot, I found myself getting a bit bored. The film allows for a lot of quiet moments, and although amusing and interesting, I realized I probably wont watch it again. Not sure if the jokes have lasting power, and with no other plot surprises, just loses a bit of longevity.
It is a shame, because it is well acted and at least spawned an almost successful series. It is unfortunate that most people who see the movie would have to compare it to the show, where it is easier to relate and connect with all of the characters (more time). I mean, I cant even name another office worker, except for Manmeat, whose role is significantly downplayed in the movie, ie just someone who flirts with women over the phone.
But hey, definitely an interesting movie/message, involving and starring India itself.
2 out of 4.