Me and Illumination Entertainment don't get along. They had one of the most racist kid movies in recent history with Hop, a bad Lorax, and the Despicable Me series. I thought the first film was bad, but at least I liked the minions.
Then Despicable Me 2 came out. They heard we liked minions, so they gave us a bunch more minions. It ended up being bad as well, full of shitty humor and too much minions, not enough good story.
But that made Universal, the distributor, a shit ton of money. More money than any other film they had distributed, so of course we needed MORE. More what? More Minions of course! "Fuck Gru, give us Minions!" They are now super advertised, with tiny shorts before movies, awkward commercials, lunchboxes, pencils, everything. They are printing money by having tiny yellow creatures on them that speak gibberish and sing gibberish covers of famous songs.
This film was also pushed back, but not for delays. Originally scheduled for end of 2014 release, they went with the mid-summer release instead because it had been making them pretty dang good money.
Enough money to take down Disney World? We will see…
Minions is a prequel to the Despicable Me movies, about how the large group of minions (Pierre Coffin, all of them) came into existence and how they eventually met Gru. Turns out they are basically large single celled organisms, and never really evolved into bigger and better things. Instead they were followers. Instead of looking for just the biggest and strongest creature to protect them, for whatever reason they looked for the most "despicable" person to follow, because the minions are apparently evil as fuck, despite never doing anything evil.
The minions went throughout time, following bad guys and always pissing them off or killing them from their ineptitude. Until they had to go into hiding where they made their own minion community! It was safe, but boring. It wasn't until three minions, Kevin, Stuart, and Bob, set off to find a new big bad boss did anything change. Aka, the 1960's. Their travels eventually introduce them to Scarlet Overkill (Sandra Bullock) and her husband Herb (Jon Hamm), who are about to steal the crown from Queen Elizabeth (Jennifer Saunders) and take over the country.
But if the minions want in on being her slaves, they gotta prove themselves first. You know, doing evil stuff and doing the job for her. Easy peasy. And if they fail, well, eventually they will find Gru right?
Also using the voice talents of Michael Keaton, Allison Janney, Steve Coogan, Geoffrey Rush as the narrator, and Hiroyuki Sanada as "Sumo Villain" because that is all they could give him, I guess.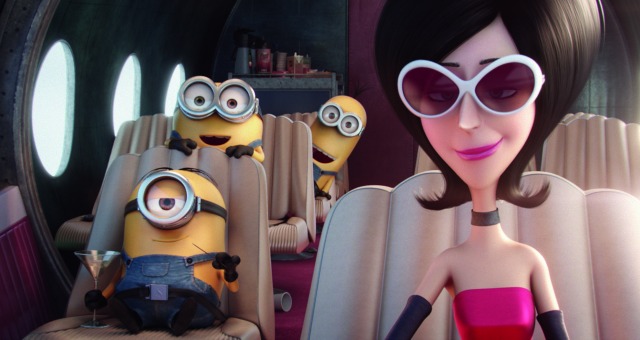 If this was called Minion Pie, this scene could be the day that the minions died?
Watching the trailer for Minions, I had hope. It looked like it could actually be a funnier movie and maybe make me laugh. Not having to worry about the awkward bad guy + kids situation, we could focus on a better more interesting plot of shenanigans and tomfoolery. Tomfoolery we may have gotten, but not the kind of tomfoolery one would want.
The movie made me laugh just one time in 90 minutes, which is obviously a bad sign. The jokes weren't clever. Their only attempt at appeasing the adult audience would be the several songs they included for the minions to gibberish sing, all of the songs older of course given when it takes place. But even that is incredibly lazy. That joke is more of a "Haha, do you get it? You know this song right? This is funny because it is something you know but minions singing!"
This is not to say that I am angry at the fact that they don't speak any real language. That is part of their character design. But to have a movie focus so much on them talking to others and each other, feels terrible. We can assume everything they are saying, sure, due to the weird way their language works. But it feels more annoying than anything. They rely on side human characters and narrators to actually explain plot points, because for the most part their main characters cannot.
Additionally, having them focus on three random minions to give them some sort of personality just annoys me that the other dozens of characters are ignored. I would have rather seen them work as the cohesive group, going full on henchmen, not just a couple guys on a bad road trip.
I am surprised that it ended with them actually meeting young Gru. I figured it took place in the late 60's so they could justifiably fit in 3-4 more Minion movies pre-Gru to milk the franchise more. A Minions 2 with young Gru would be annoying, because it gets rid of all of his character development (but maybe it would actually make him evil? That'd be a shocker). For now though, our next film with them would be Despicable Me 3 out in a few years, which promises more of the same, so it will probably suck.
I am a bit annoyed that this will probably make so much money, especially if it makes more than Inside Out, a superior film in almost every conceivable way. The success of the film just means that minions will still appear everywhere. Yes, that includes the strange memes going around that have the minions as the main picture, and then some random joke text, that has abso-fucking-lutely nothing to do with the franchise at all that old women and dumbasses share on your facebook page.
1 out of 4.