May 15, 2015
Mad Max: Fury Road
Day 5 of Yay Women Week! Wait, what. This is about MAD MAX. And how FURY the ROAD is. That doesn't sound go power women ya ya ya at all. But hey, what do you know. You probably haven't even seen it yet.
After all, early reports about Mad Max: Fury Road is that it actually passes the Bechdel test. So take that haters. Let's say it fits the theme.
I admit my experience with Mad Max is slim to none. I haven't been able to see any of the previous three movies (and apparently they don't matter to this one either).
No, my experience with the franchise are the obvious pop culture quotes, and the NES video game. It involved driving around a barren landscape, looking for gas I think, and getting shot at by cars. In reality, it was about me playing it for like, a minute and dying and stopping. That game was hard.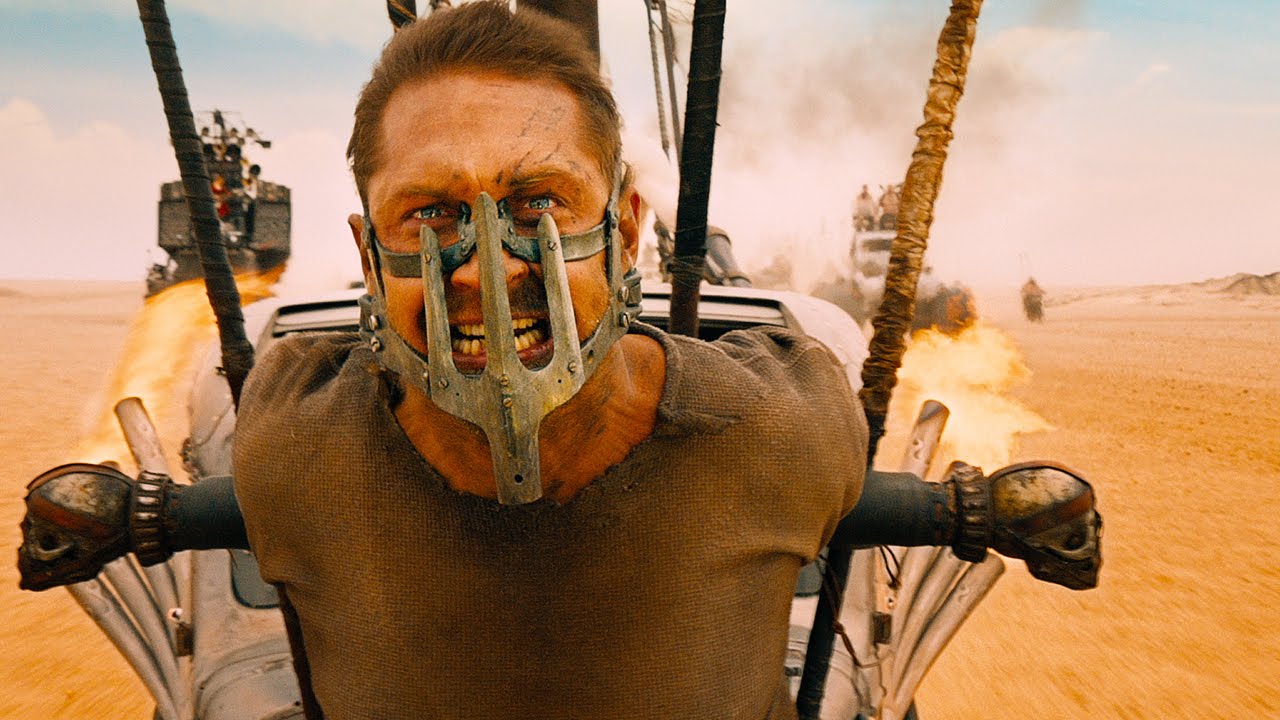 "Calm down, viewer! Now's not the time for fear. That comes later."
Max (Tom Hardy) is pretty crazy. Mad you might say. A loner, roaming the Australian barren plains on his own just trying to survive. He lost everyone close to him. His only care in the world is his survival. You see, the world sucks now. Oil became scarce. Wars, environment, all of that collapsed society. Shit, even water is hard to find.
But you don't need to know a lot about Max. You just need to know that he has been captured by King Immortan Joe (Hugh Keays-Byrne) and his army of skin head pale War Boys. He has his own huge water supply, so he rules the world. The only reason Max is able to escape is thanks to Imperator Furiosa (Charlize Theron). She has decided to do the right thing and smuggle the Five Wives (Zoe Kravitz, Riley Keough, Abbey Lee, Rosie Huntington-Whiteley, Courtney Eaton) away from Joe, who wants to breed future war leaders.
And that's all you need to know! Women get stolen, Max and Furiosa on the run throughout a wasteland, trying to get the ladies and themselves to safety. On their tail is several large war bands, with guns, flame throwers, bombs, and crazed thugs who are basically all suicide bombers. Here you might find some high octane dudes, like, Nicholas Hoult, Josh Heman, and Nathan Jones.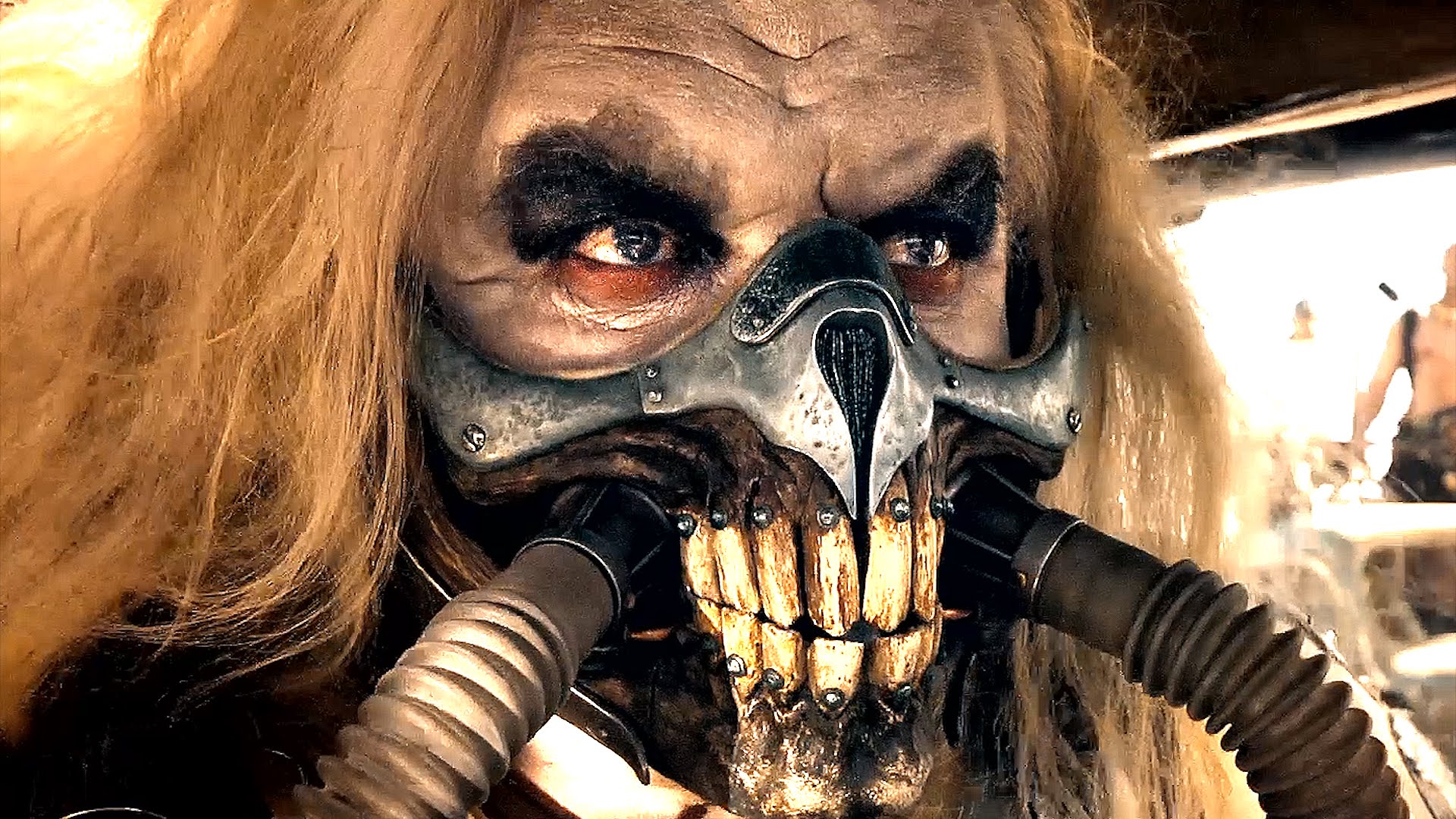 Metal as fuck.
Fuck fuck fuck fuck. The hype train is real. The. Hype. Is. Real.
I didn't believe it and I didn't want to believe it. This was my second choice to see this week after Pitch Perfect 2, and if I didn't go to a screening I would have waited until DVD release. But I am glad I saw it on a giant screen. It helped blow my mind. Here is the thing. The acting? It is pretty darn good. Hardy and Theron were excellent as always and they were completely believable in their roles. Hoult was like an entirely different person and I would have never expected him to do so much. And hell, some of the actresses I saw associated with the film, namely the Five Wives, I felt very questionable towards but even they did a good job. It turns out that with a majority of our escape party being women, this actually fits the theme pretty well.
The plot also is a very decent one. Miller does a fantastic job at world building and creating so many unique elements to really make you realize how much effort went into this movie.
And the action. Hot damn. Most of the action of course takes place on dusty roads with armored dudes chasing each other on cars, but it doesn't ever feel repetitive. The final chase/action sequence goes on for so long, it is probably longer than the final train scene in The Lone Ranger. And it just keeps on coming at you. Action, explosions, fighting, great choreography. I was amazed. Don't worry, the film isn't 100% action, there are quieter times. So let's just say 85% action. When the action is going, it is going to 11.
I can't even describe that enough. This is so far the best action movie of the year and one of the best of the last few years. I would say in terms of pure action, The Raid 2 is better, but in terms of extreme brutal violence, Mad Max: Fury Road is miles ahead of the competition. Man, all this bro talk, I feel like the dudes on Harold and Kumar Go To White Castle. I'm gonna go listen to Wilson Phillips.
4 out of 4.