March 8, 2017
Kong: Skull Island
I find it very odd to see a lot of hype for the movie Kong: Skull Island. King Kong has happened over and over in film's history, and given everything I know about the internet, they hate reboots, reimaginings, and remakes of other films, so they shouldn't care about this one.
But alas, here we are. I don't have too many fucks to give about it of course, after King Kong 11 years ago. Overly long and it didn't really do anything different.
I guess this one is bringing in some hardcore CGI and bigger acting names. Maybe that is it. Or people are freaking out over the potential of a Godzilla and Kong showdown in the future. Needless to say, if this film doesn't do anything different, I will probably be mostly annoyed.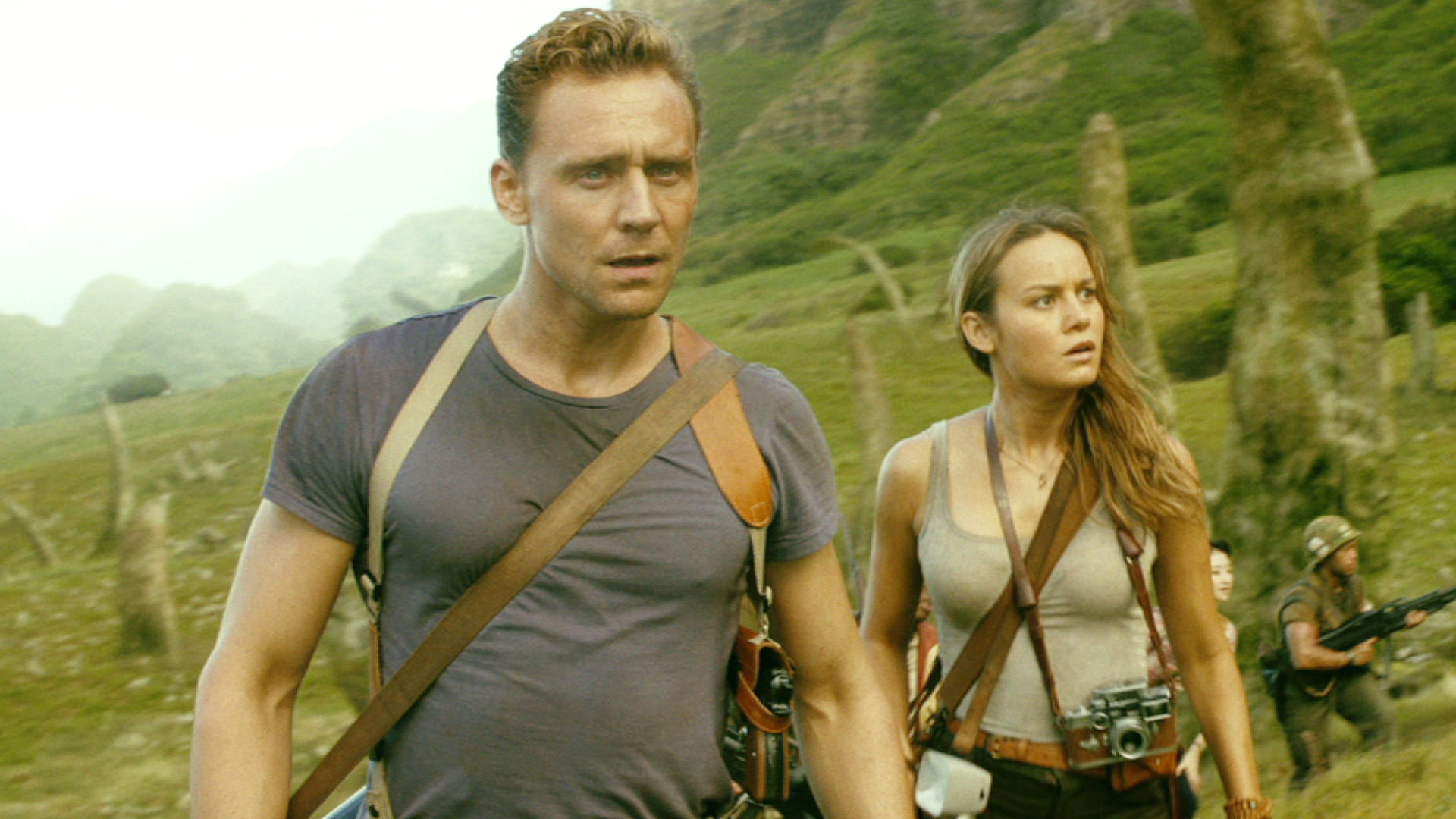 I don't care about context, these two people are not dirty enough.
Kong: Skull Island makes sure you get to see a giant ape really early in the film, when two crashed World War II pilots land on the island, start to fight, and then he shows up. But this isn't set during that war, this is actually set in 1973, during the end of the Vietnam war.
Bill Randa (John Goodman) is some sort of scientist, who believes there is a lot to discover on this skull island they have found in the South Pacific. Ancient civilizations have talked about it, there are constant storms that surround it, but he wants a mission to explore what has never been explored. Let's call it a geologic mapping mission. With a military escort.
He is able to gather a team. He has his own crew, a geologist (Corey Hawkins) and a biologist (Tian Jing), along with some extra scientists from another company (John Ortiz, Marc Evan Jackson). They have a legendary British explorer to help explore the jungles, James Conrad (Tom Hiddleston), who is in it for some money. A prize winning photojournalist, Mason Weaver (Brie Larson), who helped show the truth about Vietnam to the public. And of course a helicopter team lead by LTC Preston Packard (Samuel L. Jackson) and Captain Jack Chapman (Toby Kebbell), straight out of 'Nam.
Most of them assume it is just a real exploratory mission. But really, Randa has an agenda and believes to be giant monsters on this island, and he wants to bring an end to them. They've got weapons of many sizes. Unfortunately, when setting off seismic blasts to detect the crust, they wake up these beasts on the island, and they do not like having explosions all over the place. Spread out over the island, the crew has three days to make it to the north side before they can be rescued.
Also featuring John C. Reilly, and a whole lot of soldiers: Jason Mitchell, Shea Whigham, Thomas Mann, and Eugene Cordero.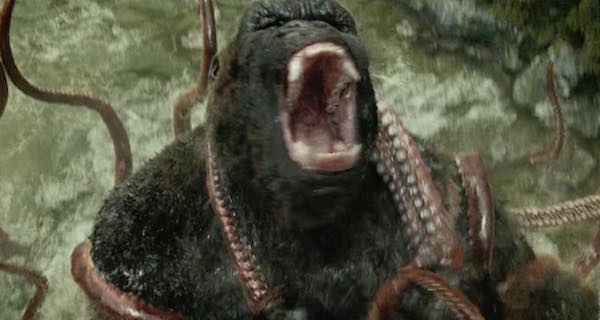 Turns out this Kong film has a lot of Japanese influence.
At its heart, Kong: Skull Island is an action adventure flick that wants to show us giant animals fighting some dudes with bombs. Which on its own could be enough for most of the people who want to see it. I will say there are some scenes that look a bit awkward based on CGI usage. It doesn't always mesh well. But the more pure CGI scenes like Kong fighting with the giant lizards look amazing.
The film also doesn't pussy foot around Kong. We get to see him in the first few minutes. Within 15 more we are on the island and Kong totally fucks up the helicopters putting our characters in a perilous situation. We get a lot of Kong and they don't tease him out.
You know what we don't get a lot of? Character development. Basically every character in this movie is weak on that level. There is no gain. They don't change. Well, some of them die. We have exactly one character who people will care about and does change and that man is played by John C. Reilly. His character is wonderful, an amazing addition to the film, and worthy of praise.
But Kong: Skull Island is just going to be a interesting film that could have been a lot better. With its post credit scene trying its best to imitate The Avengers it leaves some hope for the future. But have to hope they improve the scripts first.
2 out of 4.