March 21, 2018
Kingsman: The Golden Circle
Kingsman: The Secret Service was a strange breath of fresh air in 2014. A strange mix of Bond parody while maintaining its own serious qualities of a film. It wasn't outright joke-y, but it did have plenty of jokes and extremes when comparing itself to Bond films.
I mean, outside of its very stupid ending (Which again, was just going to extremes), it almost felt like a perfect film. So many people were excited about Kingsman: The Golden Circle, heck, I was too. I just…didn't see it.
So again, we find ourselves with a perfect film for "Things I should have watched and reviewed last year," a theme title too long to tag, especially since I keep changing the wording. All of that is part of the theme title. It came out during a stronger time for movies, so the makers were certainly confident in their own work, that's a good thing.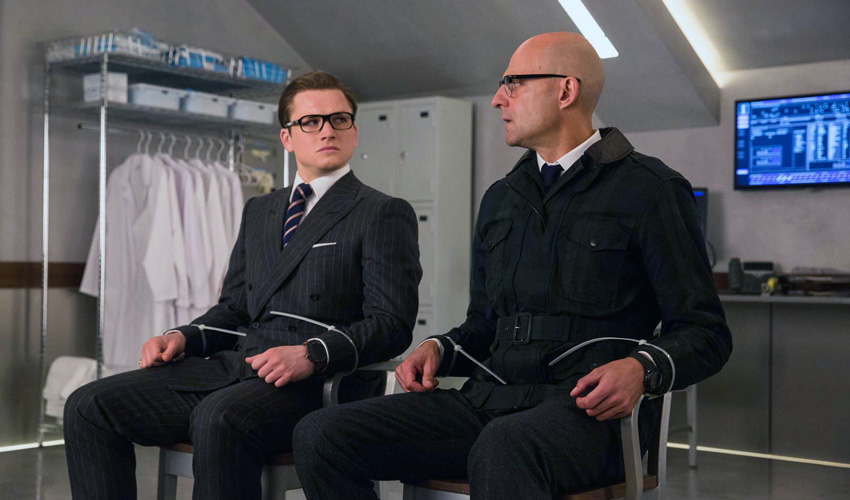 Just like they are confident enough to feature a lot of people wearing glasses.
A lot has changed for The Kingsman group since Galahad (Colin Firth) died and the whole world ending stuff from the first film. For example, Eggsy (Taron Egerton) is now in a committed relationship with the Princess Tilde (Hanna Alström). Merlin (Mark Strong) is getting in more of the action now too, and we learn he loves John Denver, how quaint! John Denver was featured heavily in Free Fire and Logan Lucky as well, so 2017 was like a love song to him, but you know, with movies.
Either way, they are going to have to deal with The Golden Circle, the world's biggest drug organization. Why do they have to deal with them? Because they are planning something big soon to take out most of the world's inhabitants. You know, like the last movie had a similar thing going on. But also because the organization took out basically all of the Kingsmen, except for Eggsy and Merlin, including their headquarters. That is totally not cool.
Following some clues, they head to America, to find The Statesmen, the American version of their organization. They are disguised as a brewing company in Kentucky. Well, disguised, and also do make the alcohol. In fact they have cute code names that are alcohol based. We get Tequila (Channing Tatum), Ginger Ale (Halle Berry), Champ/Champagne (Jeff Bridges), and Whiskey (Pedro Pascal). The two sides agree to work together, after some shenanigans and reveals to help bring The Golden Circle down, before calamity and stuff.
Also starring Julianne Moore and Elton John.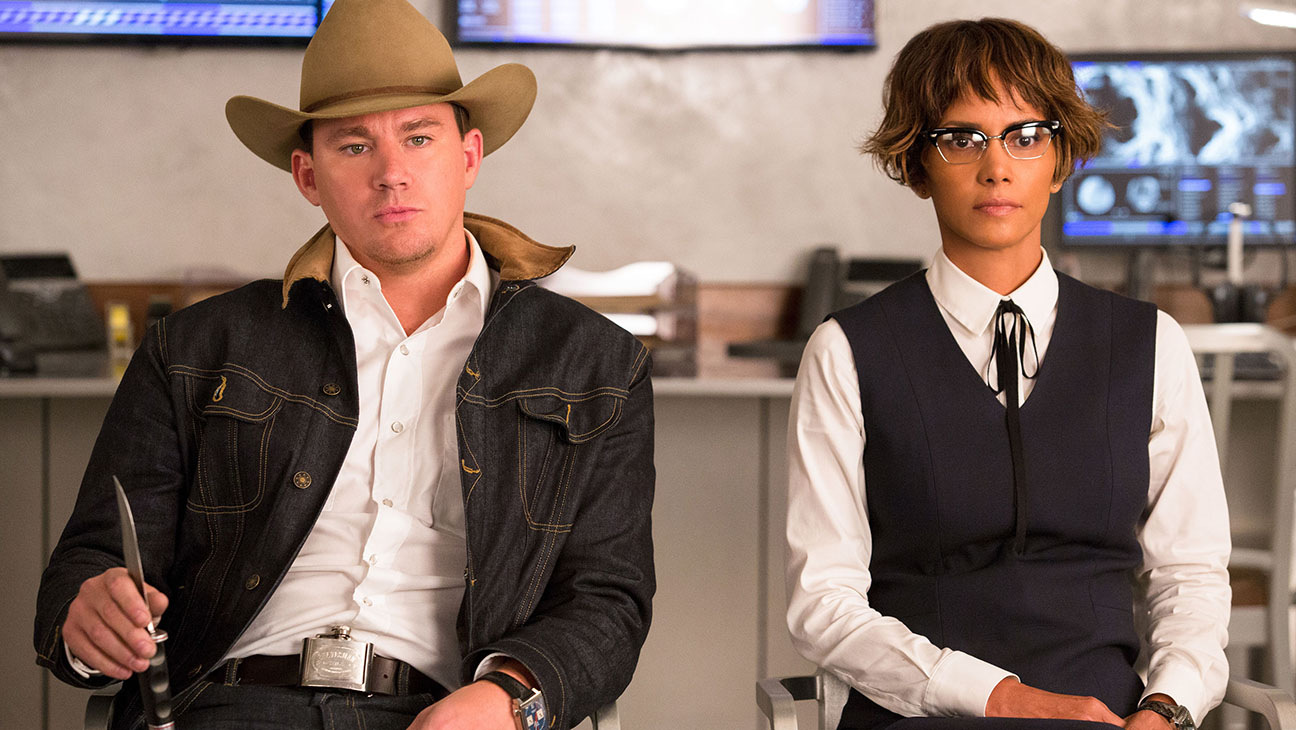 America has more cowboys and cowboy accessories.
Kingsman: The Golden Circle is 141 minutes long. 141 minutes long. The last one cracked two hours as well, but at no point did it crack 2 hours like this film. Sure, both run times include the credits, so we can subtract about 8 from each and still wonder what the hell was so important in this film for it to be so goddamn long.
And one of the biggest issues with this film is that it certainly drags and just has too much extra information that really doesn't add a lot extra to the plot. It is in desperate need of some editing.
The characters still maintain some of their charm. I think too much of the film is spent trying to bring back some memories of a character. The action is okay, the overall plot isn't. It feels way too similar to the plot of the first film, given the goals associated with it.
Overall, this is an average movie and not really worth the time it was given. Outside of Merlin, the other characters really don't have much growth that you would expect in a sequel. It didn't feel as funny or unique as the first film either. Basically, it is a lamer and longer version of the first film, pure and simple.
2 out of 4.