June 21, 2018
Jurassic World: Fallen Kingdom
When Jurassic World came out a few years ago, it was a big deal for me. Jurassic Park is probably the first movie theater expirence I remember. Jurassic World was, at the time, the biggest movie I was able to see early as a member of the press.
And unfortunately, that film had issues. It had some new things, but other elements just felt rehashed, and them we had the ridiculous assistant death and heels fun.
Needless to say, I didn't care much about Jurassic World: Fallen Kingdom. The story had a volcano and seemed to sort of give away a lot of the film. I couldn't tell from the trailer if it really had anything new to say.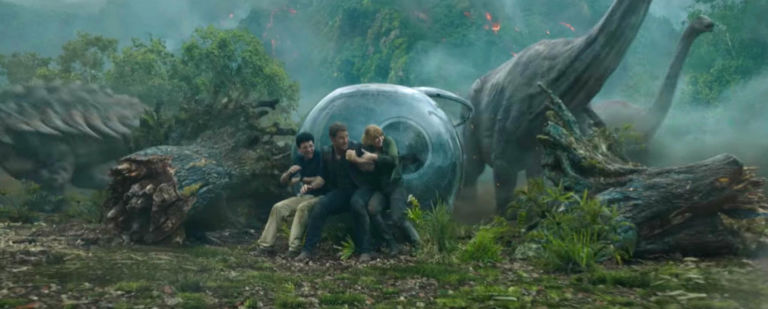 Look, there's most of the same cast with the same magical travel balls.
Jurassic World has fallen, from that last film, because the dinosaurs got out and people had a bad time. They had to pay a lot of law suits to cover the costs, and didn't really fight it too much. But now they are defunct and everyone basically agrees to leave the island alone.
Well, nature doesn't want to leave it alone. The dormant volcano there has become active, and is ready to fuck a lot of things up. It is riling up, it is getting explosive, and now the dinosaurs might all become extinct, again. Should we save them, or let nature fix is course? The government decides to not intervene, so it is up to private groups to pick up the cost.
Namely, Lockwood estate. It is an old man (James Cromwell) who helped Hammond (Richard Attenborough) back in the day with their initial research to open Jurassic Park. He wants to save several species on the island, more if there is time, and put them on a new island. One that isn't a volcano, has its own natural borders and it can be a sanctuary where dinosaurs can live peacefully. Something not for tourists. Time is of the essence. They also have a great need for Blue, the velociraptor, as they feel it is the second smartest creature on the planet and the only one left of its kind.
Getting the creatures back is one difficulty, especially when it involves an exploding volcano. Once they are on the ship and ready to get out of the island though, that is where the real drama and intrigue begin.
Also starring Chris Pratt, Bryce Dallas Howard, Rafe Spall, Daniella Pineda, Justice Smith, Toby Jones, Ted Levine, Jeff Goldbloom, BD Wong, Geraldine Chaplin, and introducing Isabella Sermon.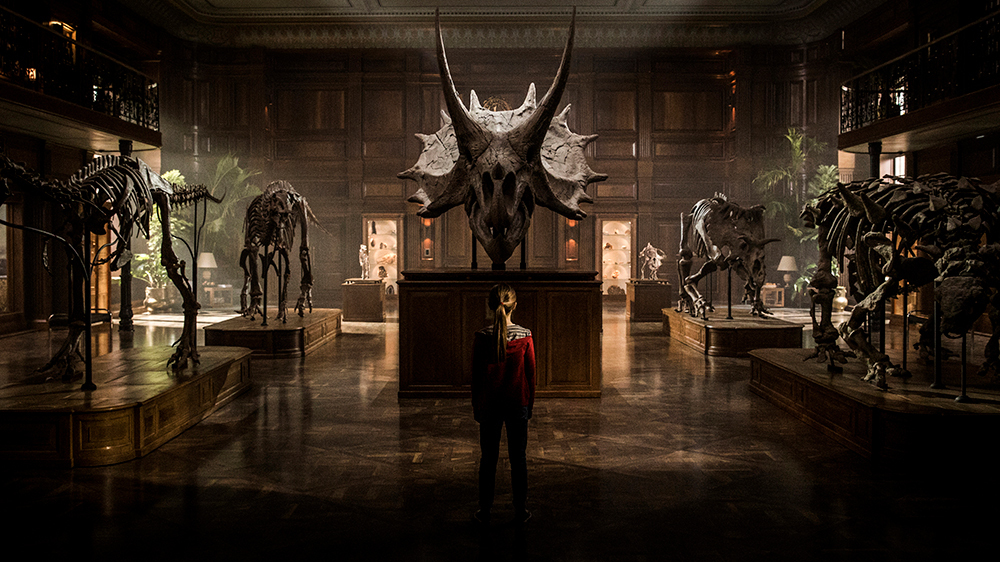 Herein lies the sins of Jurassic Park's past. Dey be ded, now. Again.
JW:FK seems to have heard some of the biggest complaints about the last film and respond appropriately. For example, the footware is more appropriate in this film. But how could they respond to the assistant death? How could they fix something like that?
I don't know. How about by having that same giant dinosaur do a very similar thing, once again, to an undeserving character. Technically it is acknowledging the controversy by doing it a second time, although a bit less graphically.
JW:FK is certainly an entertaining movie. You will have some thrills, some screams, and some laughs. But overall it doesn't offer anything really new. Last movie we had a man made T-Rex looking dinosaur that was too smart and caused problems. It was defeated by OG T-Rex. This film replaced T-Rex with Velociraptor. The same shit happens in different scenarios.
It also enforces normal Jurassic franchise tropes. Military people are always bad. Ugly people are always bad. People who aren't bad but just working are expendable.
Overall, not enough new. What was new was obvious early on, but it didn't go hard enough into it leaving more for sequels. But hey, Smith was better than expected as well.
2 out of 4.