Has there been any movies out about JFK yet?
Just kidding. Outside of JFK itself, we have had Thirteen Days, Bubba Ho-Tep (technically), and recently we had Parkland, about his assassination.
But what is with all the focus on the dead president? What about the lives that were left behind?
Jackie wants to give us an important look on his wife, Jacqueline, also told from the perspective of her life before, during, and after the assassination on her husbands life. And when I say it wants to focus on her, we mean mostly every single possible shot and with her stories.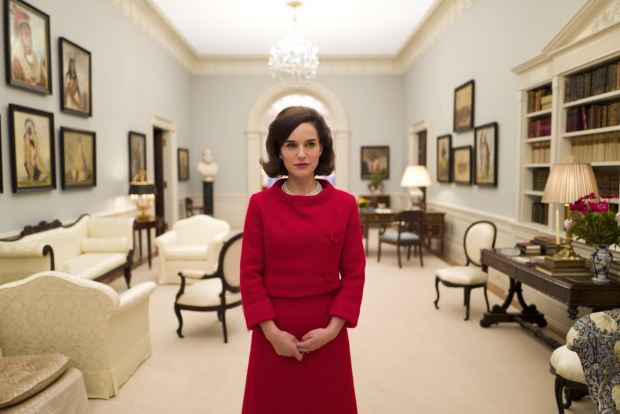 See? No one else in the camera, this is about Jackie not her husband!
For the story, it takes place after the death of John F. Kennedy (Caspar Phillipson), where Jackie (Natalie Portman) is now living out side of the White House in a big private estate. Some journalist (Billy Crudup) is invited to get an interview/update with her, knowing that she has full control over what actually gets written. And then the stories all come out.
Most of it is about what little time she had in the White House to actually try and make a difference. Jackie under went a full restoration for many parts of the white house, bringing back original antiques. And she also brings back art in the form of live entertainment, musicians at the top of the careers and instrument group, bringing back culture. She even did a show for PBS giving a tour of the White House on those new fangled television sets.
And then there is the death. The after math. Lyndon B. Johnson (John Carroll Lynch) getting sworn into office, dealing with the logistics of a funeral, telling her two kids about what just happened, while also having not a lot of time to suddenly move out of her home. I think it is great that such normal problems can elevate so much when talking the highest government position in our country.
Also featuring Peter Sarsgaard as Bobby Kennedy, Beth Grant as Lady Bird Johnson, John Hurt as a priest, and Greta Gerwig, Mac Casella, and Richard E. Grant.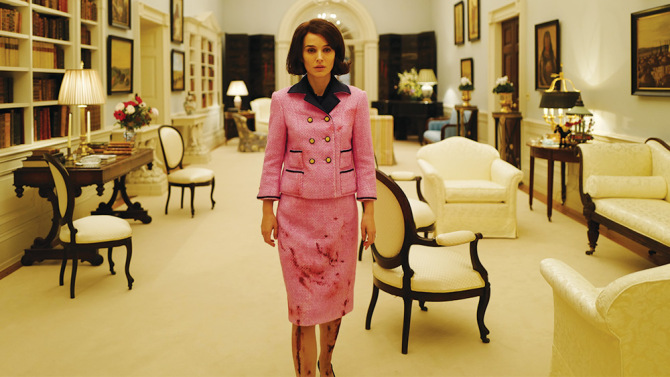 If you look close, one of these pictures is a blood red dress, the other just has red blood on it.
Jackie was not what I expected. A drama about a woman in distress. Sure, technically that is what the film delivered. But it had another element attached. A scary element. And it all started before the first real frame. The film began with a dark screen and incredibly jarring music. It made me nervous, not just in its intensity but thinking this film might turn into a real art house flick. The same sounds continue at various parts of the movie, adding a sense of panic to a story that you already know the outcome.
Portman was of course superb. I quickly forgot it was her, she embraced Jackie with her voice, her smile, and even down to the way she presented herself in front of others. I am weaker at the Best Women acting categories (like every year), but I have to imagine her chances are the highest for the Academy. They love biopics.
I was also impressed with Sarsgaard as Bobby Kennedy in this movie. I don't know a lot about him, I haven't even watched Bobby, but he did a significant amount in this movie to not make this 100% about Jackie. I also wonder if John Carroll Lynch ever thought he would get to play a real US President in a film one day.
Jackie is not your standard biopic. Is it downright almost scary at points and shows that not all griefs are handled equally.
3 out of 4.