April 18, 2018
Hearts Beat Loud
John Carney is an amazing director. From Once, to Begin Again, to Sing Street. Great films, great songs, a lot of heart and love.
This movie, Hearts Beat Loud, is not made by John Carney, but it looks like it could have been.
Instead it is directed by Brett Haley, who did The Hero. It is a film I meant to watch and didn't, that also probably didn't have music in it so whatever. Basically, I know little of his work, but by golly, with a movie like this, I guess I should go back and check them out.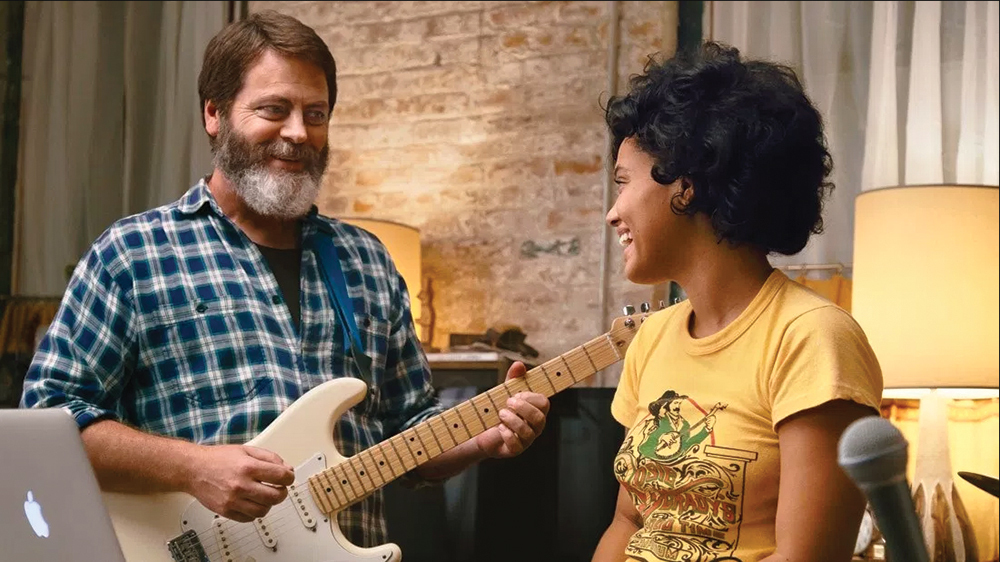 With smiles and beards like this, you know this film is infectious. In multiple ways.
Frank Fisher (Nick Offerman) is a man who has run a record store in New York City for 17 years. He loves music. He loves making music. He wanted to be a star. But he did not reach his fame.
Sam Fisher (Kiersey Clemons) is his daughter, in the summer before college, and she is taking pre-med classes to get ahead. She is going to UCLA, which is far away from NYC. She also enjoys music, but doesn't have time for it anymore.
And her mother / his wife? Well, she is gone. She has been for some time. It has been hard. Hell, Frank was performing with her. Maybe they would have made it big together. Maybe. They just never got the time to make it fully work. And now they are about to be separated. Things are changing. This is sad. It feels sad. I'm sad.
But in a last hooray, in a jam session between the pair, they make a song finally just work. It is emotional, it is a good mix of pop and soul. And it is about to take off on the internet.
Also starring Ted Danson, Toni Collette, Sasha Lane, and Blythe Danner.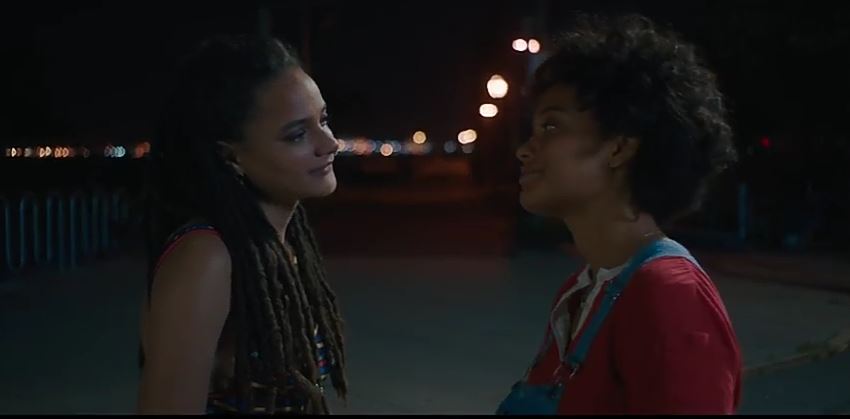 Also some stories of love, those are the ones that really get you.
I already mentioned how this feels like a movie by an acclaimed director. I am so surprised that this director tackled these heartfelt song and jam session scenes so wonderfully. They draw the viewer in, and as long as there are good speakers, you will feel like you are there and just want to jump for joy.
My audience actually had people cheering after they finally finished their first song, and this isn't some midnight release crowd, so it was odd to see.
Hearts Beat Loud is emotion. It is hope, it is sadness. It is loneliness and anxiety. It is fear of change, and fear of trying something new. It is excitement, joy, and of course, love. Offerman and Clemons just feel so realistic in their roles that it is hard to not go on the roller coaster with them.
I loved the music in this movie. Surprisingly it only made me cry once. I am guessing because my own daughter is a decade and a half before moving out and being an adult, so those scenes didn't take as much of a hold on me.
Hearts Beat Loud is a feel good movie overall, and just a movie that feels like it needs to exist right now.
4 out of 4.