October 18, 2018
Halloween
Forty years ago, a slasher movie came out, by John Carpenter, and people really liked it. I don't know if Halloween changed the game from movies in that time, but it was well liked, it had some long cut scenes, surprises, boobs, and a lot of scary scary moments. It spanned a lot of sequels.
Three weeks ago, I finally watched that movie, and hey, I liked it enough. It was fun and I was excited for the sequel. I definitely did not watch any of the follow ups, because hey, new Halloween said they don't matter. This is a direct sequel, fuck the other movies.
Sounds good to me.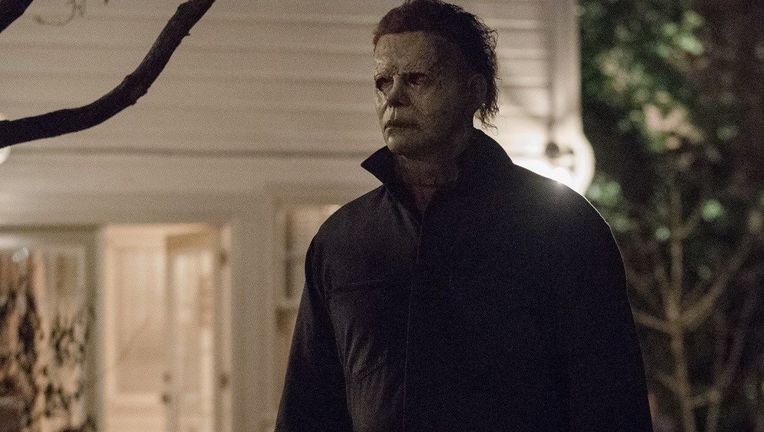 This killer is now super old, and his mask really shows those stress lines.
Forty years ago, some bad stuff happened in Haddonfield, Illinois. You may have seen the documentary about it. And since that moment, since Michael Myers was apprehended, he has been studied in psych wards for decades. He barely moves. He doesn't speak. No one can figure out his deal. We even have a new scientist (Haluk Bilginer), protege of the old scientist, who has made Myers his life's work to unravel. And the state is finally done with Myers, so they are going to transfer him to real prison for him to just be jailed and ignored, no more chance for study.
Back in Haddonfield, Laurie Strode (Jamie Lee Curtis) is living life on her own, in a compound in the wood. She's got gates, security cameras, hidden rooms, and a lot of gun training. She is ready for the big day she knows is coming at some point. It has ruined her life in more ways than one. Her daughter was taken away from her when she was 12 years old due to her training, and her daughter (Judy Greer) hasn't really let her back in her life much sense. That daughter is now married (Toby Huss), raising her own daughter (Andi Matichak) and trying to become normal and not driven by paranoia.
Needless to say, due to events, Michael is breaking out again, and he is ready to finish what he started. His obsession. His reason for breathing heavily.
And the plot involves some damn investigative journalists (Jefferson Hall, Rhian Rees) trying to stir up some memories. It is not the fault of the local Sheriff (Will Patton) this time. Also starring a few other teenage sidekicks to up the body count of people we potentially may care about, like Miles Robbins, Dylan Arnold, Virginia Gardner, and Drew Scheid with the worst Hobbit face known to man.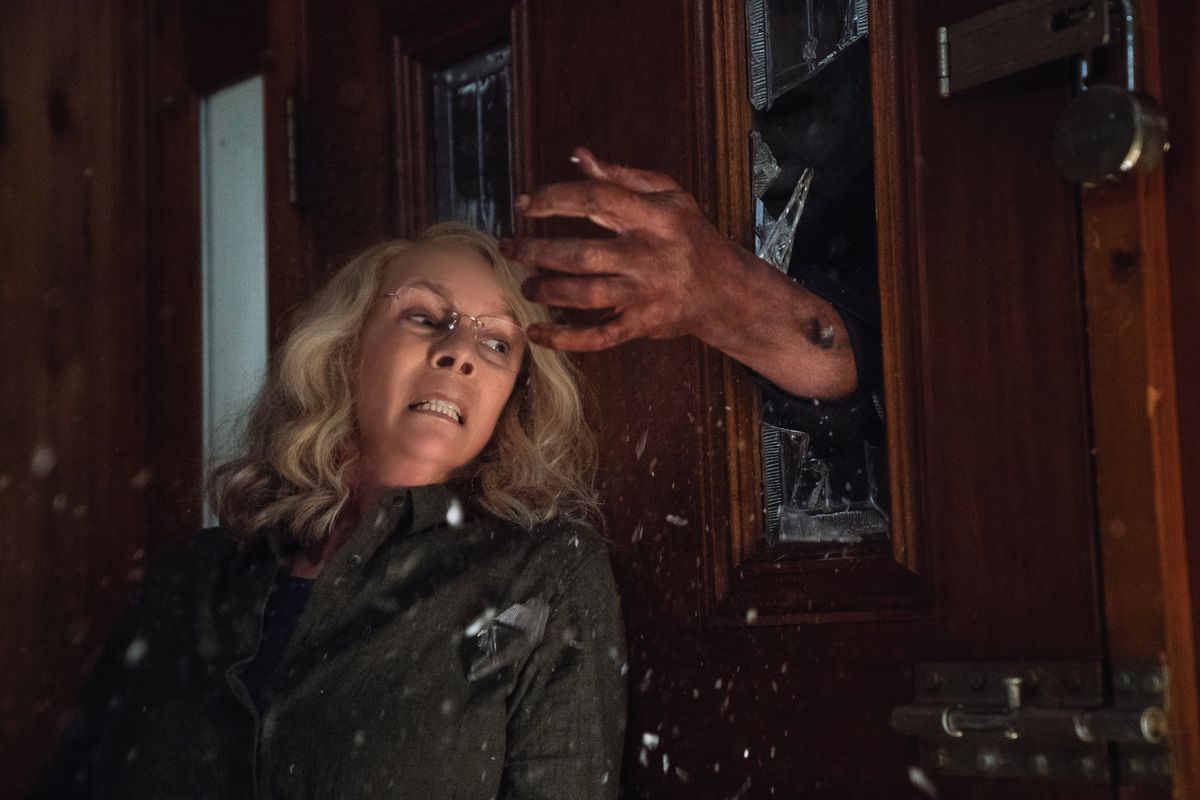 And fuck this door in particular.
Halloween starts out strong and keeps up the pace for most of the film. We get to have a similar score from the original film, similar opening credits, and a whole lot of intense moments that have nothing to do with people dying from kitchen knives.
It does have jump scares early on, of relatively silly things, that modern movies love to do with teenagers. They can be annoying. This Hall actor being a journalist feels like he really just wants to be Kenneth Branagh. I really hate the fat jokester friend by a lot. He has a hobbit face, and it confuses me, and I just don't want him in this movie.
Michael kills a lot more in this film, and seems far more superhuman than he did in the first film. Ridiculous deaths, jaws ripped off and more. Would make sense from a more supernatural point of view, but I thought this was meant to be more realistic slasher film.
I still did enjoy most of the film. But the last act felt very rushed (minus one search the house scene). Things were cut quickly, scenes moved quickly, and it became harder to follow while also being less exciting overall.
Honestly, the ending pushed it into just average territory. It was a fine follow up and probably lead to adequate follow ups in the future. Hopefully Kenny Fucking Powers will be in those follow ups.
2 out of 4.