April 8, 2012
Funny People
Haha! Funny People! A movie about people who are funny!
That is the assumption at least. I will let you know I've heard tons of bad things about this movie. Most of my friends hated it. But damn it, I loved 50/50 (which could just be the better version of this movie, not sure). I also thought It's Kind Of A Funny Story was supposed to be similar to those two (it isn't) but I loved it as well. So damn it, I am going to watch Funny People and see what the hell happens.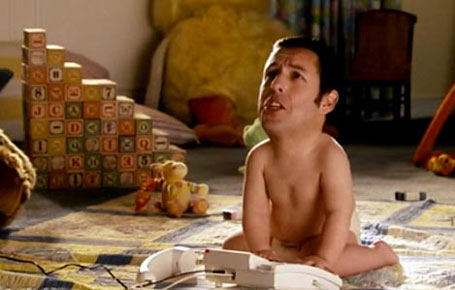 Although this is a scene from the movie, it is definitely way out of context.
Alright lets get the basics.
Seth Rogen wants to be a stand up comic, but isn't good at it. He has some good material, but bad delivery. Also maybe too many fart jokes. He lives with Jonah Hill, who is more successful and improv like, and Jason Schwartzman, who is staring in some kids sitcom about a cool teacher. Making those 'big' bucks.
Adam Sandler plays a big celebrity star. He has done a lot of shitty movies, and used to just be a stand up comic guy too. Turns out he is probably going to die, to a rare disease, kind of shattering his world view. I mean, fuck. He didn't see that coming. He doesn't even have really any friends. Needless to say he is kind of depressed, and bombs at a comedy club, where Seth Rogen is quick to make fun of him for his act for cheap laughs.
Sandler freaking out hires Seth to write some jokes for him, and also pseudo take him under his wing for a little bit. Opportunity of a life time for him, at the end of Sandlers. He also is one of the first to know, and helps him out during it when he gets sick. Sandler slept around a lot, so he regrets having that one "slip away", in Leslie Mann, who is now married to an Australian journalist, Eric Bana, with two kids. Rogen's problems are just his inability to talk to women, and having a three month plan to try and score with Aubrey Plaza, a neighbor of his.
This movie does NOT end with Sandler's death. Because the movie is more so about the trial he is on working, and having a new shot a life, after he had thought it was over. Can he fix the wrongs in his life, and get out of his celebrity funk?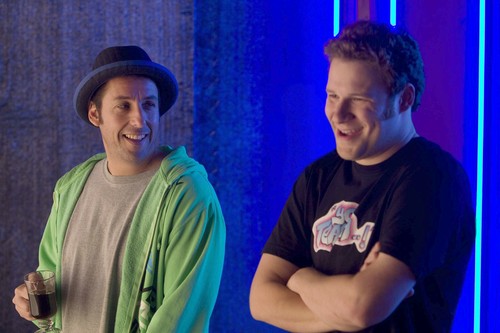 Har har har! Funny people!
I think one of the biggest complaints about this movie is the length. Almost 2.5 hours long, it is very unexpected for a movie of its type. The unrated version is about 10 minutes longer (and I can't tell which I watched. I wanted the Unrated one, but the Blu-Ray menu was confusing!). Apparently it only adds more stand up parts, which I found amusing.
Maybe another complaint is in terms of direction. I really thought it was going to end with Sandler dying. I read the back of the box afterward, and it pretty much begins with "a man getting his second shot at life". Oh yeah, definitely made that clear with words, just not the previews. So only half of it was him dying, the second half being alive and figuring out what to do now.
Definitely an interesting way to take it, and something I didn't see happening. I thought the movie felt very real, and I enjoyed it though. It could have definitely been better overall, and not as unforgettable as other Apatow movies. I am sure I will watch it again, just farther in the future, as it is a pretty long time commitment, but I thought it did a good job overall.
3 out of 4.