December 24, 2014
Exodus: Gods and Kings
I think we are finally done with them. The ones I talked about a lot earlier in the year. You know, The Jesus Movies.
We had Noah. We had God's Not Dead. We had Heaven Is For Real. We had the Son Of God. And now we finally have Exodus: Gods And Kings.
Obviously, this one is a story from the earlier part of the bible, not a modern tale or a new testament tale, so it will be closer to Noah in terms of size and scope. Which is good, because Noah is the only one of those I enjoyed!
But also, this movie has controversy. Non religious related controversy. Nope, we got race related controversy. This movie features Hebrews and Egyptians, yet the majority of all the actors involved are white people! White people! How dare you Ridley Scott! As I said before in my The Last Airbender review, I don't give a damn. I just want someone to act good in the role given to them. I don't care about the color of their skin. I don't think being the right ethnicity for a role should be a requirement. What is next? Needing to actually have cerebral palsy? Needing to actually be gay?
It's called acting. That's all I'm gonna say.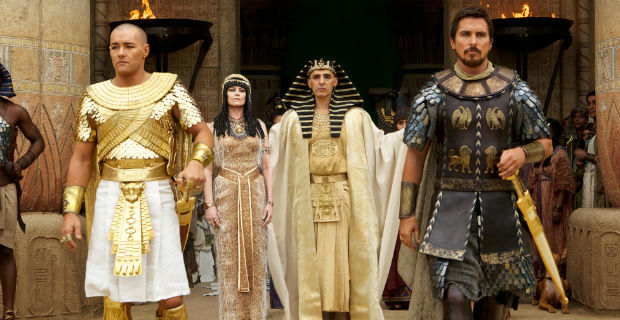 And you can act anything, even a man with a goatee.
Moses (Christian Bale) is just a dude, living in an Egyptian palace, and good friends with Ramesses II (Joel Edgerton), a prince of similar age who he has grown up with. Seti (John Turturro) was the Pharaoh at the time and getting old, so it is obvious that his son would rule after he was gone. But thanks to some shitty cryptic prophecy, there was some tension between the boys.
That, and the fact that apparently Moses was a Hebrew. Once that secret came out, and Moses saved a slave over punishing them, he was exiled from the Kingdom. Bitch. Ramesses' mom (Sigourney Weaver) wants him dead, Ramesses is more whatever. Exile should kill him.
Moses eventually makes it to a far away village. He meets Zipporah (Maria Valverde), gets his marriage on and becomes a goat herder. Hell, he also sires a child. Why not? He is fine with his peaceful existence, although still kind of hating on Gods. Until he climbs a sacred mountain of course for the lols and gets fucked over a bit. Like, almost dies. But hey, a kid and a burning bush talk to him about leading his people out of Memphis. So I guess that happens.
Last parts of the movie you probably know all about. Some plagues, some dead people, some running, and a lot of Red Sea crossing.
Also starring Ben Mendelsohn as an Egyptian, and Ben Kingsley and Aaron Paul as Hebrews. Kingsley can do whatever he wants, he is a good mimic. Aaron Paul is super weird in his role. Ridley Scott must have liked Breaking Bad.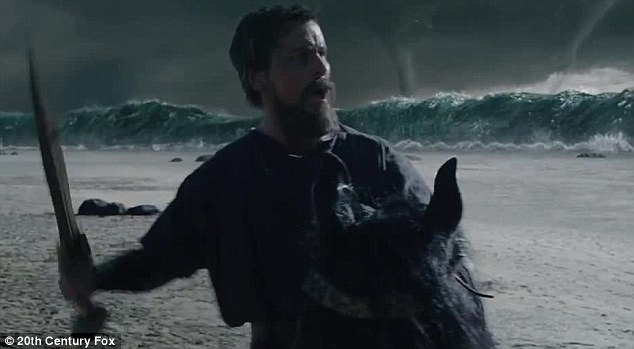 The goatee grew a bit bigger. That is a lot of the character development.
Exodus: Gods and Kings is 2.5 hours long. Why? Because Bible, I guess. I can't tell you how long it takes to read the same story, but I bet I could do it all in less than 2.5 hours. Even with all the ye olde language going on. This is a long movie and it feels even longer. Honestly, I feel like it is over a whole hour of movie before we even get to the burning bush. We get a tiny war, to get some plot. We get some mistreated slaves, we get an awkward attempt to exile Moses, and a long boring time before we get the stuff we care about.
The plagues! Of course that is all we want. The trailers show enough of the Red Sea scenes to make them not not as interesting. The plagues were cool, but they were also rushed. They weren't fully explained either, they kind of just happened and the story kept going. Too much vagueness, not enough explainin, and a whole lot of downtime.
It was hard to stay awake. The acting from everyone, by the way, was completely fine / good in locations. It is just the story that I had issues with and that is due to its extreme boringness.
1 out of 4.