July 11, 2016
Everybody Wants Some!!
Despite my many claims to be in love with Richard Linklater (damn the Before trilogy, making me melt like butter), I actually haven't seen a lot of his work. Meaning for the most part, his older work has evaded me.
Yes, that includes Dazed and Confused. I know, I know. I such. And yes, it is free on Amazon Prime right now. I still haven't gotten around to it. The only reason I bring it up is that I heard this film, Everybody Wants Some!! is a spiritual successor to Dazed and Confused. It has none of the same characters, but it is set in the 1980's instead of the 70's, and college instead of high school.
See! That's all that matters right? I am totally ready for a movie that is confident enough to have two exclamation points in its title, with neither of them representing musical status. (Yes, I understand the Van Halen song title connection too, I'm hip guys!).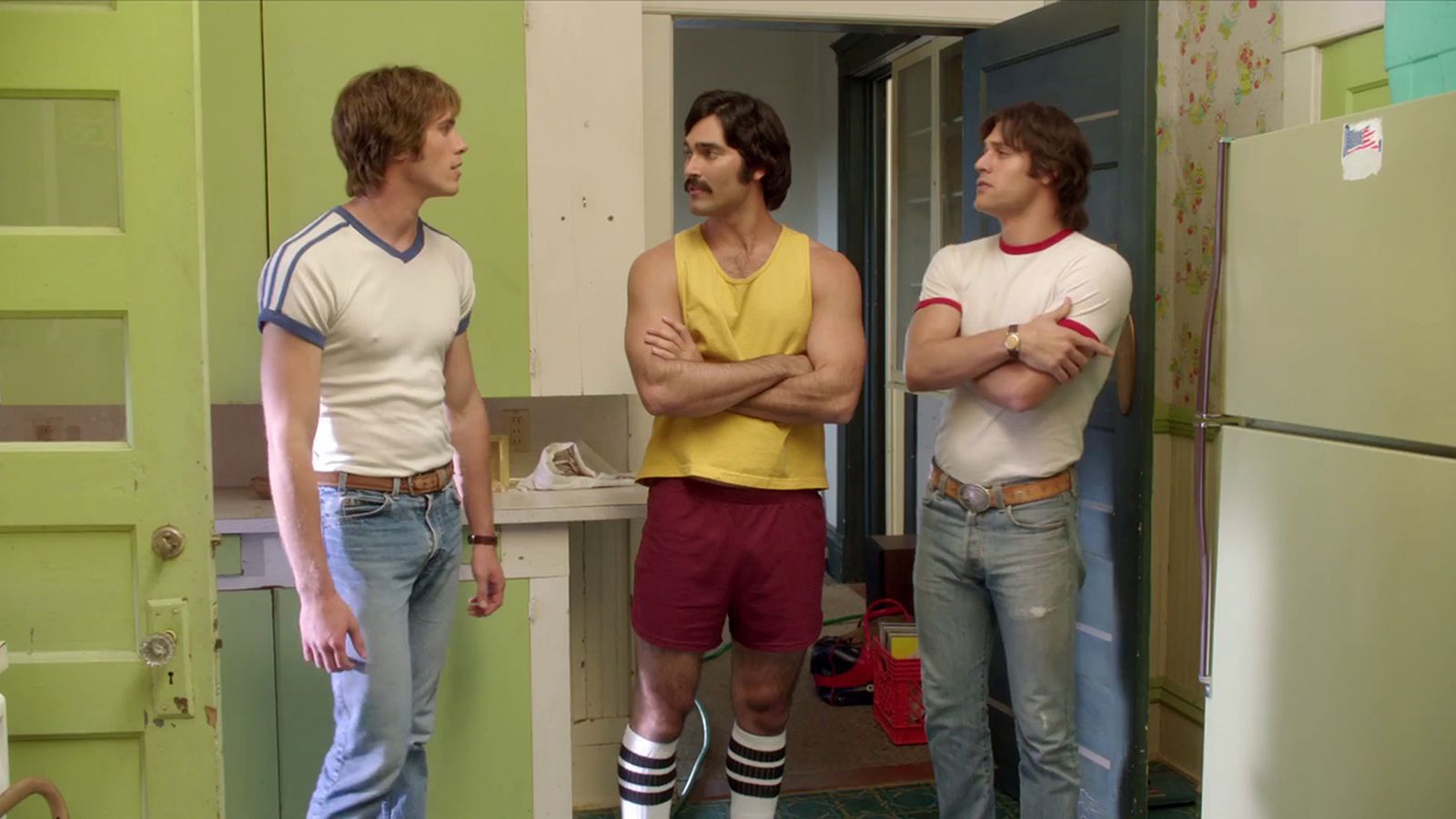 I'm so hip I want to point out the man nipples on the left. You're welcome.
Summer is over, it is 1980, and it is time for college. Our main character is Jake (Blake Jenner), a hot shot pitcher from his high school team. He picked this made up Texas college because they are amazing at baseball, and he wants to win and join the MLB. In fact, the team lives together in a couple houses off campus, perfect for partying and beers. His roommate Billy (Will Brittain) is obsessed with his girlfriend at home, constantly on the phone, also a freshman pitcher.
It should be noted there are no baseball games here. This is the fall, baseball is played in spring. Hell, there is barely baseball practice yet. In this film we get like, one practice and that is it.
This film is about athletic dudes, being in college, being bros, and having fun. And a shit ton of hazing, mini-competitions, partying, looking for girls, general house issues and so on and so on.
And of course it features a huge cast. We have smooth talking Finnegan (Glen Powell), philosophizing Willoughby (Wyatt Russell), ultra competitive McReynolds (Tyler Hoechlin), Roper (Ryan Guzman), and Dale (J. Quinton Johnson). Also a few ladies, Zoey Deutch and Dora Madison.
But also a lot more dudes. Like Tanner Kalina, Austin Amelio, Temple Baker, Juston Street, and Forrest Vickery. And more, but I am tired of linking them.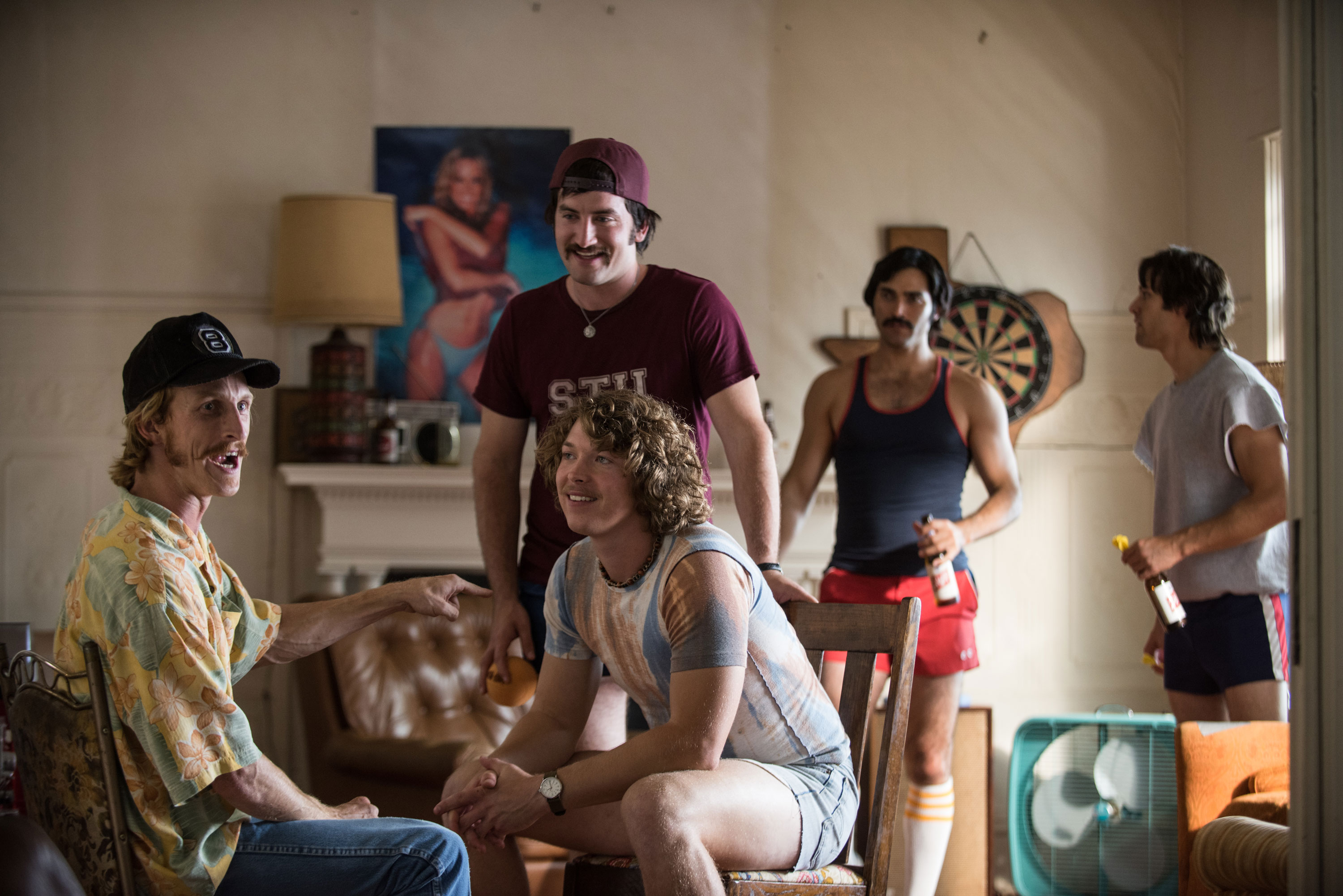 Several sweet stashes exist in every scene, seriously.
It is really dang hard to talk about just what in the hell Everybody Wants Some!! is about. Thankfully, it isn't that hard to talk about why the movie is good.
First up, the guys had a lot of personality. Everyone was different, but everyone felt real. I was excited to see Powell and Jenner as major roles as well. Powell played Chad in Scream Queens season 1 and was arguably the best character ever made. Jenner was the winner of season 2 of The Glee Project, which was a reality show to get on Glee, became a main character and apparently is in fucking movies now. Crazy. Jenner did a fine job, Powell was fantastic. Russell also played a wonderful character with an amusing plot line.
The film itself is also decently funny. Again, it is almost entirely just shenanigans between teammates. Hanging out, shooing the shit, hitting the bong, whatever you wanna call it. Just people existing.
It can be a sports movie without really any sports it turns out. It can be a good film despite having no reason to even exist. This is a definition of a "fun" movie for me. Not exploding action blockbusters, which have tons of problems and a bad plot. But a film like this where it is just about fun. And Everybody Wants to have Fun. (Sure, also it can be pretty sexist, but it is going for accuracy of the time, not a statement of how people should behave).
3 out of 4.