Diary of a Wimpy Kid: Rodrick Rules
Yeah!
Another Diary of a Wimpy Kid movie, that is what you are thinking right? And with such a demanding subtitle of Rodrick Rules, there is no way it could actually fail.
Especially if all of the major cast are brought back, minus one notabale change. You know, because Chloe Grace Moretz had to become too much of a big deal to continue these movies. Or something. But that is an assumption. Hell, I don't even know if the events in this movie or the others are actual book events, or just made up. So I guess her return doesn't matter.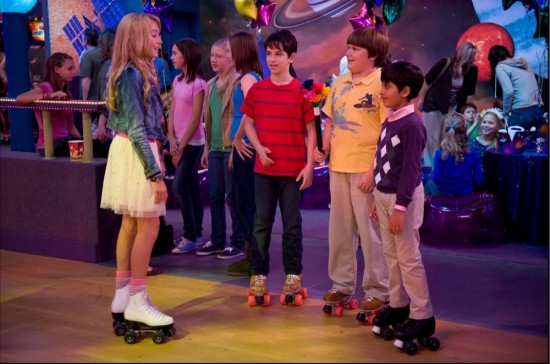 I guess they took that new bitch to a roller disco. Bitches love roller discos.
Remember Greg's (Zachary Gordon) quest for popularity? Well, he still really isn't popular. And he kind of still wants to be. Some would say that means he didn't learn anything at all from the first film. But don't worry, his quest for popularity at least doesn't cause him to destroy his friendships again. Even though there are some mean pranks (like pretending that Chirag (Karan Brar) is invisible the whole film, as a big practical joke that the school joins in. Kind of a dick move, Greg).
He is real friends with Rowley (Robert Capron) still, just tries to avoid the fact that he is into magic now and wants to have Greg as his assistant for a talent show. Don't be gross, Rowley. And of course Patti (Laine MacNeil) is still an unobtrusive whore, and Fregley (Grayson Russell) is still a gross loser.
So what the fuck is new? Well, there is the new girl, Holly (Peyton List) who is way too cool, and thus impossible for Greg to attain. He has to become cool himself. But he is lame, and not cool, so kind of sucks. But turns out there is a way to become cool, and that way is through his brother Rodrick (Devon Bostick).
The mom (Rachael Harris) actually devises a system called Mom Bucks to try and get them closer together, but it doesn't really work. Thankfully, they end up bonding over an illegal house party the brother throws, since Greg was willing to cover for him. Hells yeah. That is when Rodrick starts teaching him how to be cool. Gives him a list of rules to follow (yeahhh). They aren't all good, but damn it, they are trying.
Hopefully the dad (Steve Zahn) doesn't find out about the party, causing a lot of other problems to occur, and banning Rodrick from performing at the talent show. That would surely drive a wedge in the friendship and coolness factor.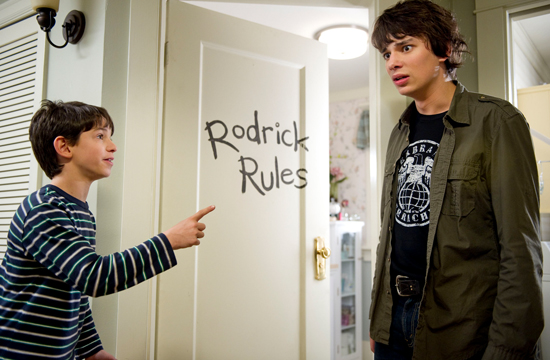 So I guess the title could be from Rodrick either being awesome, or his list of helpful hints. But where else might the title have come from? Hmm.
So uhh, shockingly this movie wasn't that bad. I know, this is going to sound strange. But it was definitely better than the original one. Sure, it was still more of the same in terms of children shenanigans and some silly humor. But it was definitely just better.
Greg wasn't as much of an asshat, and way more likable of a person. The relationship between him and his brother, obviously a major part of the movie, felt pretty real. Had some unusual circumstances come about, but just felt correct.
Maybe it is just because I have an older brother and it all made sense because of that, but they really hit the nail on the head.
So this movie actually is enjoyable, if you are in the kid mindset of course. So hopefully the third one is even more better!
3 out of 4.