Breakaway
I really like hockey. Definitely my favorite sport to watch and cheer for. I also really like movies (you see where this is going?) So generally, hockey movies I am pretty fond of. Goon was fan-fucking-tastic, and Score: A Hockey Musical was so ridiculous, I couldn't not enjoy it.
Well, the streak of great hockey movies is coming to an end tonight, unfortunately. Because I watched Breakaway.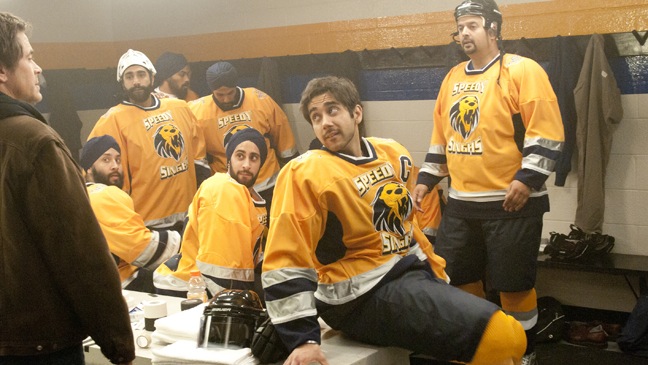 I know what you are wondering. Yes, they do have helmets that can fit around turbans.
Rajveer Singh (Vinay Virmani) likes hockey. But he is Indian. Indian's don't play hockey. That is a fact! But her is actually good. All he does is play pick up with his friends, also all Indian, and they are looked down on by others. No, not by white people, just other older Indians. Indians don't play hockey. Or Soccer. That is a movie reference of a movie with a similar plot, guys. Don't make me spell it out.
Anyways, Rajveer had to leave college to work for his father (Anupam Kher), who really hates this hockey thing. He wants him to rise up in the family business that he created when he moved to America, but all Rajveer seems to want to do is play hockey and be a truck driver. No drive.
When Rajveer tries out for a local technically amateur but almost professional team in Toronto, he isn't given a fair chance at all, despite being a great player. So he gets the idea. Why not just make a team with his friends? Then they can compete in the local tournament, win the cup, beat that other team whose name I can't remember, and be heroes! Heroes to themselves at least.
Unless…unless the local Indian culture actually finds their tale inspirational and bands behind them? Just don't tell Rajveer's dad about it. No, the Speedy Singhs want to prove they can play hockey too. Also starring Camilla Belle as his love interest, Drake as the actual Drake (he likes Hockey, so what?), Russell Peters, and Rob Lowe as the local janitor turned their hockey coach.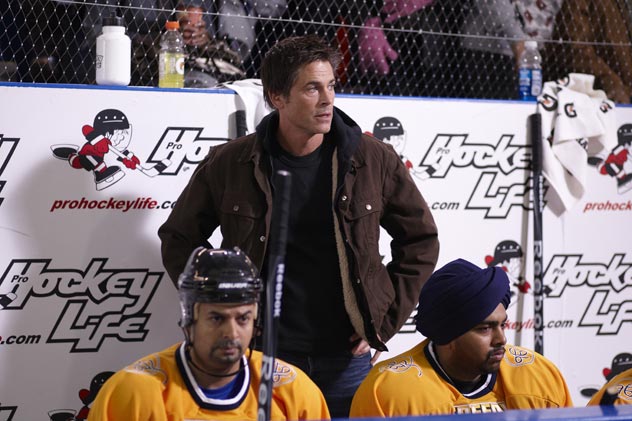 Rob Lowe is LITERALLY the most famous person in this movie.
Oh goodness, the cliches.
Before anyone makes the claim, no I am not giving the movie a low rating just because of the first scene. Where our main character was imagining he was on the Toronto Maple Leafs and about to score the game 7 OT winner for the Stanley Cup against the Detroit Red Wings. Not the reason at all, but I did dislike it.
Unfortunately, this film is filled with all the cliches, even ones that are not about sports. There are other plot lines in here, outside of just Indians wanting to play hockey, but they weren't as important, and just in general side plots. Because all the cliches happen, you will know already how it ends, and yeah, it does. There is even a chance when they might not get to play anymore due to a rule, but hey, they find a way around it. They even found an enforcer. They got it all!
The hockey in this movie isn't really exciting to watch, and the story isn't original. There was also a lot of Drake in this movie, more than I expected (which was around zero, I guess). It had some amusing moments, but not enough to make it worth ever watching again.
1 out of 4.